Hooded Menace Premiere "Effigies of Evil"
Crushing third album set for September 11 release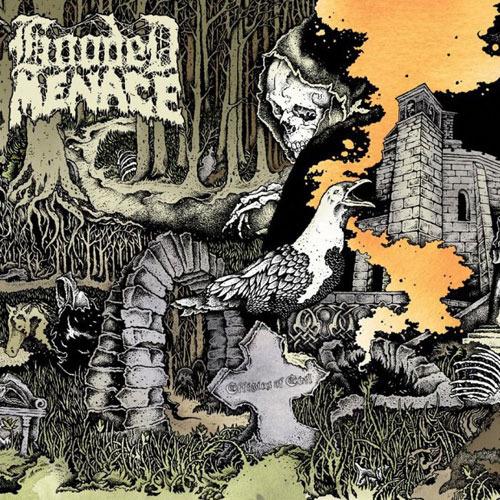 Finland's Hooded Menace turned many heads, including that of yours truly, in early 2010 when they released their second album Never Cross the Dead on Profound Lore. The duo of guitarist/bassist/vo​calist Lasse Pyykkö and drummer Pekka Koskelo channel the likes of Saint Vitus and Candlemass in their dirge-like doom compositions, but unlike those bands Hooded Menace focuses on a much harsher vocal sound. Personally I tend to have little patience with doom bands that don't employ cleanly sung lead vocals, but Pyykkö's growls are truly incredible, an harrowing, commanding sound that seems to come roaring from the Seventh Circle of Hell.
Hooded Menace recently signed with Relapse, and their third album Effigies of Evil is set for release on September 11. Not surprisingly, it's every bit as towering as their past work, combining gargantuan heaviness with the ability to swing and groove, highlighted by the ten and a half-minute epic "Vortex Macabre". The good folks at Noisecreep have premiered the title track, and needless to say it's a must-hear. If you like your doom harsher, darker, and filthier than most traditional bands, don't miss out on this beast of a song.
Listen to Hooded Menace's "Effigies of Evil" here.
live local music on
Enter your ZIP code to see concerts happening in your area.
Data provided by Zvents
follow msn music