Roadburn 2012, Revisited
Looking back at the world's greatest metal fest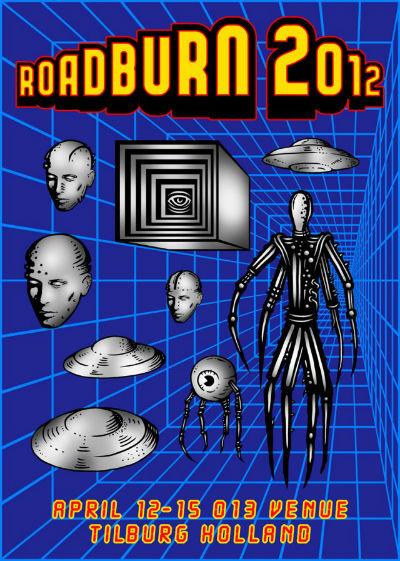 Just over a week ago I made the trip to Tilburg, Netherlands to attend Roadburn, the annual four-day festival celebrating doom, psychedelic, stoner, and avant-garde metal, something that I had long been craving to do. What makes Roadburn so special compared to the Wackens, Sonispheres, and Graspops of the metal world is that despite a growing profile over the last five years, it's remained a very small festival. With Tilburg's 013 Popcentrum theater serving as its hub, tickets to the event are limited to 3,100, so while it's a challenge for metal fans worldwide to score tickets – it sold out in seven minutes this year – the mere fact that that it's so stubbornly small-scale is a big reason why it's so special, an intimate setting for some excellent, often incredible music from no fewer than 88 bands in four glorious, exhausting days.
Located a ten-minute walk from the train station in the middle of Tilburg's city center – I was making the 15-minute trek from Breda to Tilburg every day - all four venues are remarkable in their own quirky ways, three of which are linked by an endearingly confusing maze of hallways that, once mastered, have you hearing different bands within seconds of each other. The main 013 theater is as impressive a music venue as I have ever been in (the next closest thing I can compare it to is the Sentrum Scene in Oslo, Norway), a two-level theater with not only outstanding sight lines for everyone in attendance, but with absolutely impeccable sound. Out one door at the top of the main theater's lower level is the tiny Stage 01 room, a cozy little bar that gets very crowded very fast, and through another door just inside the Stage 01 is a hallway that leads to the balcony of the twice-as-large Green Room, home to the loudest sound mixes of the entire fest, not to mention some of the most viscerally intense performances. With the sudden closure of the nearby MIDI Theatre this past winter, organizers had to scramble to find a new fourth venue, but they unearthed a real gem in the Het Patronaat, a beautiful church annex whose 600-capacity upstairs hall served as Roadburn's second-biggest venue.  With its peaked wooden roof and plush balcony – a perfect spot for any exhausted punter to chill out for a while – it would be home to some revelatory performances.
With so many bands playing, of course it's very difficult seeing every band you want to see. Personally there were a handful of sets I was determined to see in their entirety, which I did at the expense of other bands I admire (sadly I was forced to miss sets by Ancestors, Red Fang, Ancient VVisdom, and Tombs, and could only catch a little bit of Chelsea Wolfe's mesmerizing performance), but for the most part I had a blast zipping from room, to room, to room, checking out the eclectic array of bands Roadburn had brought into this year's event. Check out Sólstafir, head across the street to see Witch, turn the corner to catch some massive doom courtesy UK upstarts Conan, then see live faves Valient Thorr torch an audience, then be floored by an astonishing performance by the mighty and venerable YOB. Then head back to the media lounge for a breather, pass Wino Weinrich looking as badass as ever, step over a member of Church of Misery who clearly had a little too much weed, and practically bump into Tom G. Warrior. It was pure madness, and at the end of each day I'd be staggering with others back to the train station, feet screaming in pain as I munched on a doner kebab on the platform at two in the morning, but the quality of the music, the friendliness of the fans, the appeal of all four venues, the professionalism of the crews, and the friendliness of the organizers all combined to make this one of the best metal events I have ever attended.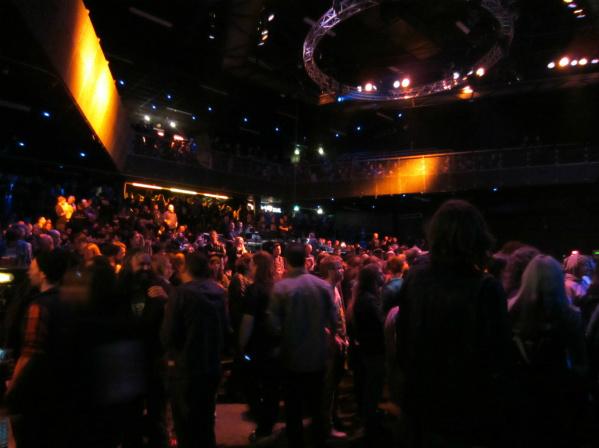 There were far too many good bands to single out without running out of adjectives for "awesome", so I've narrowed it down to 15 or so. Before I highlight the ten best performances of Roadburn 2012, though, I give you…
Five of the Biggest Revelations of Roadburn 2012:
Dragged Into Sunlight, Sunday, April 15, Green Room:
The UK band's 2009 album Hatred of Mankind struck me as decent when I got it a couple years ago, but the intensity of their live performance in the Green Room left me floored, adding another dimension to the music that's just not quite there on record yet. 
Electric Orange, Sunday, April 15, Green Room:
Where have these guys been hiding for the last 20 years? I'd long wondered if there were any metal-oriented bands who were influenced by krautrock kings Can, and indeed, Germany's Electric Orange is just that, creating expansive, metronomic, hypnotic jams. They also have a flair for the theatrical as well, as at one point an alien and a spaceman joined them onstage for a surreal little exchange. Why, I have no idea, but this 90-minute performance left me spellbound from start to finish.
Hexvessel, Friday, April 13, Het Patronaat:
I made my way into the Het Patronaat in the afternoon to snag a good spot for Sólstafir and wound up thoroughly impressed by the psychedelic neo-folk of the Helsinki, Finland band, their pagan influences contrasting beautifully with the ornate stained glass saints who looked on.
Purson, Saturday, April 14, Stage 01:
I've been getting into the London, England band as of late, whose Rocking Horse single on Rise Above is reminding me a lot of Jex Thoth, Blood Ceremony, and of course Coven, but what separates Purson from the other Satanic/psychedelic doom bands out there is singer/guitarist Rosalie Cunningham, who not only possesses a haunting voice, but can play a mean Gibson SG. This is one new band to keep your eyes on.
The Wounded Kings, Saturday, April 14, Green Room:
British doom of staggering power, made all the more distinct by the unsettling presence of singer Sharie Neyland, who stood onstage almost trance-like, invoking her lyrics in a chanted voice that held the entire venue in thrall.
live local music on
Enter your ZIP code to see concerts happening in your area.
Data provided by Zvents
follow msn music