New Releases For January 10th, 2012
What you need to hear, and what you should avoid
Album of the Week:
Nightwish, Imaginaerum (Roadrunner):
I won't deny it, when it's done well I love symphonic metal. The problem is, symphonic metal is so difficult to get just right that successful albums are a rare occurrence. I've been trying to remember the last symphonic metal album I last went nuts over, and the most recent title I can come up with is Therion's sprawling double album Gothic Kabbalah from five years ago. That's how picky I am with this stuff. There are bands that show plenty of promise on individual tracks - hello, Epica – but so few bands are able to harness all that bombast and keep a long album from completely derailing.
When they're at their best, Finland's Nightwish can be unbeatable, but it's been a very long time since we've heard a solid, front-to-back album from them. 2004's breakthrough Once had some of their most inspired songs but was marred by the odd moment of ludicrousness ("Creek Mary's Blood"), while 2007's Dark Passion Play, the first album after the tumultuous public firing of singer Tarja Turunen, despite a few strong moments felt like the band was still trying to find its footing with new singer Anette Olzon.
The word about the band's seventh album Imaginaerum had me wondering if Nightwish had gone off the deep end. Not only was the lavish concept album painstakingly put together over the course of years, employing the services of the London Philharmonic Orchestra, a choir, and a host of guest musicians, but the record was also being given a film adaptation. One of the most fun things about symphonic metal is how exuberantly over-the-top it can be, but all this felt like it would be too much, even for a band like Nightwish.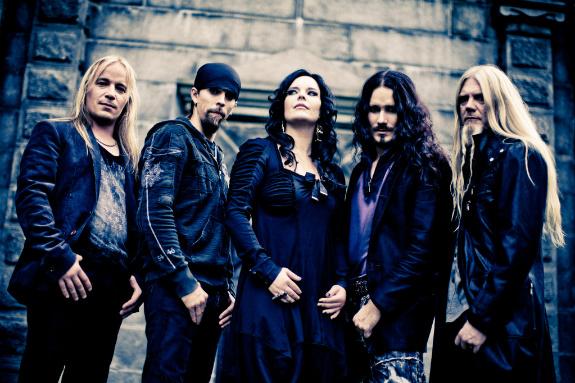 Incredibly, Imaginaerum pulls off the near-unthinkable, a 75 minute symphonic metal album that's engaging, imaginative, flamboyant, and above all else, fun. Songwriter/keyboardi​stTuomas Holopainen has always been a talented creator of hook-laden tunes, but he's also been guilty of letting his self-indulgence get the better of him. Here, however, for all the polish and orchestral window-dressing, he reins everything in just enough to not completely fly off the handle, and the end result is an album that careens from style to style, every track bursting with instantly memorable melodies. In keeping with the movie soundtrack idea, there's a cinematic flow to Imaginaerum that's particularly impressive. It's a tacky way to put it, but this is truly a roller-coaster ride for listeners, and not for a second tedious, from the wintry overture, to the gorgeous mid-album instrumental "Arabesque", to the clever instrumental title track that plays like a composition for closing credits. Even the 13-minute, Walt Whitman-quoting "Song of Myself" shows impressive discipline in the songwriting.
Best of all, though, is the emergence of Olzon as Nightwish's frontwoman. Following up a voice as formidable as Turunen's had to have been an extremely daunting task, and indeed Dark Passion Play felt like a warm-up for the new singer and the band, but does she ever sound comfortable in her role on Imaginaerum. A much subtler singer than her predecessor, Olzon doesn't go for full-on vocal bombast, instead utilizing a lot more nuance, and her own self-restraint is what ultimately makes this album so likeable. She provides a great presence on rockers like the Celtic-tinged "I Want My Tears Back" and the ultra-contagious "Storytime", but it's on the more divergent tracks where she shows her real strengths. She takes the eclectic array of material handed to her by Holopainen and has a blast with it all, from the ominous "Ghost River", to the seductive, Angelo Badalamenti-esque "Slow, Love, Slow", to the deliciously sinister "Scaretale", showing admirable versatility and charisma throughout.
Who knows how good the actual film adaptation of Imaginaerum will be – it's still slated for a 2012 release – but fans of Nightwish and symphonic metal in general will be mightily pleased with the album. It's quite a remarkable feat, the band's best work since 2000's Wishmaster, and totally worth the five-year wait.
Also out this week:
Caspian, Live at Old South Church (The Mylene Sheath): A benefit performance recorded in an old gothic church in Boston, this live album effectively captures the understated, brooding atmosphere of the instrumental post-rock band. Limited to a pressing of 1000 copies, $2 from each sale will be donated to Amirah, a non-profit organization located in Boston dedicated to providing whole-person care for victims of human sexual trafficking.
Dies Irae, Secret Veils of Passion (Chaos): Of the 13 (!) bands named Dies Irae at Metal Archives, this particular album comes from the Mexican band, and it's astonishingly inept. An attempt to create forward-thinking, progressive metal, this trio might have the instrumental chops but are so uncontaminated with songwriting skill that it's simply astonishing. Made even worse by some of the most gawd-awful singing you'll ever hear ("Sex" is bad enough to make one consider a lifetime of celibacy), this is an album you need to stay far, far away from.
Haemoth, In Nomine Odium (Debemur Morti): The third full-length by the French Satanic black metal band is simpler in structure than, say, Deathspell Omega or Blut Aus Nord, but formulaic as it is, it's done very well here, with genuine songwriting skill taking precedent over simple, cartoonish devil worship.
Majestic Downfall, The Blood Dance (Chaos): Mexican songwriter/multi-ins​trumentalistJacobo Córdova returns with his project's second album, a solid exercise in death/doom that's not much different from pre-Brave Murder DayKatatonia. With plenty of melancholy melodies and a few dynamic touches, it's enough to hold listeners' attention on this lengthy record. "An Untravelled Road" is a keeper.
Thy Catafalque, Rengeteg (Season of Mist): Unlike that Dies Irae album, this is how to make cool avant-garde metal. Unpredictability is this Hungarian band's hallmark, but for all the stylistic twists and turns, tremendous hooks tie it all together, coming in when you least expect it. It's a brave, utterly indescribable album that might be rooted in metal but straddles so many genres at once. Highly recommended.
Vise Massacre, Expendable Humans (Gorilla the Horse): Compared to the wave of crustcore that Southern Lord has jumped all over, Brooklyn's Vise Massacre is decidedly different, a cacophonous combination of traditional New York hardcore, noise, and extreme metal. There's a sloppiness to this album that makes it likeable, even though it's not exactly new to our ears.
live local music on
Enter your ZIP code to see concerts happening in your area.
Data provided by Zvents
follow msn music