Black Sabbath Continuing Without Bill Ward
Still won't say who replacement is; Ward will not join the band in 2012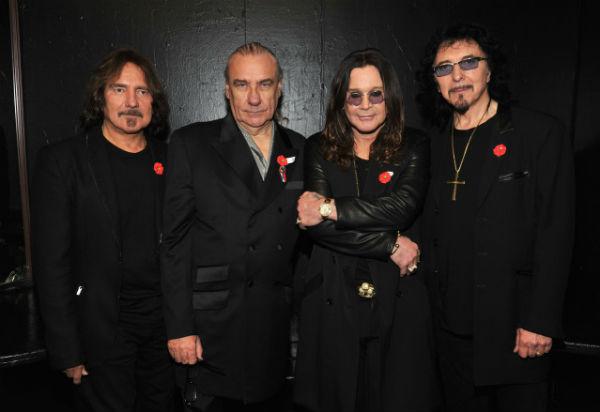 The conflict between Black Sabbath and drummer Bill Ward and the speculation whether or not he would be joining the band for their new album and two reunion shows has gotten tiresome as 2012 has gone on, with Ward posting lengthy explanations why he's so upset and Sabbath diplomatically offering polite rebuttals. It's all come to a head finally, first with Ward posting Tuesday in an epic-length statement that he will not be joining Black Sabbath this year, bitterly saying his contract offer is "unsignable" and that in April he was offered a chance to play at the Download Festival next month, but only on three songs, something he was unwilling to accept.
This afternoon Black Sabbath released a terse official statement concerning the whole mess via Facebook:
We have decided not to make any detailed comment on Bill's latest statement. There are two sides to every story. We have been working hard at rehearsals making excellent progress after Tony's treatments and we have engaged a substitute drummer for the forthcoming shows. See you at Download.
In other news, water is wet. Sabbath's sold-out warm-up show in Birmingham, England is set for this Saturday night, and it goes without saying the band hired someone who will play by their rules long ago. Like I've said from the beginning of this mess, all signs point towards Ozzy Osbourne's drummer Tommy Clufetos being the guy, but we'll just have to see for ourselves this weekend. Whomever and however talented the drummer will be, Ward's absence from this massively hyped reunion will leave a gigantic hole that no replacement can come close to filling. It's a shame it's come to this, especially when Tony Iommi's cancer diagnosis reminded us all how fragile life is. All fans wish is that both parties iron this out and just savor the moment with the people who love their music.
The doom disciples at Southern Lord Records offered the best response to this squabble via Twitter:

live local music on
Enter your ZIP code to see concerts happening in your area.
Data provided by Zvents
follow msn music