Slipknot to Stage "Knotfest" in Iowa and Wisconsin
Festival to include Deftones, Lamb of God, Serj Tankian, and more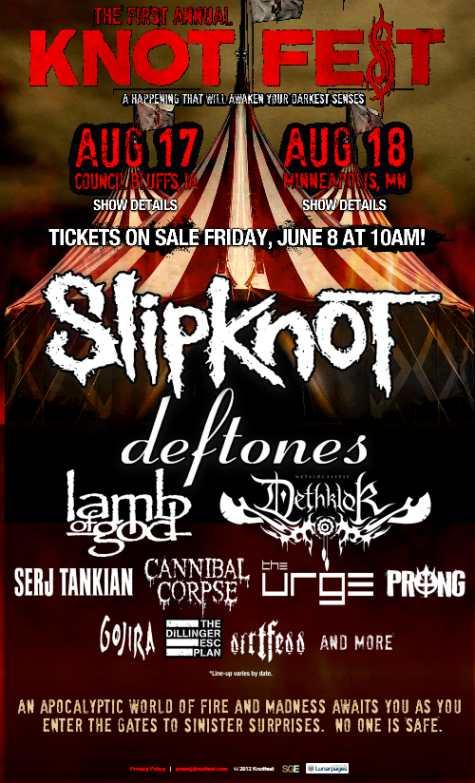 If you live in the Midwest and are unable to attend Mayhem Fest, the guys in Slipknot are offering a cool alternative with an event called Knotfest, which will be held August 17 at Mid America Motorplex in Pacific Junction, Iowa, and on August 18 in Somerset, Wisconsin, on the border of Wisconsin and Minnesota. Slipknot will be headlining each show with support from Deftones, Lamb of God, Dethklok, Serj Tankian, and Prong with a few different bands tossed in on each date. And if you ask me, the August 18 show looks especially great.
In addition, the band will be offering their fans a Slipknot museum as well as a "dark carnival experience", including what Rolling Stone describes as, "circus big-top tents, pillars of fire, amusement park rides, burlesque performers, firebreathers, stilt walkers, drum circles made of junkyard cars and graffiti walls."
Tickets go on sale on this Friday, June 8 at 10:00 a.m. CDT.
The full lineups are below:
Pacific Junction, Iowa, August 17:
Slipknot
Deftones
Lamb of God
Dethklok
Serj Tankian
The Urge
Prong
Dirtfedd
Somerset, Wisconsin, August 18:
Slipknot
Deftones
Lamb of God
Dethklok
Serj Tankian
Cannibal Corpse
Prong
Gojira
The Dillinger Escape Plan
Here's what Slipknot's Shawn "Clown" Crahan had to say about Knotfest to Rolling Stone: "It's all about having fun and bringing something to the world of rock & roll, bringing it to the standard it used to be…It's time for us to really engulf this idea known as Knotfest where we're in control, we make a day devoted to our mindset, our ideas, the people that we want to play with, the people that we think our fans want to be around.
"Now, after 15 years, things feel right, things feel complete, things feel like we can accomplish anything. And I love challenges."
live local music on
Enter your ZIP code to see concerts happening in your area.
Data provided by Zvents
follow msn music