New Releases For September 18, 2012
Devin Townsend reaches a new high on his glorious new album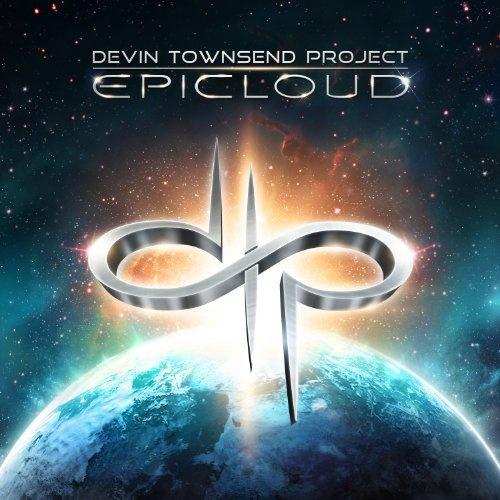 Album of the Week:
Devin Townsend Project, Epicloud (InsideOut)
Devin Townsend said it himself; he couldn't have chosen a less "cool" musical direction for a metal record than "uplifting". But that's Townsend for you, he is perpetually marching to the beat of a very different drummer, a big reason why he's attracted a cult following over the years. Ever since creating the Devin Townsend Project in the wake of the dissolution of Strapping Young Lad, the prolific Canadian musician has been putting out some of the most rewarding music of his entire career, each album decidedly different from the next. Coming on the heels of last year's simultaneous release of the psychotically proggy Deconstruction and its exponentially more sedate companion Ghost, Townsend's latest album focuses on the more positive aspects of heavy metal, from soaring melodies, to empowering themes, to the celebratory nature of metal, the sort of stuff he, and many others in their late-30s and older listened to in the 1980s. "Rock, lets rock / The time has come to forget all the bulls**t!" he sings at one point on the record, sentiment, corny as it may be, that couldn't be more refreshing in this day and age.
As he proved on 2009's Addicted, Townsend has an incredible knack for catchy, melodic heavy music, but he's never explored that side of his oeuvre in as great detail as he does on Epicloud. Not only are the hooks and melodies brilliantly written and performed, but most crucially, the arrangements of all the songs show tremendous restraint. One of the best hallmarks of 1980s pop metal was how it achieved an impeccable give-and-take between both sides – the riff and the hook – with neither overwhelming the other, and Townsend nails it so perfectly on this record that it'll have many wondering why he didn't write more music like this in the past.
Epicloud is start-to-finish catchy, often ludicrously so, the prime example being the shamelessly goofy "Lucky Animals", which gets in your head instantly, that swinging hook ("Animals, animals, and we're lucky") so incessant that it won't leave your head any time soon. Townsend's music can get eccentric from time to time – a massive understatement, to he honest - but he's found a perfect collaborator in former Gathering singer Anneke van Giersbergen, and just like on Addicted, she keeps this album grounded with her graceful, angelic voice. Whether it's on the adventurous "True North", her sweet solo turn on "Grace", adding personality to the inspired remake of 2000's "Kingdom", or her gorgeous backing vocals on "Hold On", van Giersbergen lends Epicloud an affable personality that turns out to be the album's masterstroke, achieving an effect akin to switching from monochrome to Technicolor.
All of those characteristics – hooks, riffs, positive vibe, the chemistry between Townsend and van Giersbergen – coalesce most perfectly on "Save Our Now", a shamelessly '80s-tinged track that toys with dynamics to well that its appeal is instinctive. Listeners gravitate to it immediately, from the pleasant, upbeat verses, to van Giersbergen's sunny vocal interjections, to those shimmering choruses. It's a pitch-perfect pop song that somehow never abandon's Townsend's trademark aesthetic, the highest point on an album loaded with nothing but highs. The immediate reaction is that Epicloud is Townsend's best album since Strapping Young Lad's City, but the more you let it settle in, the more it becomes apparent that it's the best album of his entire career. It couldn't be more unfashionable, and we couldn't be more grateful.
Also out this week:
Becoming The Archetype, I Am (Solid State): Listening to the fifth album by the Atlanta band, you can easily hear the influence of other bands in the music. Katatonia, Periphery, Meshuggah (of course), Gojira, Between the Buried and Me. Normally that would be enough for me to write off a record like this, but these guys are clever enough to take those sounds and blend them into something approaching cohesive. It's not a bad piece of mainstream metal at all; it might copy, but it doesn't pander.
Bombs Of Hades, The Serpent's Redemption (Pulverised): The Swedes are back with another slab of crust-ridden death metal, but these guys set themselves apart from other similar-minded bands by tossing in a little variety here and there, whether it's a NWOBHM riff or a brief excursion into doom territory. For those who want some ugliness in their extreme metal, this is a great choice.
Down, Down IV Part 1: The Purple EP (ILG): Down's first new music in five years will sell like crazy, because, well, it's Down. But is it any good? For the most part, yes, it's exactly the kind of catchy, Southern-tinged sludge fans expect, recorded in slightly rawer fashion than the band's last album. For all its predictability, Phil Anselmo adds his own distinct persona to "Witchtripper" and "Open Coffins", while the colossal "Misfortune Teller" is certain to go over well live. If anything, it's good to have this end at six songs and avoid sounding too tedious.
Ensiferum, Unsung Heroes (Spinefarm): As great as it is to see metal bands constantly evolving and trying new things, there are some who are much better off simply knowing their place. After a series of Viking metal albums that were a lot more fun than groundbreaking, Ensiferum got it into their heads to try something a lot bolder, and the end result was From Afar, a prog metal mess that was one of the worst albums of 2009. This time around they've returned to sticking to their strengths, and what do you know, Unsung Heroes is a return to form. All the expected trappings are present: catchy, swashbuckling melodies, subtle folk elements (both vocal and instrumental), and plenty of tried-and-true gallops. Even the goofy, 16-minute "Passion Proof Power" manages to keep it together all the way through. Now this is how Ensiferum is supposed to sound.
Eugenic Death, Crimes Against Humanity (Heaven and Hell): Stubborn, old-school thrash that lovingly hearkens back to the mid-'80s, when thrash albums were primitively recorded, a bit sloppy, and hell bent on mayhem and fun. Yeah, it's all been done countless times before, but it's always nice to hear a new band who understands that old aesthetic.
Freitod, Regenjahre (Van): The German duo have a very promising thing going on their second album, combining the bleaker side of black metal with the melancholic melodies of Katatonia. Normally I'm partial to clean singing, but on this record G. Eisenlauer's harsher black metal vocals pack a much bigger punch than his singing, which needs a lot more refining. Despite that lack of consistency, this is nevertheless a mildly impressive effort.
Haarp, Husks (Housecore): This is the kind of sludge/doom that truly tests your patience, plodding along at a painfully slow pace for long, seemingly unending periods of time, generic growled vocals doing nothing to accentuate the music. To the New Orleans band's credit, though, they manage to keep things interesting by changing tempos every once in a while, and even incorporating a slight post-rock element that makes the already massively heavy music sound a little less dense.
Hexvessel, No Holier Temple (Svart): Finland's Hexvessel was one of several revelations for yours truly at Roadburn 2012, and their second album is even richer, haunting, and wonderfully pretentious than 2011's Dawnbearer. Traces of doom creep into the music ("His Portal Tomb"), mastermind Mat McNerny ventures into spoken word poetry ("Heaven and Earth Magic"), and moments are even reminiscent of an early Velvet Underground jam ("Unseen Sun"), but this is largely a folk album with a very strong psychedelic element, filled with pastoral sounds and imagery that isn't so much hippy-dippy as unsettlingly stone-faced in its earth-loving pagan sentiment. It's a strange, enthralling album, and the last track, a cover of Ultimate Spinach's 1967 song "Your Head is Reeling", couldn't be more appropriate.
Kalopsia, Amongst the Ruins (Godeater): Featuring members of Funebraum and Deteriorot, this album doles out workmanlike death metal in the tradition of Immolation, which is fine, but it does very little to distinguish itself from every other brutal death metal band out there.
Legacy Of Disorder, Last Man Standing (Black Orchard): For about four minutes this album by the New Zealand band had my attention, as opening track "Thorns" is a very catchy blend of Testament and Machine Head. Sadly, that's about as interesting as it gets as the band resorts to pandering, lowest-common-denomi​nator metal the rest of the way. One Five Finger Death Punch is enough, thanks.
Liv Kristine, Libertine (Napalm): Like her 2010 solo album Skintight, the follow-up by the former Theatre of Tragedy and current Leaves' Eyes singer indulges in more pop-oriented tunes, which is fine, as this is harmless, slickly produced, gothic-tinged music.  Metal fans will gripe that it lacks substance – the upbeat "Paris, Paris" sticks out glaringly - but those into the more mainstream side of goth (read: Evanescence) will definitely gravitate towards songs like "Silence" and "Vanilla Skin Delight". Give this one extra points for the gorgeous cover of Kate Bush's classic "The Man With the Child in His Eyes".
Locrian & Christoph Heemann, Locrian & Christoph Heemann (Handmade Birds): This very intriguing looking collaboration between Locrian – one of the most exciting avant-garde bands today – and noted German experimental artist Christoph Heemann turns out to be a lot subtler than any of Locrian's recent work. This time around it's strictly an adventure in ambient sounds, as the musical partnership creates abstract compositions by slowly layering haunting drones atop one another, with minimal percussion and instrumentation. The overall effect is even more harrowing than usual for Locrian, which is saying something. When those lead vocals kick in on "Loath the Night", your skin will crawl. These guys could make a great horror film soundtrack, but the mental images these compositions compel you to conjure are plenty disturbing enough. Order it now from Handmade Birds.
Mortor, Shoot 'Em Up (self-released): It's strange to compare a legitimate band to Dethklok, but this Ottawa, Ontario quintet creates such a quirky, catchy combination of death metal and thrash. While it's nowhere near as cartoonish and sophomoric, the band is still smart enough to toss in some moments of levity, as on the contagious "Clusterf**k".
Norska, Norska (Brutal Panda): You'd think a band calling itself Norska would specialize in something revolving around black metal, but nope, this is a straight-up sludge/doom band. Led by YOB bassist Aaron Rieseberg, this project is often a lot more uptempo than his more famous band, and often features a guitar tone that sounds lovingly punched from Earth's Dylan Carlson. This is a very promising first album.
Obscenity, Atrophied in Anguish (Apostasy): The German death metal band has returned with their first new album since 2006, and it's as strong as you'd expect, throttling death tunes with a predilection towards touches of traditional heavy metal. Easily the best death metal choice this week.
Rabbits, Bites Rites (Good To Die): More raucous noise courtesy the Portland band, once again they're not so much cuddly bunnies as the Killer Rabbit of Caerbannog. As punishing and jarring as the music is, though, it still feels triter than, say, on the level of Unsane. The cover of Husker Du's "What's Going On" is a keeper, but not enough of Bites Rites is strong enough to warrant a full recommendation.
Seremonia, Seremonia (Svart): They might share the same label as fellow Finns Jess and the Ancient Ones, but Seremonia is a completely different beast, taking their unique brand of occult metal into much murkier, enigmatic territory. The recording of this album is quite lo-fi, dominated by heavily distorted bass and the detached chanting of singer Noora Federley (in Finnish, if it wasn't impenetrable enough), resulting in a much creepier vibe than Jess and her band. Not the entire album works, but when it does, as on "Rock n' Rollin' Maailma" and the sultry "Aamuruskon Kaupunki", it becomes apparent that great things are not out of this band's grasp.
Ufomammut, Oro: Opus Alter (Neurot): A mere five months after putting out Oro: Opus Primum, Italy's Ufomammut are back with the second in their Oro series. This time around the atmospherics, which helped make the last album so memorable, have been put on the back burner in favor of some good, old-fashioned doom riffs, and the band sounds crushing in the process. It doesn't get much better than the hypnotic krautrock jam "Sulphurdew".
Vision Of Disorder, The Cursed Remain Cursed (Candlelight): Much has been made about how influential Vision of Disorder were on a generation of metallic hardcore bands, and that cannot be disputed, but considering how many inept metalcore hacks have come along since VOD's breakup, you can't help but say sarcastically, "Uh, thanks, guys." Vision of Disorder were, and still are, the rarest of breeds, a competent metallic hardcore band, but the fact that they know how to write an engaging song is making people believe their first album in ten years is a great piece of work. It's not. It's a decent album by a band that's good at a simple musical formula. The unfortunate part for the band is that the formula they helped pioneer has now been done to death, and the music has far less impact now than it did 14 years ago. It's a sad state of affairs for a musical genre when an ordinary, sporadically pleasant album is deemed better than it actually is, simply as a result of the rest of the genre being so damned awful.