An interview with Laina Dawes, author of 'What Are You Doing Here?'
Exploring metal from a black woman's perspective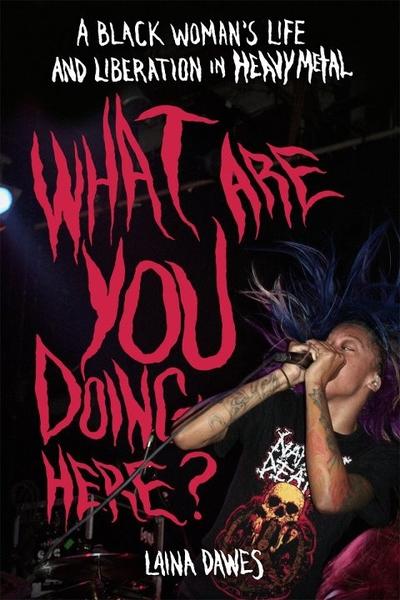 We metal fans love to trumpet on and on about the community of metal, how the music, aesthetic, and culture of heavy metal draws people together like no other form of music out there. One thing that bonds us is the fact that we're all, in some way, misfits, outcasts who never did quite fit into society as neatly as other people. Metal can be very inclusive, a place where us weirdos can finally feel normal.
However, being a white male metal fan is one thing. Try being a black woman with a deep love for metal music. Laina Dawes has been one of my favorite metal journalists over the past five years. The Toronto-based writer joined Metal Edge magazine around the time when I started there, and from then on I've been an admirer of her work, which has also been published at Exclaim!, BlogHer, and her own blog Writing is Fighting. She's now written a book called What Are You Doing Here? A Black Woman's Life and Liberation in Heavy Metal (out November 14 from Bazillion Points), about her experiences being a black woman metal fan. Part memoir, part social critique, it's a fascinating look at metal and hardcore from a perspective never explored before. Most crucially, though, it fearlessly turns over a few stones many metal fans prefer to turn a blind eye to. As idealistic as they make the scene out to be, there is still a lot of racism and discrimination in the genre, and by making her and her interview subjects' voices heard, Dawes has done the metal scene a great service, showing everyone that there's still a lot of work to do towards making metal truly welcoming to anyone who's interested in the music. We're not quite there yet, but What Are You Doing Here? is an excellent start, an important addition to every metal fan's bookshelf. Pre-order it from Bazillion Points or Amazon.
I caught up with Laina this past week to talk about her book. Read on:
Was this book something that you've always felt you had to get out of yourself as a writer?
Laina Dawes: Yes, but not from a completely personal standpoint. I started writing about the representation of race within extreme music because I have a social / racial activist background and because I always wondered if there were others in the metal scene that were making the same observations about race and gender as I was. I grew up in a generation where the radio played an important role in my music listening choices, and listening to a variety of musical genres was natural. I wanted to talk to others about how despite that, there is still pressure to listen to certain types of music based on ethnicity. But the main point was to provide a 'voice to the voiceless,' as I felt that it was important to create a forum in which black women could be open and honest about what brought them to get involved music scenes and cultures that are at times, not so easy to participate in.


How liberating was it writing this book?
Dawes: It was scary! I was very aware that it might not be as well received like any writer. It's the first of its kind and there are sections that are raw, but I feel liberated that I was able to put together a book in which there were a myriad of obstacles in my way, including self-doubt and a few naysayers who didn't think I could complete it. It was a lot of work, a lot of revising and a lot of worrying about some aspects of the book, especially the chapter on racism within the metal scene, but I am really proud of how that particular chapter and the book turned out. Having Ian from Bazillion Point's support all the way through also added a level of confidence.
Reading your memoirs, it's clear you have a very strong personality, but what did you discover about yourself after writing this book?
Dawes: I don't like to and now, will not to back down from a fight. And yes, that I am a strong person, stronger than I thought I was. There is one thing saying, 'I'm gonna write a book,' but its another to be dedicated to it for so long. I think I am way more passionate about the scene and know a hell of a lot more about metal than I was when I first started
The book really takes off during its second half, especially where you address the rampant racism in metal today. How important was it for you to make it known that the metal scene isn't as communal and quixotic as a lot of people make it out to be?
Dawes: It was very important. It's hard to talk about race and racism in a scene in which you have a very strong attachment to, and where you are the minority. Will anyone care? Why not just leave? Racism is so multi-faceted, so deeply ingrained in Western society, but there is this silent agreement that it is not to be acknowledged, that if to do so, especially in metal, it is a sign of weakness. People tend only to believe in something after it happens to them, and so when you are talking to your non-black friends, your observations are often met with a lot of derision. For the interviewees who are dealing with sexism and racism, it was important that they felt comfortable enough with me to share their stories and experiences, and for some, it was the first time they talked about incidences that deeply hurt them. There is simply no place for racism, sexism, homophobia or ableism in metal, no place for it in any culture. I just wanted people to think about it and perhaps do their part to ensure that it is more inclusive than it presently is.
Are you expecting a bit of a backlash from people who don't want the cage to be rattled? Or has it already happened?
Dawes: Oh yeah. I was worried about it as I was writing the book, but it is what it is. I stand behind everything I have written and to be fair, that's just how it is -not everyone is going to like it.  I got one review from an Australian journalist who wrote that he had a hard time comprehending the book because he was a white man, which pissed me off. I have observed that attitude before, in which people are easy to dismiss you because your experiences are so different than theirs, which is totally weak. There is great emotional and economical benefit in labeling people as the 'other.' But it is a reality that there are different experiences and observations, as metal has a huge following across the globe.  But there are people who think that only one perspective is the 'right' perspective, which is false, and quite frankly, a sign of deep-seated insecurity.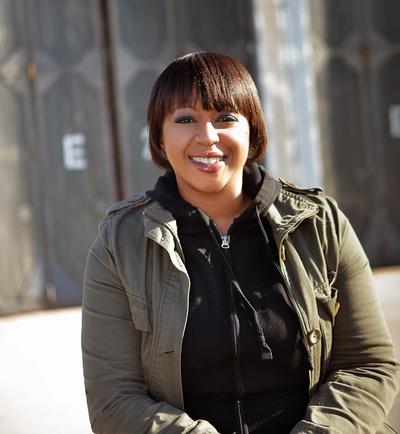 It's incredible how black music publications ignore black rock musicians. Is that side of the music world just as insular as metal?
Dawes: Pretty much. I think that black artists, especially in North America who are simply influenced by music in the same way that other people are, should, if they have promise, get the same recognition. But there is a lot of cultural segregation in terms of who should be listening and purchasing what genre of music. I've been told "don't you people have your own music?' at shows. White and Asian folks have embarked in musical careers in black-centric musical genres and been accepted AND covered by black music publications, but black metal, hardcore and punk musicians do not get the same attention unless they have been 'accepted' by mainstream media first. It's unfair. One of my interviewees says in the book that there is a vested interest – based on economics and in some ways keeping traditional black cultural norms alive– that keeps things separate. If the magazine thinks that their readers are not going to be interested, they are not going to publish it. But why not test the waters and see? I'm hearing from a number of black folks who have expressed interest in rock, metal, hardcore and punk music, and want to see more coverage.
The stories of discrimination you've experienced at metal shows is shocking and embarrassing. Did you ever reach a low point and think, 'I can't do this anymore'?
Dawes: The Kyuss Lives! incident that I write about in the book really did a number on me. I was just mad because I was working – covering and shooting the show, essentially for the person that got in my face.  I really had a great time until that incident spoiled it. Some people have said, "oh, just forget about it" But there was no reason for it to happen in the first place. I'm angry that some people feel that they have the right to get in people's faces and / or put their hands on someone in a venue in which everyone is there for a good time. I have gone to a number of shows since then and my back is always up. I'm more scared of what I will do to the next person that does that, versus another incident happening to me. I think that there is some people who feel that you are ripe for the picking that they can say or do whatever they want to you and they are somehow justified in doing so. And unfortunately, black women are often targets for such behavior, as some don't think we deserve the same respect as others. 
The main point of the book is that people have the right to consume and enjoy whatever music and accompanying culture they want. Simple as that. And they should be respected in these spaces.  But do I feel tired? Hell yes, but I love going to shows, taking photos of bands and  while I have my moments of self-doubt, I'm not going to back down because of some idiot. 
In your opinion, is the metal world more accepting or less accepting of minorities now than it was, say, 20, 25 years ago?
Dawes: 20-25 years ago, before the advent of technology, there were probably fewer people of color at shows. Depending on where you lived.  I do think there is a surge in racism and sexism at shows because you are seeing more young people who have easier access to albums and a wider variance of music than ever before, and they want to check out the music and also because of the current economical and social climate. I know that there have always been black folks involved, especially in the punk scene for decades and depending on where their scene was, it differed, as New York City, San Francisco and Chicago always had mixed scenes. I'm still not seeing a lot of black folks at metal shows in Toronto, and it is sad, but it makes people feel like you are a complete oddball and easy pickin's because there are only one or two of you there. On the other hand, more POC's at shows make some people nervous. You can't win.
One of the best comments from the book was from this woman who had a male friend tell her that the hardcore scene was for white dudes who wanted to get away from their women, minorities, etc. It was seen as an 'escape' as this guy thought that as a white man he couldn't get a 'break' in the real world. That resonated with me, as you are still struggling against that thought that metal is a 'white man's club' and a space where they want to be left alone.  I was recently talking to my brother (who is white) about seeing a really violent mosh pit at a show a few years ago. He was saying that the definition of masculinity is being questioned, as women are making impressive strides in terms of economical and educational advancement. My brother is a classical musician but asserted that metal shows – especially the extreme metal scene  – is a forum for men to be 'primal,' to re-discover and assert their primal instincts as men as there is resistance to overtly showing those instincts in the outside world.
Alexis Brown of Straight Line Stitch is clearly the most prominent black woman in metal today, but are there any others these days who warrant attention?
Dawes: Definitely. Militia Vox, who is the frontwoman for Judas Priestess and Swear on Your Life is a fantastic singer, as well as Tamar-Kali. Both have been around for a while and have garnered critical acclaim but are so extremely talented that I hope they are able to garner a bit more attention for their skills. Amazing performers. Diamond Rowe is the lead guitarist for Tetrarch, a metal band from Atlanta and she has some massive skills. There is also a band called The Skins from Brooklyn, who are great – A mix of Black Sabbath with a punk / electronic vibe. The band consists of three young black siblings and a couple of white kids. Really young, but they have a great buzz right now. Saidah Baba Talibah is from Toronto and is another amazing singer who really has her own sound and a unique presence.
Metal fans tell you that you don't belong, black people want you to embrace more music that's suited to your own race. How comfortable are you now in this unique little cultural niche you've created for yourself?
Dawes: Because of my personal history I think that if I was younger and writing this book I'd have more issues, which is why it was so inspiring to meet so many young black women who really don't give a damn about fitting in. They are unwilling to conform to what others think they should be listening to or how to act. After being rejected so many times, and realizing what makes me happy and feel good about myself, what anyone else thinks I should do or be to make them happy is now irrelevant….but it took a long time to get to this point!
What advice would you give young black girls who find themselves interested in heavy metal?
Dawes: Just do it.  I am a huge proponent of going to shows and supporting metal bands, but I know that there is some reluctance in getting out there, and there are women who have a hard time finding people to attend with them. I would suggest that they either use Facebook or some other online community to get a group of people together to go. Just find like-minded people – and obviously they don't have to be black, but they have to have your back.  If you want to become a writer, volunteer for an online metal magazine and get some clips under your belt, or start your own.
Depending on where you live and the social/economical environment, you will meet people at shows, too – some places are friendlier than others. While I'm not going to encourage getting into confrontations, you also have to be willing to stand up for yourself and remember that you have the right to listen and participate in whatever scene you are in. The worst feeling – and trust me, I still do this – is not responding to people who are overt in their displeasure of your presence.  Be safe and be wise but I find that once you challenge them they tend to back down immediately. There are 10 times more awesome people in the metal community than bad ones, so stand your ground and don't let foolishness sway you from what you want to do and more importantly, who you are. 
Follow Laina Dawes on Twitter at @Lainad.
live local music on
Enter your ZIP code to see concerts happening in your area.
Data provided by Zvents
follow msn music