20 Metal Albums to Look Forward to in 2012
This could be a very good year...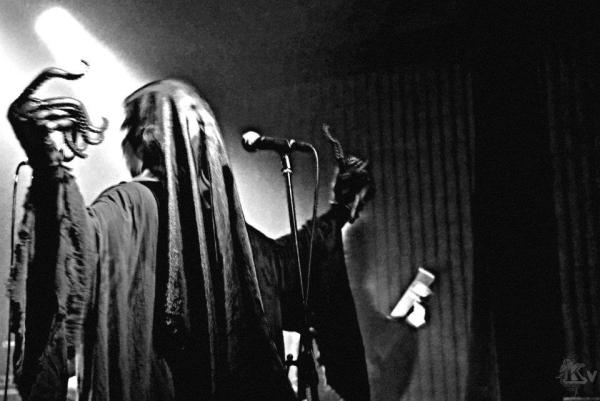 As each new year begins, obsessive music fans always start to look ahead, figuring out which new releases they're most excited about hearing in the coming 12 months. Yours truly included. Although there are far too many potentially cool metal albums coming out in 2012 to mention at once (pick up the February issue of Decibel magazine for a good, comprehensive list), I've singled out 20 bands whose new material I'm most looking forward to hearing. And as a music writer, the 2012 albums have been coming in since early October, some of them I've heard already. Of course, feel free to comment with your own most anticipated albums of 2012!
3 Inches of Blood: The Vancouver band has just completed their fifth album, and it's said to incorporate all the best elements of 2004's Advance & Vanquish, 2006's Fire Up the Blades, and 2009's Here Waits Thy Doom. Which, of course, means more top-notch old-school metal helmed by inimitable singer Cam Pipes. Look for this one to come out in April.
Accept: The seminal German metal band pulled off the kind of comeback so many of us were hoping for but weren't certain would happen, with new singer Mark Tornillo fitting into the frontman's role perfectly. The band wasted no time getting back into the studio with producer Andy Sneap, and 13th album Stalingrad is certain to be a highlight of this spring's new releases.
Alcest: I've prattled on enough about the French band's third full-length Les Voyages De L'Âme already. It's out in Europe right now, hitting North America at the end of the month, and is already a serious contender for the year-end list. Listen to it here.
Black Sabbath: You have to have realistic expectations when it comes to Ozzy Osbourne's first Sabbath album since 1978. We're not asking for another Master of Reality or Sabotage, but Tony Iommi is still a master craftsman of riffs ("Bible Black" remains a latter-day classic), and we can only hope this Rick Rubin-produced album will be better than "Psycho Man".
Cannibal Corpse: The death metal greats return with their 12th album in March. They have a good thing going these days with producer Erik Rutan, and we have every reason to expect the new record to be as strong as 2006's Kill and 2009's Evisceration Plague.
Christian Mistress: The Olympia, Washington band impressed with their debut album Agony & Opium a year and a half ago, and their first album for Relapse is even better, gritty, NWOBHM-derived tunes helmed by singer Christine Davis. Look for this one in February.
Cobalt: This is a bit of wishful thinking, as the duo of Erik Wunder and Phil McSorley take their own time putting albums together, but with US Army soldier McSorley back in the country after years stationed in Iraq, you've got to think a new album is coming soon. And if it does, expect it to be as mind-blowing as 2007's Eater of Birds and 2009's masterpiece Gin.
Converge: The crossover band's eighth album All We Love We Leave Behind is in the recording stages now. Although they've never put out a bad album, I consider 2009's Axe to Fall their best yet (yeah, even better than Jane Doe), and hopefully the new one will continue that momentum.
Ghost: Back in October producer Niels Nielson revealed he was busy recording the follow-up to the flamboyant Swedish band's excellent 2010 debut Opus Eponymous, a record that has only gotten better over the last 15 months, in my opinion.
Gojira: The popular French band's follow-up to 2008's superb The Way of All Flesh is certain to be one of the year's most heavily-hyped metal albums. Knowing these guys, they won't disappoint, either.
Gorguts: The great Quebec band is back with their first album in eleven years. Guitarist Luc Lemay has been joined by Dysrhythmia's Colin Marston and Kevin Hufnagel, as well as drummer John Longstreth (Origin, The Red Chord), so we can expect a dizzying dose of ultra-technical death metal.
Katatonia: The Swedes surprised us all by announcing recently that not only is a new album in the works, but they expect it to be out by early summer. Expect another album of brooding, slickly recorded, first-rate melancholic metal.
Mares of Thrace: The promising Canadian duo has completed their second album, recorded with producer Sanford Parker, and from what I've been told it sounds massive.
Meshuggah: The Swedish prog-metalers return with their seventh album this March. Meshuggah albums are always painstakingly composed and assembled, so any time we get a new one is an event in itself.
Napalm Death: The best grindcore band on the planet returns in March with the follow-up to Time Waits For No Slave. Stream the new track "Leper Colony" over at Brooklyn Vegan.
Neurosis: It's hard to believe it's been five years since the release of Given to the Rising, Neurosis's best album in ages, but the good news is their tenth album comes out this year.
Pallbearer: The forthcoming full-length debut by the Arkansas band is the finest doom metal album I've heard since 40 Watt Sun's The Inside Room early last year. Rather than 40 Watt Sun's introspection, however, expect Pallbearer to bring the darkness, groove, and atmosphere of traditional, cleanly-sung doom in a huge, huge way. Sorrow & Extinction comes out February 21st on Profound Lore.

Pig Destroyer: We've been waiting ages for the follow-up to 2007's earth-shattering Phantom Limb, and it looks like we're finally going to get it in 2012. Expect more astonishing riffs by Scott Hull and disturbing, Burroughsian narratives by J.R. Hayes, the best lyricist in metal today.
Portal: The enigmatic Australian band (pictured above) never fail to fascinate, and their fourth album is certain to contain more of the kind of dense, complex, suffocating death metal they've come to be known for.
Testament: 2008's The Formation of Damnation was a welcome return to form by the Bay Area thrash veterans, one of the better thrash records in recent memory in fact, and if The Dark Roots of Earth (out on April 27th on Nuclear Blast) is anywhere near as strong, we'll be more than happy.
live local music on
Enter your ZIP code to see concerts happening in your area.
Data provided by Zvents
follow msn music