25 @ 25: Celtic Frost, 'Into the Pandemonium'
Shattering expectations, and then some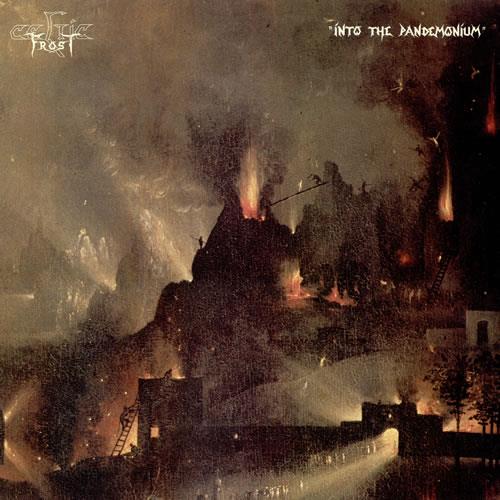 By late 1987 Celtic Frost was on the cusp of something big. The Swiss band's debut full-length, 1985's To Mega Therion was an underground phenomenon, having built very strong word of mouth over the next couple years, the band's exposure in North America helped a great deal by the video for "Circle of the Tyrants", which for many kids was their first exposure to extreme metal. Although Bathory was starting to make serious noise, and the German thrash wave was starting to crest, Celtic Frost were still the standard bearers when it came to cutting edge underground metal, and whether you liked To Mega Therion or not back then (17 year-old me considered Helloween to be the superior band in 1987), you knew that the much-anticipated follow-up was going to be something massive. The hype was through the roof.
To this day I remember a VJ on Canada's MuchMusic channel mentioning the details of Celtic Frost's new album in the fall of that year. It was called Into the Pandemonium, its cover artwork would be lifted from Hieronymus Bosch's painting, The Garden of Earthly Delights, and its opening track would be a cover of Wall of Voodoo's "Mexican Radio".
Wait. What?
I certainly wasn't the only one to do a double-take at the news that the new Celtic Frost record was going to include a new wave cover. Everyone knew the band were groundbreakers, but this was almost too bizarre to fathom. And indeed, when we heard the actual song, we didn't know what to think. 25 years have passed since the release of Into the Pandemonium, and I still don't know what to make of the song. It's so straight-faced, guitarist Tom G. Warrior kicking things off with his trademark "OOH!" and the trio – rounded out by bassist Martin Ain and drummer Reed St. Mark – launch into a weirdly lively rendition. And that's actual humor we hear from Tom as he drawls, "Wish I was in Tijuana / Eating barbecued iguana." It sounds like the kind of novelty toss-off cover a metal band does for a b-side, but this was kicking off the most hyped underground album metal of the year.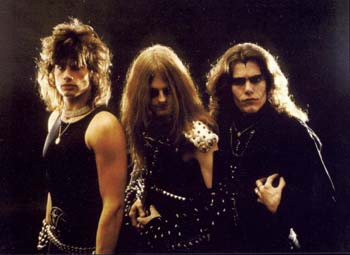 In the end, it's oddly fitting. "Mexican Radio" is actually telling listeners, "Expect the unexpected," and that's exactly what listeners get for the next 43 minutes. Weird vocal turns, operatic singing, an industrial/dub experiment, and general zaniness. The second track is almost as jarring, as "Mesmerized" is a straight-ahead love song, sung by Warrior in a tortured, twisted whine: "You, who like the moon at night haunted my mortal heart / You who made this ancient walls shine like divine marble." "Tristesses de la Lune" is another wild change in direction, simply a woman named Manü Moan (of French dark wave band The Vyllies) seductively reciting Baudelaire like Brigitte Bardot over a Jean-Claude Vannier-esque string arrangement. "I Won't Dance" marries a groovy metal jam with R&B background singers, making for a very surreal experience. "One in their Pride" was even more startling at the time simply because it's a completely electronic song on a guitar/drums record, not far removed from the music Ministry was making at the time. Ultimately that song would prove to be incredibly prescient – predating Nine Inch Nails – as electronic music and metal would collide regularly in the 1990s.
There are still songs that feel like more natural progressions from To Mega Therion, such as the straightforward chugging of "Inner Sanctum", the filthy-sounding "Babylon Fell", and "Sorrows of the Moon" (during which you can practically hear dozens of Norwegian black metal bands forming in its wake), but the moments you remember forever are the ones that blindside you. Does it always work? No, but it remains one of the bravest, most audacious albums in metal history.
Despite feeling very uneven today, Into the Pandemonium was so important in 1987 because it challenged young metal fans to open their ears and minds to sounds outside the metal realm. These days metal is so wide-ranging, and bands cite many non-metal influences and incorporate music from far outside the genre's boundaries, but 25 years ago the mindset was so much more narrow and insular. You didn't dare admit to your hesher buds that you liked The Cure. Into the Pandemonium helped break those walls down, and us young headbangers emerged from the experience a little worldlier than before hearing the album.
In November of 1987, with Pandemonium so widely praised, it was universally assumed that Celtic Frost could do no wrong. How mistaken we'd be, as we'd find out ten months later.
live local music on
Enter your ZIP code to see concerts happening in your area.
Data provided by Zvents
follow msn music