Ten memorable moments from 70,000 Tons of Metal 2013
Four days, 42 bands, 2,000 metalheads, one ship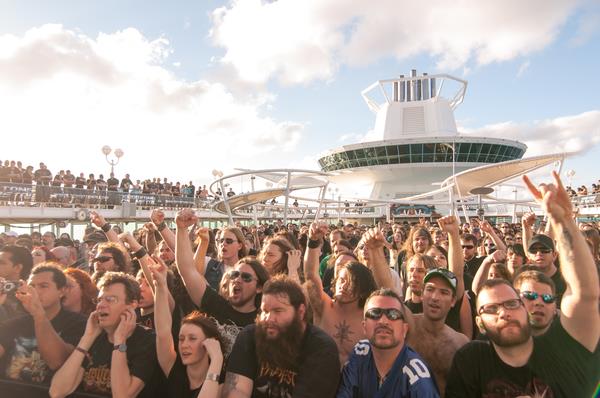 Photos by Marc Hansen, Michael Jagla, Ag Babin, and Adrien Begrand
Last week 42 bands and more than 2,000 metal fans boarded Royal Caribbean's Majesty of the Seas in Miami for four days of music, booze, and mayhem. Travelling to the Turks and Caicos and back, the third annual cruise  - and fourth metal cruise overall organized by Ultimate Music Cruises – reiterated once again why it's one of the coolest festivals in the metal world. As I mentioned before in my recap of last December's Barge to Hell, the best thing about these cruises is that they're small and self-contained: you get to see bands that would normally play to huge crowds at European festivals, only in intimate settings, all bands play two sets, there's very little overlap, you're sleeping in a cabin instead of a tent in a field, and best of all, you're in the glorious Caribbean sun in the middle of winter.
With its laid back atmosphere and the friendliness of everyone who had travelled from 55 different countries to be there – not to mention music from ten in the morning to five in the morning – I can think of no better celebration of the global metal community than 70,000 Tons. Of course, some bands were better than others – Helloween, the only band on the cruise to publicly make a big deal about their "co-headlining" status, played a pair of patently unspectacular sets – but there were so many memorable moments that I thought I'd highlight the ten best ones.
Before I begin, though, I should add that the fourth annual 70,000 Tons of Metal has been set for January 27-31, 2014, and travellers will have a chance to vote for which port the ship will go to. Visit 70000tons.com for more details.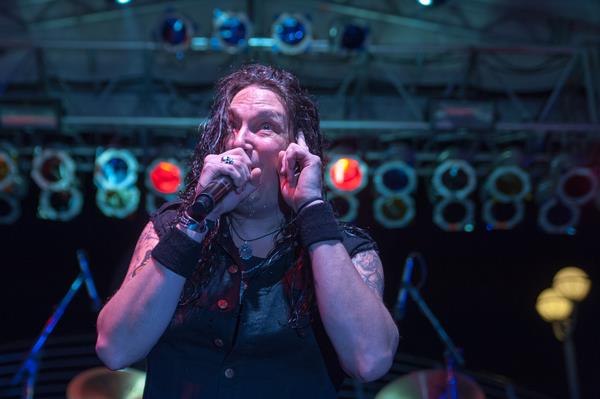 Metal Church's reunion at sea
Having last seen Metal Church in 1986 opening for Metallica, I was very interested in seeing the band's first shows after going on hiatus three years ago. And they sure made it enticing, promising to perform their classic 1984 debut album in its entirety, as well as having the fans vote for the setlist of their "greatest hits" show. What I wasn't expecting was that Metal Church would be, hands down, the best band on the entire cruise, performing two spectacular sets, sounding in peak form. The first show, at one in the morning on the pool deck on the first night, was the greatest hits set, and featured such favorites as "Ton of Bricks", "Badlands", "Fake Healer", "The Dark", and was highlighted by a truly epic performance of "Watch the Children Pray" as the ship barreled through driving rain. The second set, held in the 1,000-capacity Chorus Line Theater, focused on that first album and was thrilling, as guitarist/founder Kurdt Vanderhoof and singer Ronny Munroe led the way through that great record. "Beyond the Black" and "Gods of Wrath" were buzzing in my head the entire trip, and for all the hype of the more popular bands, it was this band of geezers that came along and completely stole the show.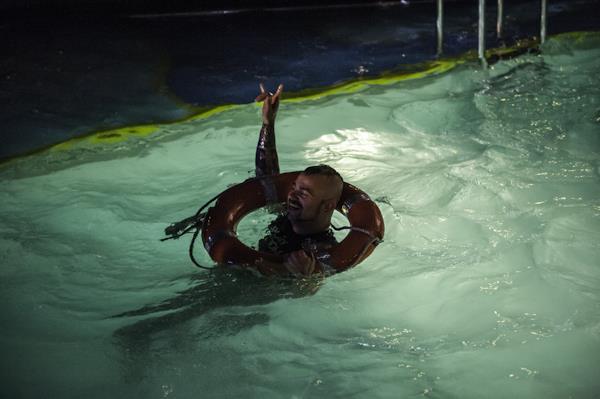 Sabaton opening and closing the festival
I'd always had trouble coming to grips with Sabaton's odd combination of serious war themes and cartoonish power metal, and when I first saw them live at the inaugural 70,000 Tons in 2011 all I could think was, who are these clowns? But something funny happened in the two years that passed. The Swedish band's songs wriggled their way into my head more, their 2012 album Carolus Rex was by far the best and most focused record they'd put out to date, and they're actually a very likeable band despite their goofiness. So it was rather fitting that Sabaton were chosen as the band to open and close the cruise; like Exodus, who had done it twice before, the boys in Sabaton had as much fun on the ship as any fan onboard, and were the one band the entire ship seemed to rally around. Both their sets were greeted by big crowds, and to their credit, they played completely different material at each one. Sure, I'll never understand why a song about the Allied invasion of Normandy requires everyone to hop up and down like bunnies, but Sabaton's performances were energetic and memorable, capped off by singer Joakim Brodén crowdsurfing his way from the stage to the pool.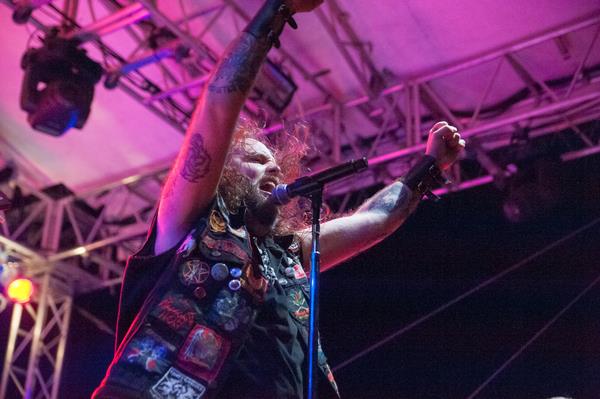 3 Inches of Blood triumphing despite bad scheduling
One of the later additions to the band lineup, Vancouver's 3 Inches of Blood weren't exactly given the best time slots: 4:15 a.m. on Day One on the pool deck, and 3:30 p.m. on Day Four in the tiny Spectrum Lounge when everyone would be out in the sun. But give them credit, they made the best of their situation and turned in a pair of raucous performances that dug into their now impressively deep back catalog. It's not easy getting an insane mosh pit going at five in the morning, but they did it as they played "The Goatriders Horde" to a surprisingly large gathering. And despite the fact that everyone would rather have been outside on the last afternoon on the cruise, a gigantic crowd gathered in the eighth floor club to see 3 Inches of Blood tear through an equally scorching set, highlighted by an inspired cover of Accept's "Restless and Wild". For a band who originally had their credibility – and longevity – questioned by skeptics and have had to scratch and claw their way to respectability, the response to 3IOB was a big statement, a validation of what's become a stalwart metal career.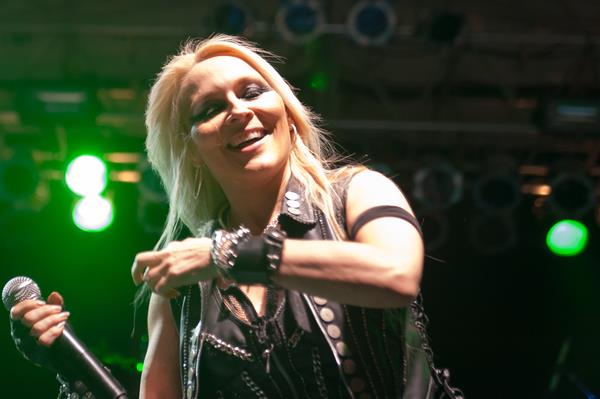 Doro
Friendly, gracious, and always badass, the venerable Doro Pesch was an absolute delight on this cruise, whether meeting her or seeing her perform. Sure, her two shows were predictable, but she never, ever disappoints, always pleasing her fans and extremely thankful for their support. Personally, any Warlock material performed as a good thing, and Doro and her ace backing band gave us renditions of such classics as "I Rule the Ruins", "Earthshaker Rock", "Hellbound", "Burning the Witches", "Metal Racer", "East Meets West", and "Fight For Rock", among others. The reigning Queen of Metal was in top form, and everyone couldn't have been happier.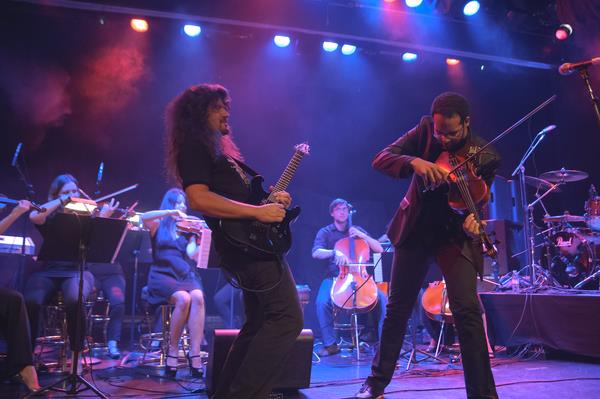 Rage and the Lingua Mortis Orchestra
At first I was skeptical of seeing Rage perform with an orchestra. They had so impressed me at the first 70,000 Tons cruise that I just want to see the trio again, not a metal band adorned with an unnecessary string section. Little did I know just how well the band and the accompanying 15-piece orchestra would go together, as Rage's powerful yet accessible heavy metal (so popular in Germany yet virtually unknown in North America) went so well with the tasteful symphonic arrangements. This all stems from the band's 1996 album Lingua Mortis, a metal-meets-orchestr​a experiment that predate Metallica's much-ballyhooed S&M, and songs like "From the Cradle to the Grave", "Alive But Dead", and calling card "Higher Than the Sky" practically popped with the additional instrumentation. What an eye-opener. When I saw Rage for the first time two years ago I thought, "Man, I have to listen to more Rage." After these two brilliant shows I thought, "Man, I still don't listen to enough Rage."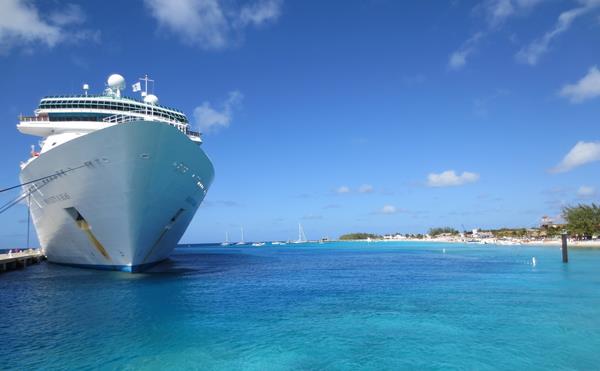 Grand Turk, British West Indies
Some people went scuba diving and snorkeling, but all I wanted was a quiet day to decompress, and our stop on the tiny windswept island of Grand Turk was perfect. Once you venture past the port shops and the cheesy Margaritaville restaurant, a beautiful stretch of beach opens up before you, and I spent the afternoon at the cozy little beach bars, having cracked conch, local beer, and fruity cocktails. Being the only ship at the port that day, the island wasn't overrun with people, which made for a delightful stay that went by far too fast. Of the three ports I visited on these metal cruises, the simplicity of Grand Turk (compared to tacky Cozumel and lovely but crowded Nassau) was by far my favorite.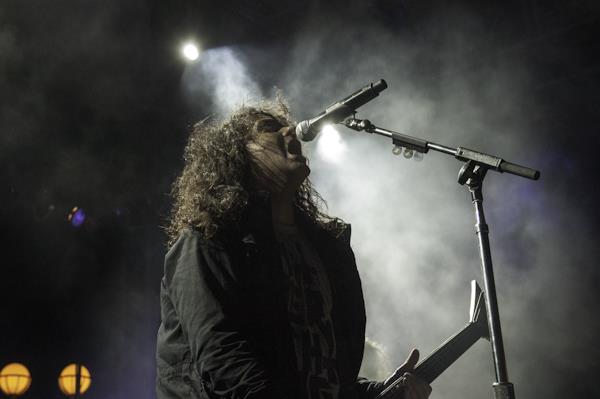 Kreator
For the first time, the number one country represented at this year's 70,000 Tons of Metal was Germany, so it was no surprise that the band lineup was very German-friendly. While Rage, Helloween, Doro, and Gotthard (okay, they're Swiss, but they speak German) all attracted large crowds, easily the most popular German band on the cruise was the mighty Kreator. And no surprise at all, Mille Petrozza and his bandmates didn't disappoint one bit, playing raucous sets on the poll deck and in the theatre, ranging from their brilliant recent album Phantom Antichrist ("Death to the World", "Phantom Antichrist", "Civilization Collapse"), to latter day faves ("Enemy of God", "Violent Revolution"), to classic '80s material that sent people into a moshing frenzy ("Under the Guillotine", "Flag of Hate", "Pleasure to Kill").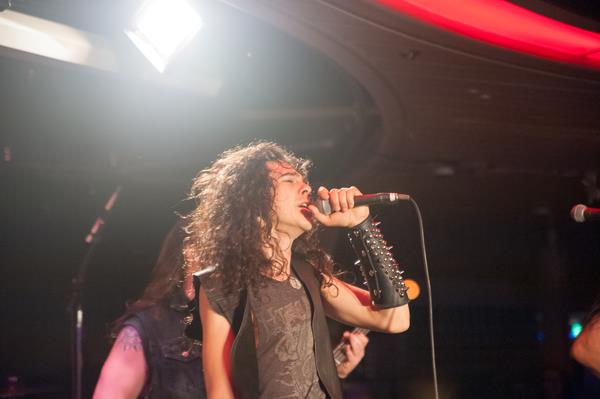 Holy Grail and the Chairs of Death
During Municipal Waste's Spectrum Lounge set at Barge to Hell, a couple guys realized that a) the chairs in the venue have rollers on the bottom, and b) said chairs roll really well on the dance floor. The next thing you knew, an impromptu mosh pit of lounge chairs started up, which basically amounted to a surreal, inebriated version of bumper cars. It was harmless fun, and hilarious to boot, and I was wondering if the stunt would ever be repeated at 70,000 Tons. While Holy Grail was performing at 3:30 in the morning on Day Three, that deadly combination of metalheads, alcohol, and too much time on people's hands resulted in a chair pit that got nuttier as the set went on. It got to the point where a chant of "Chairs of Death! Chairs of death!" would start between every song, two sides would line up, and in "wall of death" fashion, everyone would careen across the floor in their chairs and crash into each other. Making the situation even funnier was that Holy Grail, who could only see the fans at the rail in front of the low stage, heard the chanting but had no idea what was going on. "What's going on down there? What are you guys saying?!" Juvenile, yes, but everyone was killing themselves laughing.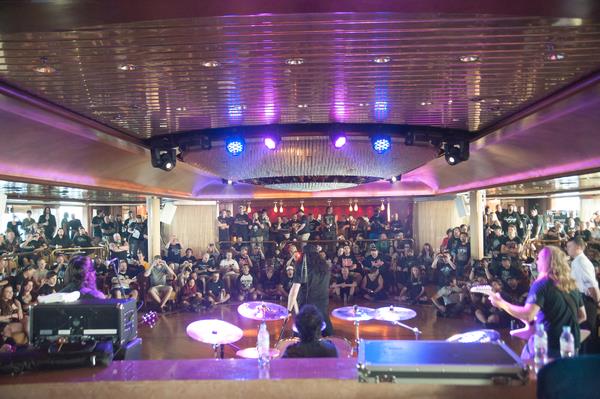 Jeff Waters' All-Star Jams
I wish I had more time to devote to the pair of two-hour jam sessions hosted by Annihilator guitarist Jeff Waters, but there were always shows happening that I had to see. However, I always made a point of dashing down to the Boleros Lounge midway on the seventh deck to see what was happening, because no matter when you showed up, something cool was going on. The best performances I saw were memorable ones: Doro and Mille Petrozza duetting on "Breaking the Law", Doro and Lacuna Coil's Cristina Scabbia sharing vocals on "Killed By Death" and "Highway to Hell", and the gregarious Scabbia, who would turn out to be one of the coolest, most visible, and down to earth metal celebs on the ship, leading the room on sing-alongs of "Bark at the Moon" and "Run to the Hills".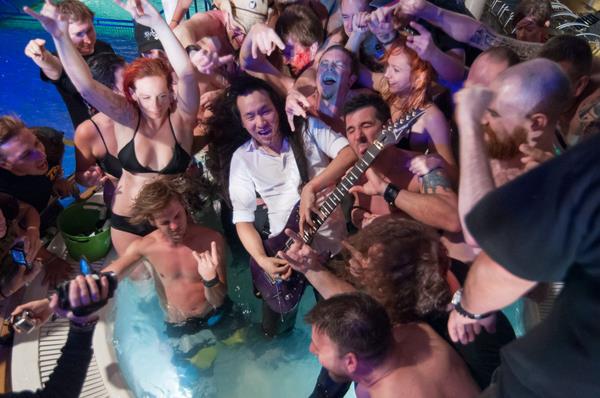 DragonForce's Celebrity Hot Tub
DragonForce's show on the night of Day One didn't go very well. Delayed 40 minutes thanks to trouble with Helloween's equipment a couple hours before that band's show, DragonForce came out totally flat, the mix atrocious, the energy from the music nonexistent. They had a lot to prove, and the band more than redeemed themselves three nights later at the pool deck. The sound was better, the atmosphere was fantastic – the last nights of these cruises always are – and the band was as "on" as I have ever seen them, guitarists Herman Li and Sam Totman shredding away, singer Marc Hudson hitting the high notes in very impressive fashion. Everything was all well and good, songs like "Cry Thunder", "Valley of the Damned", and "Operation Ground and Pound" winning over the jubilant audience, but midway through "Through the Fire and the Flames, Hudson, Li, and keyboardist Vadim Pruszhanov bolted off the stage, sprinting to the two hot tubs behind the standing crowd. After that, mayhem: Pruszhanov splashing madly with his keytar in the water of one hot tub, Li playing his climactic solo from inside the other, Hudson joining his pals with one last final chorus. If there's one moment that best epitomizes the lunacy, camaraderie, and fun of 70,000 Tons, it was this, where audience and performer get together without barriers and just have a blast together. It was the defining moment of a sold-out cruise that just keeps getting better and better every time out.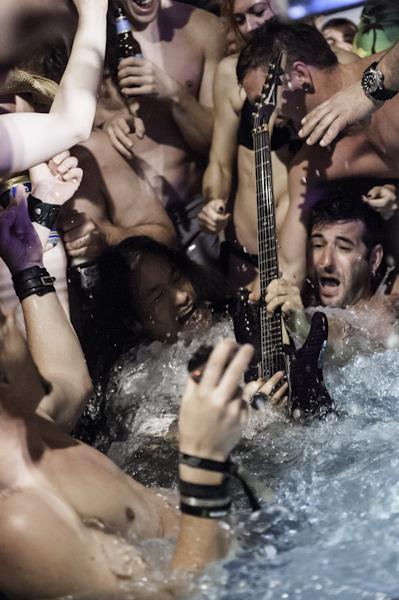 Having seen a personal best 36 of the 42 bands play, here are – in my opinion, anyway – the ten best bands on 70,000 Tons of Metal 2013:
1. Metal Church
2. Rage
3. Sabaton
4. Kreator
5. 3 Inches of Blood
6. Doro
7. In Flames
8. Nile
9. Tiamat
10. Delain
live local music on
Enter your ZIP code to see concerts happening in your area.
Data provided by Zvents
follow msn music