New Releases For May 8, 2012
The reissue of a seminal album tops them all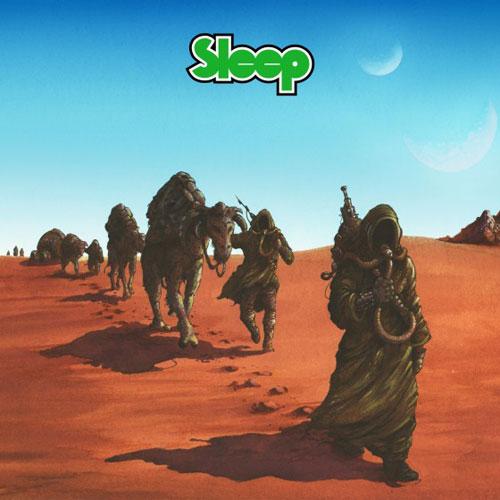 Album of the Week:
Sleep, Dopesmoker (Southern Lord):
I usually prefer to focus on new music when singling out the best new release of the week, but this week an exception must be made, as one of the most influential stoner/doom albums ever recorded has been remastered and reissued in an swanky new edition thanks to Southern Lord.
By now you probably know the story of Sleep's Dopesmoker, how the trio of guitarist Matt Pike, bassist Al Cisneros, and drummer Chris Hakius had signed to London Records in the wake of their excellent 1994 debut Sleep's Holy Mountain. Promised artistic freedom by the major label, the band recorded a wildly ambitious second album, composed solely of one song. A 63 minute song. About weed. London rejected it, and when the band took the song and edited it down to six shorter individual tracks and re-named it Jerusalem, it too was rejected and eventually shelved. Subsequently dropped by the label, Sleep would disband not long after, with Pike forming High on Fire, and Cisneros and Hakius forming Om. Since the split, the record has been released in different versions, Rise Above putting out Jerusalem in 1999, and Tee Pee finally releasing the complete authorized version of Dopesmoker in 2003.
Over the last dozen years Dopesmoker has acquired a certain mystique as more and more people have caught on to just how special a record it is, and its reputation has only grown in the wake of Sleep's recent series of reunion performances. With the rights to Dopesmoker having reverted back to the band, and with the demand for Sleep higher now than it ever was in the 1990s, Cisneros and Southern Lord Records decided to put together a definitive version of the album, fully remastered, on double vinyl, and with new cover art (the band has never liked the past cover art for either Jerusalem or Dopesmoker), and the end result is glorious.
Too many times remastered metal albums are simply made louder, dB levels cranked up to compete with today's newer metal, but the job done by Brad Boatright on Dopesmoker is marvelous. Yes, he makes the entire record sound clearer and punchier than ever, the bass tone thicker, but it never comes at the expense of the work by producer Billy Anderson, as Anderson's distinct tone remains discernable. As for "Dopesmoker" itself, it remains a towering achievement, a staggering exercise in songwriting discipline. The lyrics might be pure stoner poetry ("Drop out of life with bong in hand / Follow the smoke toward the riff filled land") and the band was most definitely immersed in weed at the time (Pike says they were smoking two ounces a day at least) but the music is far from a pot-addled jam. The song is impeccably, meticulously arranged, Pike's Iommi-like riffs unfolding slowly and majestically, Hakius's drumming hypnotic, the ride cymbal hammered with Bill Ward-level force hundreds of times, Cisneros's basslines complementing and echoing the guitar so well. Although "Dopesmoker" is primarily all about The Riffs, Cisneros's vocal efforts cannot be overlooked, as he chants his lines rather than sings ("Proceeds the Weedian – Nazareth"), his cadence lending the music an even more mystical, ceremonial, meditative quality to it. In the end "Dopesmoker" is a prime example of perfect band chemistry, three minds meeting and creating something original, ambitious, and transcendent.
Appended with a bonus live recording of "Holy Mountain" (mainly to fill out Side 4) and adorned with lavish, Ralph McQuarrie-style artwork that nicely matches the record's strong Middle Eastern vibe, Dopesmoker has been released by Southern Lord digitally, on CD, and on vinyl. While the CD version sounds outstanding, Southern Lord's forte has always been wax, and although I've only heard this reissue on CD and MP3, judging by how good the CD sounds it's a certainty that the double LP version will be astounding. Whether you own several versions of Dopesmoker or have never heard it before, this one's a no-brainer: you need this album. You will not hear a better metal reissue in 2012.
Purchase the vinyl version here.
Also out this week:
Allegaeon, Formshifter (Metal Blade): The second album by the Colorado band was produced by Tim Lambesis of As I Lay Dying, and not surprisingly it sounds very much like Lambesis's band. The big difference? Allegaeon's melodies are so much stronger, the lead vocals have personality, and you haven't lost your faith in music when the album's over.
Angelus Apatrida, The Call (Century Media): Excellent Spanish thrash along the lines of Overkill, right down to the bizarre, strangled vocals of Guillermo Izquierdo. That voice can be a hindrance to some, who might consider it too old school, so it's best you give this a sample listen before committing to buying.
Arjen Lucassen, Lost In The New Real (InsideOut): The prolific Dutch progressive rock singer-songwriter-mu​lti-instrumentalist is at it again, this time with a 90-minute double-disc concept album featuring adventurous originals, covers, and actor Rutger Hauer narrating. For all his myriad projects (Ayreon being his best-known) this is just Lucassen's second solo album, and first since 1994, and his fans will love his work here, from the new stuff ("Our Imperfect Race") to his vibrant interpretations of Pink Floyd's "Welcome to the Machine" and Led Zeppelin's "The Battle of Evermore".
At The Skylines, The Secrets To Life (Roadrunner): There's not a lick of originality in the Huntington Beach, California band, just another hybrid of post-hardcore, deathcore, and electronica, but at the very least they throw themselves into the music with abandon on their debut album, coming up with solid melodic choruses to balance the perpetual breakdowns ("Shady Dreamin' (Tension)", "Turbulence"). This is one that'll please the Warped Tour's target audience immensely, and there's no harm in that.
Bible of the Devil, For the Love of Thugs and Fools (Cruz Del Sur): The Chicago traditional metal mainstays return with their first album in four years, and while it's not quite on par with the likes of Slough Feg, Pharaoh and Dawnbringer – singer Mark Hoffman, while energetic, lacks power at times - it's nevertheless yet another potent collection of fist-bangin' tunes that channel Saxon and Thin Lizzy.
Cattle Decapitation, Monolith Of Inhumanity (Metal Blade): After churning out death metal/grindcore for well over a decade, improving little by little each time, the San Diego vegetarians finally make a significant leap forward on their seventh album, a collection of songs that are not only pulverizing but smartly arranged and insidiously catchy. Travis Ryan might be one of the strongest death metal growlers out there, but he's never put in an engaging performance on record until now, and he's all over the map here, punctuating and accentuating the music with such authority and personality (his attempts at "clean vocals" are deliriously twisted) that it dares approach the artful delivery on the inimitable Lord Worm of Cryptopsy. If you love death metal, this is a must-own.
Horseback, Half Blood (Relapse): I've always said not enough American metal bands tap into their country's heritage the way Scandinavian bands do, but more are starting to surface. Like USX, Across Tundras, and SubRosa, Chapel Hill, North Carolina's Horseback incorporate a strong, rustic Americana influence into their music, but the way they could it with black metal influences with Neurosis-style doom, the repetition of krautrock, and abstract drone music makes it stand apart from everything else. Americana is always at its best when it sounds ragged, and those blackened touches by leader Jenks Miller fit brilliantly with the music, best exemplified by the lumbering, hypnotic tracks "Mithras" and "Arjuna". A stumbling block for some will be Miller's outlandish black metal growl, but it does effectively accentuate the bleak, dustbowl feel of the music he's created, best exemplified on the murky, haunting suite "Hallucigenia". Wildly original and enthralling from start to finish, this is one you need to hear. Stream and purchase the album via Bandcamp.
Hung, Hung (The End): Violinist Lyris Hung's new metal project has a few kinks to work out, as its blend of progressive metal and extreme metal can be a little oil-and-water at times, but like the always-fun Unexpect, the more eclectic the songs get, the more engaging the album becomes. It's a promising debut full-length.
Huntress, Spell Eater (Napalm): Already building serious buzz thanks to opening slots on high-profile tours (Paganfest, DragonForce) and an aggressive marketing campaign that accentuates singer Jill Janus's cleavage rather than the music. But considering how grating Spell Eater is, that's probably a good thing. Not only is the band's take on traditional metal patently unmemorable, but Janus's shrill scream is unbearable, as if she's trying to compensate for the hooklessness of the melodies by shrieking at the top of her lungs. This is one to add to the contender for the 'Worst Album of 2012' pile.
Impiety, Ravage & Conquer (Pulverised): The Singapore blackened death metal band has changed members once again, but with vocalist/bassist/fou​nding member Shyaithan at the helm the band has hammered out another album that will please fans with its familiarity. It's fast, it's unrelenting, and yes, very repetitive, at times hampered by its dry production.
John 5, God Told Me To (Rocket Science): The Rob Zombie collaborator is one of the more imaginative guitarists around, and he channels his inner Joe Satriani on his sixth solo album, a lively collection of tunes that range from industrial-tinged numbers, to bluesy acoustic compositions, to flamenco, but metal is this guy's forte, and the more nutty this record gets, the more enjoyable it turns out to be.
Kontrust, Second Hand Wonderland (Napalm): This Austrian band's blend of nu-metal and pop is an easy target for metal purists, but there's no denying this stuff is ridiculously catchy. Half-hooky, half-annoying, this album is nothing if not unique.
Moonspell, Alpha Noir (Napalm): The ninth album by the Portuguese dark metal veterans doesn't stray far from their formula of slickly produced gothic-tinged music, but producer Tue Madsen adds some welcome robustness to the overall tone, giving the already catchy – and at times groovy - music some welcome muscle.
Dee Snider, Dee Does Broadway (Razor and Tie): It's far too easy to dismiss this collection of metal-ized show tunes by the Twisted Sister frontman. What's harder is to admit to yourself that Dee Does Broadway is genuinely fun. Snider's tongue might be planted in his cheek the odd moment, but he takes on selections from such musicals as Cabaret, Sweeney Todd, Guys and Dolls, and Damn Yankees with fervor. Although not all of it works (sorry, The Phantom of the Opera will always suck), this is a whimsical little curiosity that'll make you smile more than cringe.
Storm Corrosion, Storm Corrosion (Roadrunner): In easily the biggest shocker this week, the much-hyped collaboration between two of the most popular figures in progressive rock, Porcupine Tree's Steven Wilson and Opeth's Mikael Åkerfeldt, falls totally flat. That Storm Corrosion is understated is no real surprise, as both musicians have explored their mellower sides in the past with sublime results. That said, no one expected the album to be as boring as it is. Essentially acoustic guitar performances accentuated by minimal keyboards and mellotron, the music is pretty at times ("Drag Ropes"), not to mention enigmatic ("Lock Howl"), but having these songs drift somnambulistically past the six, nine, ten minute mark renders the whole exercise tedious. And don't call these arrangements, "atmospheric." Scott Walker can be both minimalist and atmospheric to devastating, harrowing effect. This, on the other hand, is the prog rock equivalent of NyQuil.
Trioscapes, Separate Realities (Metal Blade): Featuring Between the Buried and Me bassist Dan Briggs, tenor saxophonist Walter Fancourt, and drummer Matt Lynch, this collection of instrumental jazz/rock jams is nothing that Morphine didn't do a hundred times better in the 1990s (minus the über-cool Beat poetry), but for all the clunky drumming it's still a fun collection of instrumentals, thanks mainly to Fancourt's free jazz improvisations.
live local music on
Enter your ZIP code to see concerts happening in your area.
Data provided by Zvents
follow msn music