Heavy MTL, Day One (Part Two)
Egads, the rain!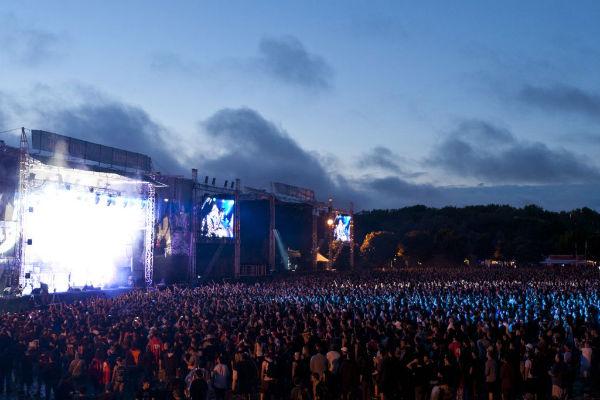 Concert photos by Tim Snow
6:32 ET:
What a death metal combination: Montreal heroes Kataklysm (below) on the Jagermeister stage, followed immediately by the great Cannibal Corpse. It's such a perfect one-two punch that I have to miss Fleshgod Apocalypse to witness that staggering segue.
Kataklysm's "Northern hyper-blast" was aptly crushing, vocalist Maurizio Iacono commanding the crowd in French as the band tore into "Crippled and Broken", "As I Slither", and "Push the Venom", which ignited a furious mosh pit.
Not a minute passed before Cannibal Corpse launched into "Demented Aggression", George "Corpsegrinder" Fisher doing those signature windmills that made his neck muscles so freakishly huge. What starts off as a dodgy mix quickly improves during "Scourge of Iron", followed by such songs as "Disfigured", "Evisceration Plague", "Covered With Sores". During "Priests of Sodom" the increasingly darkening skies open, and the much-ballyhooed rain comes down. By the time the band concludes with "Hammer Smashed Face" and "Stripped Raped and Strangled", it's a deluge, with sticky, slippery mud everywhere.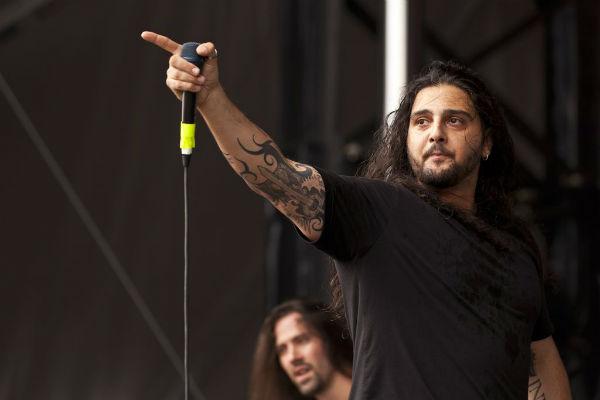 I walk over to the Apocalypse stage, trying not to slip in the mud, just in time to catch Goatwhore (below) performing their best song, the rampaging "Apocalyptic Havoc". True road dogs, it's inevitable that most metal will see them at least twice during their toting cycles, but they're a terrific, blue collar metal band, and I had to catch them, even if it was for only two songs. Now back through the pouring rain to see the last half of Killswitch Engage...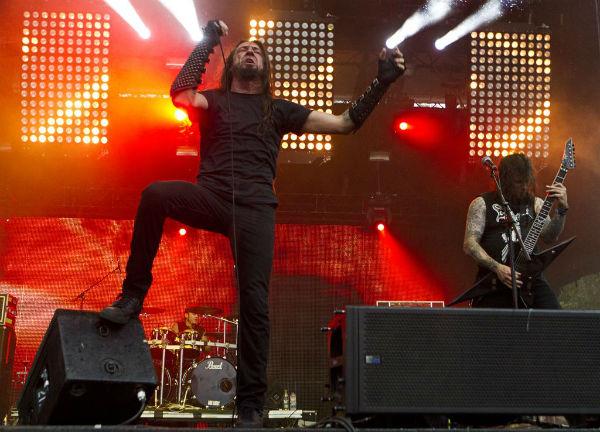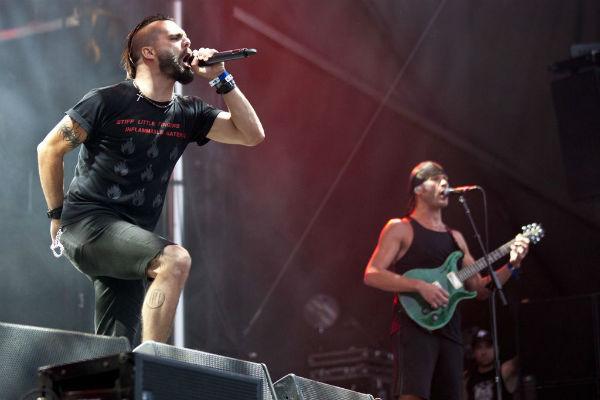 I hadn't seen Killswitch Engage since  gregarious singer Jesse Leach rejoined the Massachusetts metalcore favorites, and he definitely brings a different vibe to a live show than former frontman Howard Jones. And thousands have gathered to hear their catchy songs and the clowning around by Leach and Adam Dutkiewicz. And it feels like a modest triumph. "My Curse" and the popular cover of Dio's "Holy Diver" conclude the set on a high note.
If there ever was a perfect rainy day metal band, it's the Deftones. They came on during the deluge in front of one of the day's biggest crowds and proceeded to crank up (or is it down?) the melancholy. Chino Moreno remains as fascinating a lead singer as you'll come across, capable of some tremendous melodic vocals yet also some brilliant moments of harsher power. Coupled with the restrained, subtly inventive guitar work by Stephen Carpenter, it makes for an intoxicating combination. Highlights included "Rocket Skates", "Be Quiet and Drive (Far Away)", and "My Own Summer".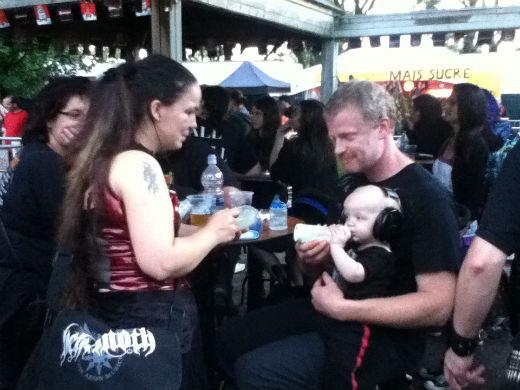 I trudge over to see Origin play the last half of their highly entertaining set ("thanks for coming to see us, and NOT the Deftones"), and sitting 30 yards from the thudding PA is a proud metal mom and dad feeding a very happy baby boy (above), earphones on his ears, merrily bouncing to the hypertechnical death metal. The kid seemed very happy, mom and dad come off as responsible folks, and the scene can't help but put a smile on the face of any curmudgeonly headbanger.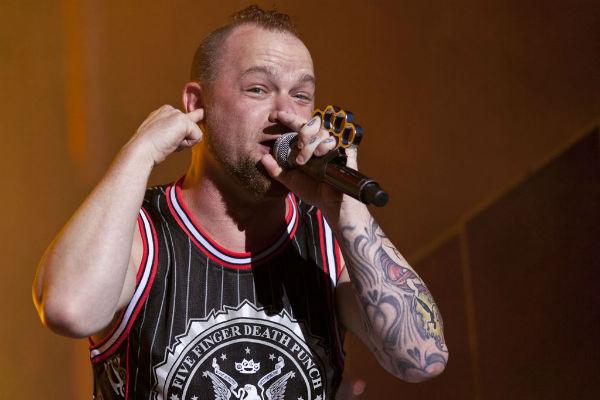 I'd like to think metal fans know better, but nope, 40,000 strong are letting themselves be spoon-fed the moron metal of Five Finger Death Punch. The singer, whose aggro hardcore shtick is tiresome after two minutes, is strutting around with brass knuckles on his fist (see above). Because, after all, he's really, really tough and desperately wants you to know it. "Angry man. Angry, angry man," a pit photographer tells me sarcastically.
Enough of this garbage. Onward to The Faceless before System of a Down brings Day One to a close...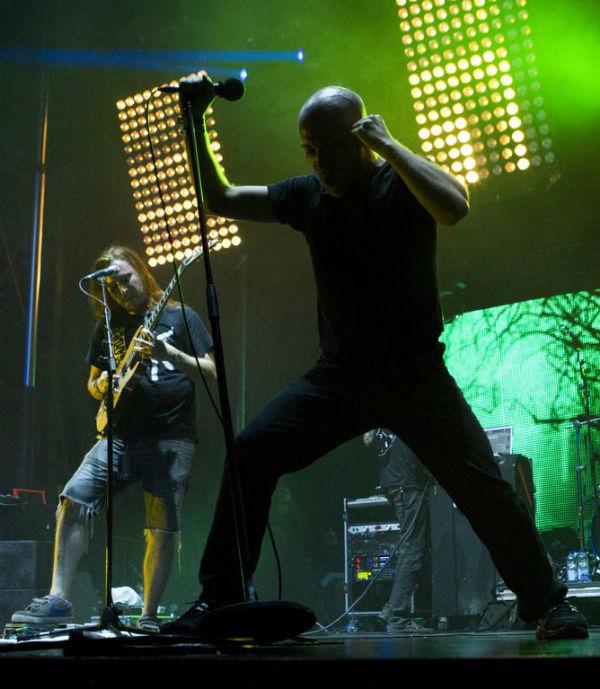 The Apocalypse stage is nice and dark finally, and the gorgeous light show is mind-blowing. Typically, The Faceless's brand of prog/technical wankery has the crowd very mellow. Which is perfectly fine, but their attempts at getting the crowd to roar is completely unnecessary. Does Robert Fripp implore King Crimson fans to "MAKE SOME NOISE"?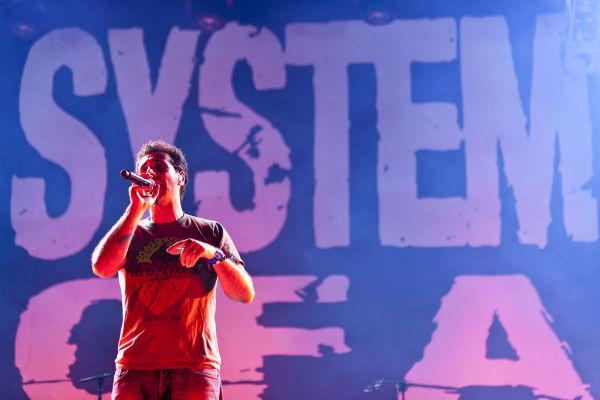 After an horrendous pair of closing songs by Five Finger Deathpunch, one of which was a cloying Nickelback style acoustic ballad, System of a Down kicked into "Prison Song" to a euphoric response from the throng. They remain an incredibly tight-sounding foursome, but once again the lack of a rhythm guitarist has them sounding surprisingly limp for a headlining set as gigantic as this. Their set tended to waver from outstanding moments ("Deer Dance", "Chop Suey") to laughable (the gramatically inept "Lonely Day"), with guitarist Daron Malakian singing lead far too often. Still, the fans, of which there are many, of course, sung along to every line, no matter how hackneyed. Singer Serj Tankian sounded as strong as ever.
I made my way up the hill at the back of Parc Jean-Drapeau and was greeted by a spectacular sight, the flashy stage and huge video screens against a backdrop of the Montreal skyline, the Mount Royal Cross glowing in the distance. After System of a Down played "Aerials", as fitting a climax to Day One as you could want, I took that as my cue to leave, arriving at my hotel, exhausted, a half hour later.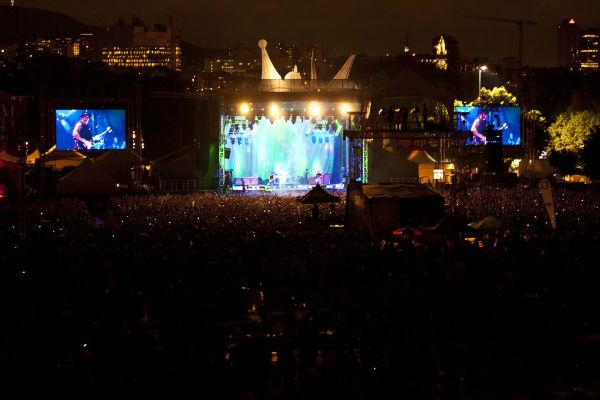 live local music on
Enter your ZIP code to see concerts happening in your area.
Data provided by Zvents
follow msn music