Dimmu Borgir Gets Their Own Comic Book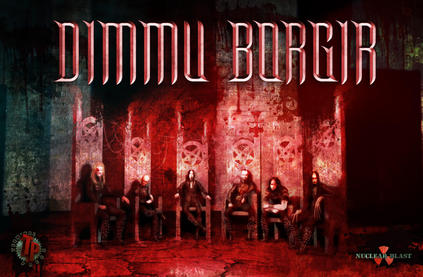 Comics have incorporated metal and hard rock music in the past, most notably with
Kiss
's comics in the '70s. (Dude, they mixed
their own blood
in with the ink!) Now, Terminal Press and Nuclear Blast Records have teamed up to release
Dimmu Borgir: Dark Fortress
, proving that people who think black metal corpse paint makes you look like a cartoon may have a point.
Here's the story: "Three reluctant men are chosen to quest to the Dark Fortress in a desperate attempt to protect their land from a growing evil. Despite a legend warning that the harsh land built upon lava fields is actually the gateway to Hell, they make their way across the treacherous path, encountering horrors, madness and death along the way. The three men will either survive the journey and learn the secret behind the legend of the Dark Fortress, or meet a most gruesome demise." Sounds pretty good, right?
"I am artistically influenced and more passionate about metal music than any other genre or medium," says Terminal Press publisher and writer Brian Ferrara. "This is a project that I have always wanted to do and have thought about for years. I wanted to bring metal bands into comics in a way that would do them justice. These are books for fans of the bands, but they will also be able to stand on their own."
A
Dimmu Borgir: Dark Fortress
preview book containing original artwork and pin-ups created specifically for this edition will be available as a San Diego Comic-Con Exclusive at the Nuclear Blast Records booth (#116). The Limited Edition print run will only be available at the convention and through
TerminalPress.com
. Comic-Con runs July 23-26 at the San Diego Convention Center.
Dimmu Borgir: Dark Fortress
will be available later this year from Terminal Press. (Click the image at the top of this story to see it full-size; it's pretty cool.)
live local music on
Enter your ZIP code to see concerts happening in your area.
Data provided by Zvents
follow msn music