New Releases For May 22, 2012
Making the leap from promising to great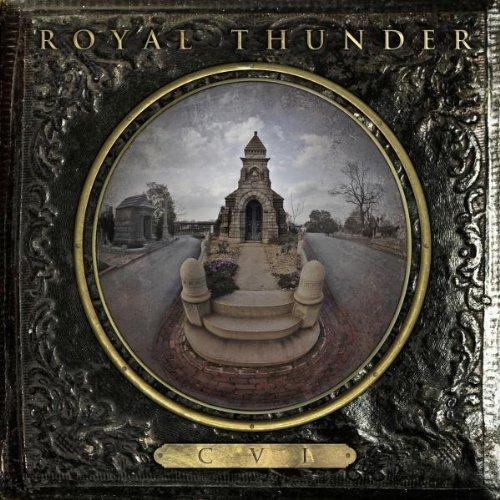 Album of the Week:
Royal Thunder, CVI (Relapse):
One of the coolest things you'll ever hear as a music fan is when a band you're already plenty fond of figures out how to improve and come out of its shell even more, and puts out a record that you might have expected to be good but turns out to be great. Royal Thunder did that to yours truly this spring. I had already been an admirer of the Atlanta band for a year and a half thanks to Relapse, who reissued their very strong self-titled debut near the end of 2010. Their blend of traditional doom, Southern sludge, and the singing of bassist Mlny Parsonz stood out from the rest of the competition, and I was baffled how the foursome wasn't getting the kind of attention they so deserved.
Somewhere along the way, Parsonz, who already had a good singing voice on record, developed the confidence to show how strong her singing truly can be, because the difference between Royal Thunder and CVI is like night and day. Parsonz is all over the entire album, turning in a powerhouse, scene-stealing performance on every single track. No matter if it's snarling like a riot grrrl on "Whispering World", evoking Ann Wilson on "Shake and Shift", the dominant presence of Cherie Currie on "No Good", or approaching the passion and power of Janis Joplin on "Blue", Parsonz is a revelation.
However, the work of the rest of the band, guitarists Josh Weaver and Josh Coleman, and drummer Lee Smith, cannot be underestimated either, as they along with Parsonz channel the likes of Crazy Horse, Sabbath, and Big Brother and the Holding Company with grace. Looking at this ten-track album, loaded with songs that run past the six, eight, nine minute mark, you'd be tempted to wonder if Royal Thunder was biting off a little more than they can chew, but the way the band nails the slow build time and again is masterful. Those jams set the listeners up time and again, then Parsonz enters the fray with her knockout voice, and jaws hit the floor. A great example is "South of Somewhere", which somehow morphs from a dirge-like to a scorching blues-rock jam, then suddenly downshifts again, Parsonz going from sultry to commanding. The overall effect is mesmerizing, and epitomizes a record that's a revelation, a gigantic step forward with a band that has a lot more potential than a lot of people, myself included, had ever imagined.
Also out this week:
Antigama, Stop The Chaos (Selfmadegod): The Polish band is back with a new six-song EP of Napalm Death-derived grindcore and one very curious ambient electronic track. Part pleasing, part befuddling.
Children Of Bodom, Holiday At Lake Bodom (Spinefarm): Metal fans are so devoted that they tend to scoff at the idea of best-of compilations as they place emphasis on individual tracks instead of actual albums, but a career-spanning anthology can be a great thing if done properly, and this one celebrating Children of Bodom's 15th anniversary gets it right on every level. Featuring 18 of the band's best-loved songs and arranged like a concert set list, it flows very well as opposed to simply being arranged chronologically. Toss in a couple of covers, including a rousing rendition of Rick Springfield's "Jessie's Girl" (their best cover tune in ages), and you've got a splendid introduction to the band's body of work.
Diablo Swing Orchestra, Pandora's Pinata (Sensory): While some foolishly lump this Swedish band in with the likes of Unexpect and Electro Quarterstaff, they're far less technical and far more song-oriented, shamelessly incorporating swing, samba, and tango into their metal arrangements. It's corny as hell, but just like on 2009's Sing Along Songs For the Damned & Delirious, it's superbly written, exuberantly performed, and enormous fun.
Firewind, Few Against Many (Firewind, Ltd.): Now dividing his time between being Ozzy's guitarist and helming his own band Firewind, Gus G. has been a busy guy as of late, and on Firewind's seventh album, he's starting to sound tired, as his riffs lack the kind of energy we're used to hearing. Sure, he shreds as nimbly as ever and singer Apollo Papathanasio is in good form, but too many of these songs feel like lazy Zakk Wylde retreads instead of the flamboyant European power metal we've come to expect.
Havok, The Point Of No Return (Candlelight): This is a great little stopgap EP by the Denver thrash upstarts, which includes a pair of good new songs as well as spirited covers of Sepultura's "Arise" and Slayer's "Postmortem/Raining Blood".
Kill Devil Hill, Kill Devil Hill (SPV): It's odd for a band's rhythm section to be the selling point, but the presence of former Black Sabbath/Dio drummer Vinny Appice and former Pantera/Down bassist Rex Brown on this band's debut album has attracted a fair amount of attention. Musically it's a fairly rote imitation of Black Label Society, but guitarist Mark Zavon and singer Dewey Bragg keep things catchy enough throughout.
Kraanium, Post Mortal Coital Fixation (Comatose): Unbelievably boring slam/death metal, complete with asinine vocal grunts and a distracting, comically bad snare drum sound.
Mutilation Rites, Empyrean (Prosthetic): Perhaps the most intriguing thing about Mutilation Rites' debut full-length is its complete lack of pretension compared to other well-known black metal bands from New York City. Stubbornly devoid of any messages or lyrical themes whatsoever, the foursome places all the emphasis on the cathartic power of their music, which, while not exactly bringing anything new to the genre, nevertheless is performed with fierceness.
Pseudogod, Deathwomb Catechesis (Hells Headbangers): The debut full-length by the Russian band is blackened death metal at its most bestial, murky, and unrelenting. Plus vocalist I.S.K.H. emits a truly demonic bellow that sounds as if it was recorded in the Seventh Circle of Dante's Hell.
Sabaton, Carolus Rex (Nuclear Blast): I've long had a problem with Sabaton and their cartoonish approach to a subject as serious as the history of war. Their last album, 2009's Coat of Arms, felt tacky as their unabashedly goofy melodies and fun-loving personalities clashed uncomfortably with such themes as the Holocaust and the Third Reich, as it was clear that the band had to walk a terribly thin line between veneration and bombast. So it comes as a massive surprise to yours truly just how classy, confident, and truly rousing their seventh album is. Perhaps it has something to do with the fact that the entire record is devoted to the story of King Charles XII of Sweden, because the music has never been this focused. Gone is the band's irreverence, as the band instead carry themselves with dignity, songs like "A Lifetime of War", the title track, and the fist-pumping "The Carolean's Prayer" driven by gigantic, stadium-pleasing choruses led by the booming baritone of Joakim Brodén. With such songs as "The Lion From the North" and "Potalva" driving the story and the album with their more aggressive approaches, and "Killing Ground" effectively paying homage to Iron Maiden, this is not only Sabaton's most consistent album to date after a series of very frustrating records, but also a power metal album worthy of year-end list consideration. (Carolus Rex is also available in a separate Swedish version, which is well worth checking out)
Six Feet Under, Undead (Metal Blade): It's not exactly fair to Chris Barnes to continually compare Six Feet Under to his former band Cannibal Corpse, but Six Feet Under's output over the last six years has been so eclipsed by Cannibal Corpse's work that it's kind of sad. There are moments of effective brutality on here ("Formaldehyde" especially), and it's better than the atrocious covers album Graveyard Classics 3, but Barnes and company so complacent on Undead that it's stripped their music of any edge it might have had.
Slash, Apocalyptic Love (EMI): Unlike Slash's self-titled 2010 album, which suffered from its sheer glut of guest vocalists, the former GNR guitarist has stuck with Alter Bridge singer Myles Kennedy on the follow-up, and the tactic works wonders, giving it a much more consistent feel. Sure, Kennedy preens on every track, but Slash's brand of hard rock calls for a dynamic, flamboyant arena rock voice, and Kennedy delivers. Of course, Slash's tunes continue to stick to generic, barroom rock 'n' roll, but the man does it as well as anyone, and this record is good, harmless fun.
Sonata Arctica, Stones Grow Her Name (Nuclear Blast): What in the hell happened here? Sonata Arctica was never without their adventurous moments, but as unpredictable as they got those impeccable vocal hooks were always there. Nobody in power metal comes up with hooks like this band does, which is why their seventh album is such a head-scratcher. Aside from two good songs ("Only the Broken Hearts (Make You Beautiful)", "Losing My Insanity"), the rest of Stones Grow Her Name is either turgid, sloppy (the 16-minute sequel to Reckoning Night's "Wildfire"), or just plain asinine, as on "S**tload O' Money" or the baffling "Cinderblox", which features banjo for some reason. It's understandable that Sonata Arctica doesn't want to keep repeating the "Fullmoon"/"Victoria​'s Secret" formula, but come on, guys. This ungodly mess is inexcusable.
Saint Vitus, Lillie: F-65 (Season Of Mist): The venerable doom band's first album since 1995 arrives with a lot of fanfare, and deservingly so. The record sporadically shows moments of greatness, such as the wrenching "Let Them Fall", the savage "The Waste of Time" and the perfectly gloomy "Dependence", but there are also moments early on Lillie: F-65 that prove to be as much a downer as the album's chemical namesake. While Scott "Wino" Weinrich does a great job with the material he's given, I expected a little more inspiration from guitarist Dave Chandler. For a 34-minute album it's surprisingly hit-or-miss.
Superchrist, Holy S**t (Hells Headbangers): Drawing heavily from Motörhead and Tank, the sixth album Chicago's Superchrist is good, raw, beer-fueled headbanging grooves and riffery, but while I recommend the record, the real "Holy s**t" moment will be when bassist/singer Chris Black's outstanding new Dawnbringer album comes out next week. Stay tuned.
TesseracT, Perspective (Century Media): A mildly interesting five-song EP by the young UK progsters that includes three effective acoustic versions of tracks from last year's album One, a new reworking of "Eden", and a cover of Jeff Buckley's classic "Dream Brother" that's so faithful all anyone can think of is how inferior it is to the original.
Unisonic, Unisonic (Armoury): The power metal pairing fans have been craving for years, Unisonic sees former Helloween bandmates Michael Kiske and Kai Hansen performing together for the first time since 1988, and while it's not at the level of the immensely influential Keeper of the Seven Keys albums, it's nevertheless a very good collection of power metal and hard rock tunes. Besides, it's far better than anything either Helloween or Gamma Ray has done in the last decade. It's great to have these two talents back together again at long last.
Witchtrap, Vengeance Is My Name (Hells Headbangers): No-frills blackened thrash from Colombia. Vicious, primitive, stubbornly old-school, and immensely gratifying.
live local music on
Enter your ZIP code to see concerts happening in your area.
Data provided by Zvents
follow msn music