New Releases For January 17th, 2012
What you need to hear, and what you should avoid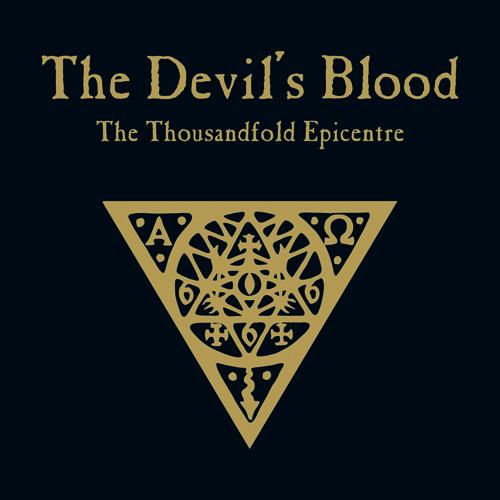 Album of the Week:
The Devil's Blood, The Thousandfold Epicentre (Metal Blade):
In 2008 The Devil's Blood, an obscure band from the Netherlands, turned a lot of heads, including yours truly, with the Come, Reap EP, an extraordinary five-song collection that had a vastly different take on Satanic/occult-theme​d metal than the majority of heavy bands do these days. Led by the siren's song of a seductive, mysterious singer that called herself F. The Mouth Of Satan, the Eindhoven band touched on the earliest sounds of heavy metal with a little Sabbath and Pentagram dabble here and there, but the music was far more psychedelic than your usual doom throwbacks. Not only could you hear a strong early Satanic rock influence like Coven, but touches of Hawkwind's space rock and mid-1960s garage rock as well. The real kicker was a startling cover of "White Faces", a 1980 song by psychedelic rock genius Roky Erickson, which saw the band showing such versatility that many were very excited at the prospect of a proper debut full-length.
While not a failure in any respect, 2009's The Time of No Time Evermore at times lacked the raw energy of the preceding EP. Now more than two years later The Devil's Blood have returned with another full-length, and this time around The Thousandfold Epicentre gets it all right. Nothing has changed at all stylistically, as main songwriter/guitarist​Selim "SL" Lemouchi continues to draw great inspiration from the late-'60s and early-'70s, creating catchy yet murkily themed songs that draw listeners in.
Truly epic in scope, with four of its eleven songs going well past the seven-minute mark and another topping 15 minutes, The Thousandfold Epicentre ironically feels a lot more immediate than the last album, thanks in large part to the way SL is disciplined enough to not cram such lengthy songs with movement after movement. Instead, the songs often reach a trancelike groove, mellifluous basslines and fluid drumming anchoring the adventurous riffs, providing a perfect backdrop for F. to dominate the proceedings. Because of that less-is-more approach, the album gets off to an understated start, with "Unending Singularity", the sumptuous "On the Wings of Gloria", "Die the Death", and the brooding "Within the Charnel House of Love" toning down the heavier side of the band in favor of something a lot more controlled. It's an audacious move, but considering the payoff that happens during the middle half hour, it's one hell of a setup.
Cut from the same cloth as Come, Reap standout "River of Gold", "Cruel Lover" channels the darker side of Peter Green-era Fleetwood Mac, driven by an irresistible gallop riff, subtly growing and decreasing in intensity despite the fact that the volume of the instrumentation never wavers for seven and a half minutes. It's an extraordinary piece of psychedelic rock. "She" is the most upbeat tune on the entire record, bearing a strong similarity to the 13th Floor Elevators' rock 'n' roll, F.'s layered harmony vocals adding an otherworldly effect. In contrast, the nine-minute title track that follows is downright cinematic, one of the boldest songs The Devil's Blood has put out to date, its blend of proto-metal and progressive touches hearkening back to Judas Priest'sSad Wings of Destiny. "Fire Burning", meanwhile, is centered around a wicked style organ riff, a clear homage to The Crazy World of Arthur Brown's 1968 classic "Fire".
While it's not as instantly catchy as those previous songs, the slow, gradual cool-down that comprises the last half hour of The Thousandfold Epicentre is extraordinary, the hushed beauty of "Everlasting Saturnalia" giving way to lugubrious groove and textured ambience of "The Madness of Serpents", which in turn segues into the sprawling, 15-minute "Feverdance", an incredibly restrained exercise in prog jamming that slowly, slowly builds to a majestic climax. A near-perfect encapsulation of everything that's appealing and enthralling about The Devil's Blood, this daring, mysterious album sees this promising band starting to sound closer to being fully realized than ever before.
Stream The Devil's Blood's "She" here.

Also out this week:
Abysmal Dawn, From Ashes (Relapse): The fine 2004 debut by the reliably good Los Angeles death metal band has been reissued by Relapse, complete with four demos as bonus tracks. If you're not familiar with these guys yet, this album is a perfect place to start.
Almah, Motion (AFM): The third album by the side project of Angra members Edu Falaschi (vocals) and Felipe Andreoli (bass), Motion is surprisingly consistent prog/power metal. Highlighted by the flashy "Living and Drifting" and the Symphony X-like "Hypnotize", I'm actually enjoying this a lot more than any recent music by Angra.
Attack Attack!, This Means War (Rise): The "crabcore" kids return with a third album that tries to expand their musical palette, but in the process of trying to sound more serious, this third album comes across as even more inept and bland than anything they've done before. At least "Stick Stickly" made us laugh; this is just a waste of everyone's time.
Buck Satan and the 666 Shooters, Bikers Welcome! Ladies Drink Free (AFM): This new project by Ministry's Al Jourgensen is half an homage to outlaw country, half an attempt at a joke, and 100 percent failure. Despite trying to sound outrageous the songs are not engaging, and the synthetic arrangements (why not use a proper band, Al?) are unbearable.
Desert Sin, Destination Paradise (Pure Steel): The second album by the Austrian power metal band sporadically comes close to approaching the grandeur of Warning-era Queensrÿche, but is ultimately is too erratic in its songwriting to warrant a recommendation.
Detrimentum,  Inhuman Disgrace (Deepsend): Neuraxis-style technical death metal from the UK, this second album isn't too shabby, undeniable technical chops offset nicely by genuine songwriting skill (see "Dominus Detrimentum").
Evergrey, A Decade And A Half (SPV): The two-disc greatest hits collection by the popular Swedish progressive metal band is finally on North American shoes, and while there's no reason for fans of the band to purchase it, it's a perfect introduction for new listeners. If you're not familiar with Evergrey, this is well worth checking out.
Everything Went Black, Cycles Of Light (Prosthetic): We're starting to reach the crustcore/metallic hardcore saturation point, but this St. Louis band holds their own with all the other Entombed clones out there on this mildly impressive Prosthetic debut.
Farsot, Insects (Prophecy): The enigmatic German band has returned with another album of adventurous progressive metal. While they're not yet on the same level as Enslaved and Blut Aus Nord, they tread similar territory - albeit much more epic in scope - and Insects sees the band showing some massive potential.
Hate Squad, Katharsis (Massacre): Hardcore should never be as boring as this album by the German veterans is.
Iron Saviour, The Landing (AFM): A power metal band can mimic Blind Guardian and Helloween all they want, but without hooks they're nothing. Iron Saviour has always been above average in that department, but on their seventh album they knock it out of the park with ten anthemic tracks led by the powerful-voiced singer/guitarist Piet Sielck.
Lantlôs, Agape (Prophecy): Following up the stunning .Neon, Lantlôs returns with a surprisingly short, but nevertheless mesmerizing third album of blackened post-metal. As usual Neige (Alcest) returns to contribute harsh vocals, but the real draw here remains the arrangements by multi-instrumentalis​tHerbst, which veer from pure black metal fury to the ambient glory of Godspeed You! Black Emperor. Listen to it in full here.
Loincloth, Iron Balls of Steel (Southern Lord): Mathy, prog-infused instrumental sludge/doom isn't a bad idea at all, but this album, which consists primarily of songs in the two-minute range, feels half-baked at best. The band, which includes members of Confessor, might want to look at Mares of Thrace as an example of how to write good, engaging math/prog/sludge/doo​m songs.
Nekromantheon, Rise, Vulcan Spectre (Indie): For a band that proudly describes themselves as "filthy Norwegian thrash metal", I was expecting something a lot loss polished, and, well, filthier, but as it is, this second album is simple, formulaic yet immensely gratifying thrash, and nothing more.
Rising, To Solemn Ash (Exile On Mainstream): The Danish band might derive heavily from Mastodon and Baroness, but they also display a strong traditional '80s metal influence, tossing in the dynamics of Mercyful Fate and Judas Priest, which lends this excellent debut some much-needed personality.
Shining, Blackjazz Live (Indie): One of the best live bands on the planet, the Norwegian prog/jazz/metal fusion geniuses have put out a live DVD that brilliantly captures their jaw-dropping show. Led by saxophonist/guitaris​t/vocalistJørgen Munkeby, the band tears through selections from their rich back catalog, highlighted by "The Madness and the Damage Done", "In the Kingdom of Kitsch You Will Be a Monster", and a show-stopping cover of King Crimson's "20th Century Schizoid Man". This has to be seen to be believed.
Spectral Mortuary, Total Depravity (Deepsend): If you want a good example of technically sound but songwriting-devoid death metal, this is it. It's a nice exercise in dexterity, but when it's this forgettable, why should we care?
Stormzone, Zero To Rage (SPV): Solid, NWOBHM-style tunes from Northern Ireland. Especially indebted to Saxon, it's a pleasant little album highlighted by the vocal prowess of John Harbinson, whose power and range is not unlike that of Blaze Bayley and Biff Byford. Old-school fans, take note of this one.
Touchstone, The City Sleeps (SPV): The British band always has a knack for combining 1970s progressive rock (think yes) with an exuberant hard rock slant, and their third studio album sees them continuing to hone their craft. This stuff is shamelessly rooted in the past (check out the synths on "When Shadows Fall"), but the songwriting is always tight and disciplined, and the affable presence of singer Kim Seviour tones down n the bombast just enough to make The City Sleeps a charming prog rock record.
live local music on
Enter your ZIP code to see concerts happening in your area.
Data provided by Zvents
follow msn music