Queensrÿche Members Form New Band, Deny Break-Up
Rampant allegations leading fans to think otherwise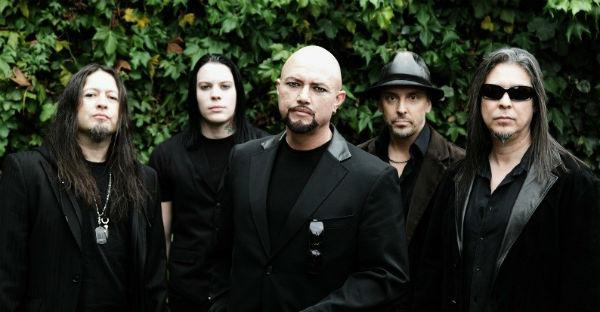 From surreal rumors, to negative stage banter, to a very odd announcement of a band forming a cover band to play their old material, it's safe to say things are getting a little bit weird in the Queensrÿche camp right now.
First off, a couple weeks ago gossip site Metal Sludge posted a report originally from a Brazilian blog alleging that Queensrÿche singer Geoff Tate assaulted guitarist Michael Wilton and pulled a knife on drummer Scott Rockenfield during a soundcheck in Sao Paolo, Brazil on April 14. One source in Brazil since told me more, claiming, "They all had to stay on different floors in the hotel, demanded different flights." This past weekend, the band was playing the Rocklahoma festival, and much was made of Tate's derisive comments towards the crowd, which quite frankly seemed like a tempest in a teapot. Then yesterday, it was announced that band members Wilton, Rockenfield, bassist Eddie Jackson, and guitarist Parker Lundgren had formed a new band called Rising West with Crimson Glory singer Todd LaTorre, and would be performing songs from Queensrÿche's first five albums in Seattle on June 8 and 9.
The band's publicist Jeff Albright has told Examiner.com today, "In regards to the current state of Queensrÿche, the fact of the matter is that Geoff Tate is concentrating on his acoustic solo performances this summer while the other members of the band have formed a new outfit called Rising West with Todd La Torre of Crimson Glory.
"Everyone wants to stay busy, try new things and do what they do best . . . and, of course, that's rock in front of the masses.
"As you're probably aware, Queensrÿche are slated to perform select dates throughout the year."
The band can issue all the diplomatic statements they want, but when fans look at everything that's been reported this past month, they won't help but doubt this band's future. We'll just have to wait and see.
As for Rising West, first of all, they blew it by not naming the new band Kingsrÿche, and secondly, before you slag these guys for forming this weird vanity cover band, listen to LaTorre's performance of "Queen of the Reich". Tate hasn't been able to hit those high notes with that kind of power in more than 20 years.
live local music on
Enter your ZIP code to see concerts happening in your area.
Data provided by Zvents
follow msn music