Lamb of God Premiere Video for "Desolation", Trailer For Upcoming Documentary
'As the Palaces Burn' filmset for 2013 release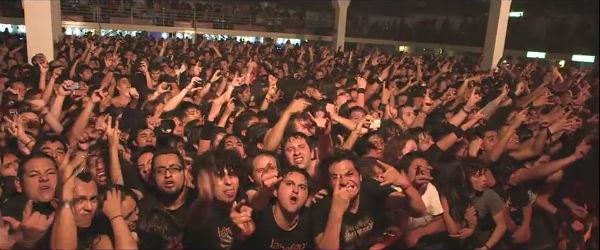 Most of the time metal/hard rock band documentaries are nothing special, usually hastily assembled after a tourand tacked on as a supplement to a concert DVD, but every so often you get one that's special, such as Cannibal Corpse's three-hour Centuries of Torment, Iron Maiden: Flight 666, or the documentary The Boys in Brazil on Rush's Rush in Rio DVD. Now Lamb of God is the latest band to try something ambitious, teaming up with filmmaker Don Argott to create As the Palaces Burn during their huge world tour. The film is slated for a 2013 release, but the first trailer has been posted on YouTube for all to see.
Seemingly much more than your usual tour documentary, the trailer makes the film come across as a blend of Flight 666 and Sam Dunn's Global Metal, as the press release says As the Palaces Burn "examines the impact that music and particularly heavy metal music has made on people around the globe as they live in a 21st century world full of economic uncertainty, political unrest, social injustice, and under a constant fear of war and violence." From the clip that's been posted, it looks very promising. In addition, at the end of the trailer is the new video for "Desolation", from their latest album Resolution. That's eight and a half quality minutes right there.
Watch the As the Palaces Burn trailer and "Desolation" video here.
And as if you needed any more reminding, Lamb of God will he hitting the road across North America this summer, on tour alongside Dethklok and Gojira, as well as making stops at both Knotfest dates in the Midwest, and the big Heavy TO and Heavy MTL fests in Eastern Canada:
Wed/Aug-01 Seattle, WA @ WAMU
Thu/Aug-02 Vancouver, BC @ Queen Elizabeth Theater
Sat/Aug-04 Calgary, AB @ Big 4
Sun/Aug-05 Edmonton, AB @ Shaw Conf. Centre
Tue/Aug-07 Winnipeg, MB @ Convention Centre
Thu/Aug-09 Milwaukee, WI @ Eagles Ballroom
Fri/Aug-10 Columbus, OH @ LC Pavilion
Sat/Aug-11 Toronto, ON @ Heavy TO
Sun/Aug-12 Montreal, QC @ Heavy MTL
Tue/Aug-14 Grand Rapids, MI @ Delta Plex
Wed/Aug-15 St. Louis, MO @ Family Arena
Fri/Aug-17 Council Bluffs, IA @ Mid America Motorplex/Slipknot Festival
Sat/Aug-18 Minneapolis, MN @ Float-Rite Amphitheater/Slipkno​t Festival
Sun/Aug-19 Kansas City, MO @ Midland Theater
Tue/Aug-21 Chicago, IL @ Congress Ballroom
Wed/Aug-22 Detroit, MI @ Compuware Arena
Thu/Aug-23 Pittsburgh, PA @ Stage AE Outdoors
Fri/Aug-24 Charlotte, NC @ Time Warner Cable Uptown Amphitheater
Sat/Aug-25 Norfolk, VA @ Constant Convocation Center
Sun/Aug-26 Baltimore, MD @ Pier 6 Pavilion
Wed/Aug-29 New York, NY @ Roseland
Thu/Aug-30 Lowell, MA @ Tsongas Arena
Fri/Aug-31 Wallingford, CT @ Toyota Presents Oakdale Theater
Sat/Sep-01 Philadelphia, PA @ Outside at the Electric Factory
Sun/Sep-02 Asbury Park, NJ @ Convention Hall
Tue/Sep-04 Orlando, FL @ Hard Rock
Wed/Sep-05 Atlanta, GA @ Tabernacle
Fri/Sep-07 Houston, TX @ Bayou Music Center
Sun/Sep-08 San Antonio, TX @ Sunken Garden
Sat/Sep-09 Dallas, TX @ Verizon Wireless Theater
Tue/Sep-11 Denver, CO @ Fillmore
Thu/Sep-13 Phoenix, AZ @ Comerica Theater
Fri-Sep-14 Los Angeles, CA @ Gibson Amphitheater
Sat-Sep-15 San Francisco, CA @ Bill Graham Civic
live local music on
Enter your ZIP code to see concerts happening in your area.
Data provided by Zvents
follow msn music