New Releases For February 21, 2012
What you need to hear, and what you should avoid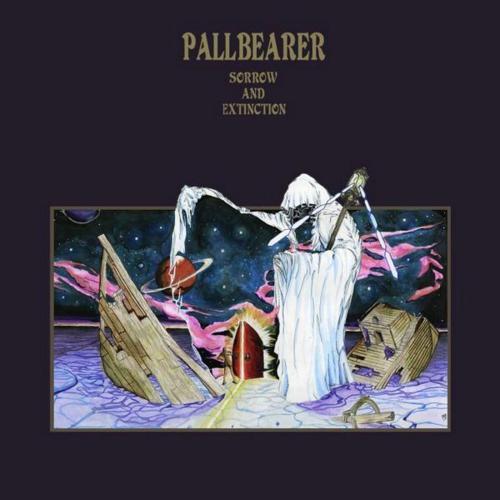 Album of the Week:
Pallbearer, Sorrow and Extinction (Profound Lore)
Doom metal often places so much emphasis on the weight, the heaviness, the power of the music, and rightfully so. The genre at its most gargantuan can be a glorious thing to witness, either on a vinyl LP or in a live setting, be it an album like Master of Reality, Epicus Doomicus Metallicus, Born Too Late, or The Unreal Never Lived. Every once in a rare while, however, someone comes along with a slightly different take on the sound that makes you focus on other aspects of the music rather than the sheer muscle of the guitars and drums. Such is the case with Arkansas band Pallbearer, whose debut album Sorrow and Extinction, while more than heavy enough, proves to be an even more stunning exercise in honest-to-goodness grace.
Grace? In doom? Sure, it's not out of the question. For all the strength of his drumming, Bill Ward exhibited incredible grace, incorporating a jazz-influenced swing that made Tony Iommi's lumbering riffs feel a lot more nimble. Candlemass at their best could make the most powerful riffs sound truly sorrowful, something countless bands would try to copy. YOB's focus on spirituality lends their music a meditative quality that perfectly offsets the awe-inspiring sounds of the power trio. Last year, 40 Watt Sun took the melancholy style of guitarist Patrick Walker's former band Warning and focused more on songwriting subtlety and emerged with an album that was as heartbreaking as it was robust. 
There's an intangible quality about Sorrow and Extinction, though, that sets them apart from the rest. The riffs by Brett Campbell and Devin Holt don't so much bludgeon as they envelop, the full-sounding bass by Joseph D. Rowland – so prominent in the mix – adds great warmth to the tone, while Zach Stine's drumming is so tastefully minimal throughout, allowing listeners to hear the space between the snare beats, the ride cymbal, the fills, the crashes. But at the heart of this extraordinary record are the melodies that give it such a graceful quality. At times one can hear the influence of Jesu creeping into the music, as gorgeous patterns of notes enter the fray, whether from the guitars or from Campbell's singing, which has been lowered in the mixed and drenched in reverb, giving it a gossamer-like delicacy that works so well with the arrangements. There are moments scattered throughout the record, such as the closing melody of "Foreigner", which sounds so sumptuous it feels like French horns rather than guitars.
Comparisons can easily be made to 40 Watt Sun and Warning, and in certain respects they're warranted, but an album like The Inside Room is so much more direct and unflinching, both in the riffs, the singing, and the lyrics, all in keeping with Patrick Walker's confessional style of writing. Pallbearer, on the other hand, keeps things a lot more enigmatic, and that sense of mystery commands one's attention. A song such as "Given to the Grave" slowly unfolds, lotus-like, from plaintive bass intro, to Campbell's brief, four-line lament - again sounding distant but not detached – to the expressive guitar solos that comprise the song's sublime second half. That's where that idea of grace comes in; there's such fluidity, elegance to Sorrow and Extinction that is all too rare in metal music these days. These songs may be long, but they have a set course, and are impeccably arranged, the fragility of the compositions never for a second coming at the expense of the classic doom characteristics. Instead the two seemingly disparate sides complement each other in a way we so rarely hear in metal music these days. It's a rich-sounding, memorable piece of work.
Stream Sorrow and Extinction in its entirety here.
Also out this week:
Halloween, Terrortory (Pure Steel): Detroit's Halloween was one of the most criminally underrated metal bands of the mid-1980s, their first album Don't Metal With Evil a sloppy but very fun blend of metal and horror - Cauldron covered the band's song "I Confess" last year – and it was with a fair bit of interest that I listened to their sixth album and first since 2006. While some traces of the band's fire can be heard ("Images Quite Horrible", "Say Your Prayers"), the songwriting lacks consistency, while the weak, tinny production is far too mediocre to bear over a 72-minute album.
Hellsaw, Trist (Napalm): It'd be easy to slam the Austrian band for their incapability for bringing anything new to black metal, but when assessed without bias this is actually a surprisingly deft fourth album that fits comfortably within the genre's template, much like Belphegor and Marduk, and comes out sounding just as respectable as the band's peers.
Soen, Cognitive (Spinefarm): Featuring the great bassist Steve DiGiorgio (Death, Testament, Charred Walls of the Damned) and former Opeth drummer Martin Lopez, this new project is billed as a progressive metal band, clearly in denial that it blatantly rips off Tool in every respect. That said, all the Tool-isms – right down to the vocals – are impeccably executed, and that touted rhythm section is wonderful to hear in action. It would have been nice to hear something a little more original from this pair, but the disciplined musicianship and decent songwriting ("Purpose" is a highlight) hold up well enough.
Sutekh Hexen, Larvae (Handmade Birds): The second full-length album from the San Francisco experimental black metal/noise project for all its abrasiveness, is actually their warmest-sounding – and dare I say, accessible - record to date, veering with surprising grace between harsh movements and gorgeous, haunting ambient passages. A track like the 15-minute "Let There Be Light" draws the listener in, but the band always keeps its audience at a distance, barely coherent, lurking in the darkness. By combining raw black metal, pastoral acoustic influences, and sound manipulation, Sutekh Hexen has created something wholly original, entrancing, disturbing, and unforgettable.
Witch Mountain, South of Salem (Profound Lore): The Portland, Oregon band's second album – and first in ten years – was on my list of the best metal albums of 2011, and now that they've signed a new deal with Profound Lore, it's been re-released in a limited run of 1,000 copies. Traditional, swinging doom in the vein of Sabbath and Saint Vitus, the soulful singing of the talented Uta Plotkin sets this band apart from the rest. This is a must-own for not only doom fans but metal enthusiasts in general. Stream and purchase the album here.
Xandria, Neverworld's End (Napalm): The German symphonic metal band has been putting rather ordinary albums out for the past decade, but on their fifth album they finally knock one out of the park, channeling the best moments of early Nightwish, Epica, and After Forever, minus the filler. The operatic vocals are plenty bombastic, but the songwriting dials things down just enough to avoid going completely off the deep end. If there's a flaw, it's that this record goes on for too long – typical of most symphonic metal albums – and that it needs that one big "Nemo"-style single, but if you're a fan of the genre, this one's a keeper.
live local music on
Enter your ZIP code to see concerts happening in your area.
Data provided by Zvents
follow msn music