Live review: Alice Cooper
Ageless rocker raises the dead on his new tour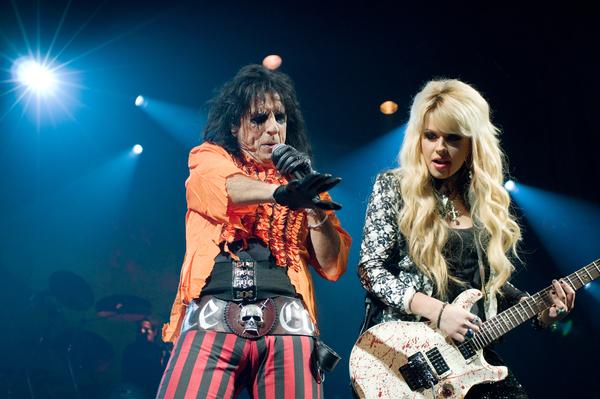 Back in the 1970s a group of hard-drinking male rock stars formed a club called The Hollywood Vampires, in which, well, they'd get royally wasted in the attic of the Rainbow Bar and Grill on the Sunset Strip and try to be the last one standing. A sign now hangs on the wall of the bar, listing the club's members: John Lennon, Ringo Starr, Harry Nilsson, Mickey Dolenz, Keith Moon, publicist Bob Brown, and at the top, "president" Alice Cooper. Nearly 40 years later, Cooper is paying tribute to his late Hollywood Vampires friends on his new "Raise the Dead" tour, which rolled through Saskatoon, Saskatchewan on November 8.
The seated theatre filled with Baby Boomers, Gen Xers, and even a good helping of today's generation, everyone was primed for some good, old fashioned shock rock from the seemingly ageless Cooper, even if only to distract them from the brutal winter storm that raged outside. However they'd have to wait until Geoff Tate finished his unbearable opening set of preening, joyless alternative rock. Emancipated from his former band Queensryche in a very ugly public split, Tate appears to be content playing his solo material, but the same couldn't be said for the audience, who were justifiably baffled by his lecherous songs, arrogant banter, and his hilarious Rob Lowe-in-St. Elmo's Fire saxophone playing (which, if anything, is proof that he both sucks and blows).
Once the miserable spectacle of Tate's set was over, Alice Cooper quickly brought some life to the building with a slick, professional performance that explored his more than 40-year career with a set divided into three distinct parts. The first third of the show focused on his glitzier side, kicking things into high gear with "Hello Hooray", "House of Fire", and "No More Mr. Nice Guy", Cooper sporting a garish black and red striped outfit – complete with top hat – and backed by his crack five-piece band.
"Dirty Diamonds" segued into a drum solo, which then led straight into the second part of the show, which was all about Cooper's more macabre side, and which provided the best moments of the night. "Welcome to My Nightmare" was a fitting way to start, but he and his band peaked during the spectacular run of "Ballad of Dwight Fry", "Go to Hell", "He's Back (The Man Behind the Mask)" – which was a joy to hear – "Devil's Food", and "Feed My Frankenstein", the latter of which climaxing with the appearance of a wonderfully goofy, gigantic monster made to look like Cooper.
The last third of the set provided the biggest surprise, as Cooper revisited the songs of his deceased peers, reeling off covers of The Doors' "Break on Through", The Beatles' "Revolution", The Who's "My Generation", and Jimi Hendrix's "Foxy Lady". It was here that Cooper's band truly showed their mettle, turning in sharp, lively performances. Of the five, the biggest revelation was guitarist Orianthi Panagaris, whose hiring last year was a huge coup for Cooper. A former backing guitarist for Michael Jackson and Carrie Underwood, and a successful solo pop star in her native Australia, the lady can shred, and her Steve Vai-like leads, especially on "Foxy Lady", where she took center stage, lent the music tremendous personality.
Cooper's 90-minute show was slick, to the point, and constantly fun. He remains in good vocal form and is clearly in very good shape, and he gave his fans exactly what they wanted while delving a little deeper into his vast back catalog. Closing with "Poison" and the requisite "School's Out", complete with confetti cannons, it was nowhere near as outrageous as Cooper might have been in the early-1970s, but the clean and sober Alice Cooper has carried on into his 60s with great class and dignity. He hasn't burned out, but he hasn't faded away either, instead finding a good second wind over the last 20 years, living a healthy life, putting out good music, and always entertaining his fans. And for that, we're thankful.
Photos by Retna Ltd.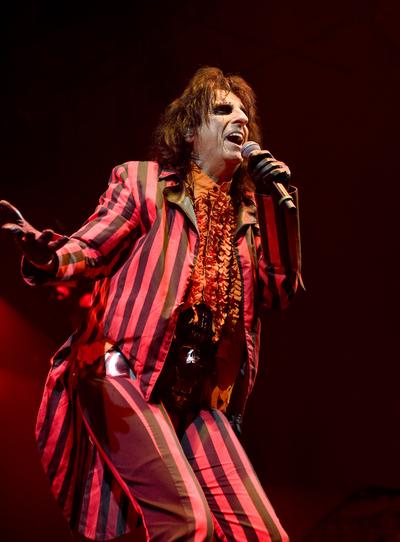 Are you sure you want to delete this comment?
live local music on
Enter your ZIP code to see concerts happening in your area.
Data provided by Zvents
follow msn music