Randy Blythe Posts $200,000 Bail
Lamb of God singer deemed flight risk, must remain in Czech Republic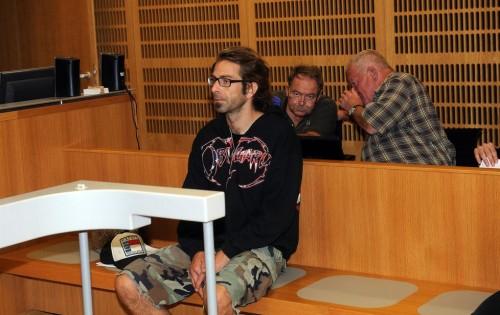 Lamb of God singer Randy Blythe, who was arrested at the Prague, Czech Republic airport last week and charged with manslaughter stemming from an onstage incident with a fan at a show in 2010 after which the fan died of a head injury, posted 4 million Czech Karuna bail (approximately $200,000) today. However, he won't be able to return home yet; considered a flight risk, Blythe will have to remain in the Czech Republic pending further court action. According to a report by Blesk.cz, Blythe must remain in the Pankrác Prison in Prague for at least the next ten days. According to Judge Petr Fassati of Prague 8 district court, "There may well be certain conditions placed upon [Blythe's] release, such as staying in the Czech Republic, or the availability of a specific address. If the conditions are violated, it could lead to an international arrest warrant being issued." If convicted he faces up to ten years in jail.
The rest of the band flew back home to Virginia yesterday, and upon their arrival guitarist Mark Morton posted the following message on Twitter:
Finally HOME! 4/5 of us anyway. I can't wait to give Randy a big bear hug and kiss his pointy, stubbly face! Thanx for all the support y'all! Flooded with questions about Randy. I truly understand and appreciate [your] concern. But it would be irresponsible for me to comment on any of it. Again….thank y'all SOOOO much for your love and support during these difficult times. It means the world to us.
Czech Republic channel TV Nova broadcast a news report on Saturday's court hearing, and while it's next to impossible to follow unless you speak Czech, the report nevertheless features actual footage of the onstage incident with 19 year-old fan Daniel N. A slow-motion clip has also surfaced on YouTube.
Blythe has received a huge amount of support from his peers in the metal community, one of the most prominent voices being Anthrax guitarist Scott Ian, who said in a series of Twitter posts:
re: Randy…complete and utter bulls**t for him to be treated like a criminal for something he didn't do. Now fans can see first-hand why there's no stagediving anymore. Especially in the post-[Dimebag] Darrell world we live in. It's all fun and games until people get murdered, die and get arrested. Randy didn't cause that fan's death. That fan chose his path. People need to take responsibility for their actions no matter what the consequence. Of course it's sad that this person died, it's a tragedy, but it's not Randy's fault. I wouldn't have expected this to happen in Europe. The repercussions from this are going to make shows even more stringent than they already are.
An official statement from Lamb of God management was promised for today, so as soon as that's released I'll post it.
[courtroom photo courtesy Blesk.cz]
live local music on
Enter your ZIP code to see concerts happening in your area.
Data provided by Zvents
follow msn music