25 @ 25: Dio, 'Dream Evil'
On the way down, as the rest of the metal world rises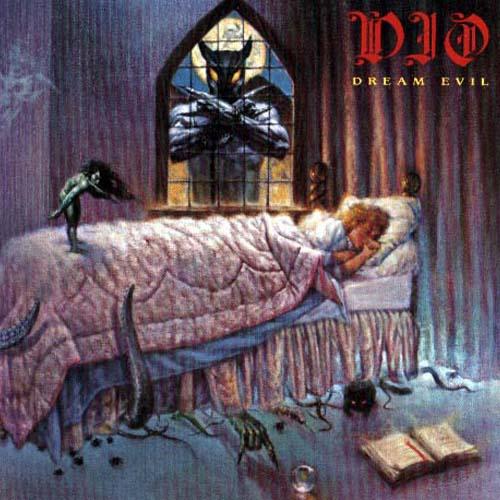 Now that he's gone, it's easy to speak of Ronnie James Dio in glowing, reverential terms. And deservingly so, he was the greatest singer heavy metal has ever known, and will ever know. But 25 years ago, to a lot of us kids Dio was starting to feel a little passé. After leaving Black Sabbath and forming the eponymous band Dio, he enjoyed a terrific run of popularity thanks to a pair of massive-selling albums, 1983's Holy Diver and 1984's The Last in Line. With a phenomenal band featuring former Sweet Savage guitarist Vivian Campbell, former Rainbow bassist Jimmy Bain, Black Sabbath's Vinny Appice, and keyboardist Claude Schnell, Dio the band was a staple on the arena rock circuit for several years.
When Campbell abruptly left the band prior to the release of 1985's Sacred Heart album, that didn't sit well with fans, but while that album's sales couldn't match the last two records, Dio was still popular enough to tour arenas and stage a lavish live show featuring new guitarist Craig Goldy, who was at the time best known for his work with Giuffria. That said, while sales of metal albums continued to rise greatly as the 1980s wore on, Dio's stock was falling fast. By the summer of 1987, Dio had been eclipsed by dozens of bands, and their fourth album Dream Evil was a commercial disappointment, peaking at number 43 in the US and not even managing to certify gold (which every band of note was doing with ease at the time). Plus it didn't help at all that the first video from the album was a cheese-fest featuring the slowest song on the entire record. Still, although a lot of people ignored Dream Evil when it came out 25 years ago, it definitely warrants a re-examination today.
Compared to the tepid and strife-riddled Sacred Heart, Dream Evil is actually a very strong rebound. It might wallow in Ronnie's lyrical clichés, and even self-plagiarize at times in a playful way, but in the end it's a flawed but quite enjoyable record. "Night People" is a fantastic opener, Appice keeping the song moving swiftly as Ronnie paints a vivid picture: "Do you like the dark? / Do you like the way it moves / Do you come alive when neon kills the sunshine?" "Sunset Superman" has gone on to be a favorite of Dio fans, and justifiably so, as it's a perfect encapsulation of Dio's appeal, from Ronnie's inimitable persona ("The night has a THOWsand eyes!"), to the thundering heaviness, to the anthemic chorus. While it was an atrocious choice as lead single and video, "All the Fools Sailed Away" is an excellent Ronnie James Dio doom ballad in the tradition of "Lonely is the Word" and "The Sign on the Southern Cross". "Naked in the Rain" features an unusually spartan arrangement, but it's classy in its restraint, and boasts a strong hook in the chorus. The best song on the entire album remains the gorgeous, wistful "I Could Have Been a Dreamer", driven solely by a powerful performance by Ronnie, one of his very best on record. If that would have been the lead-off single and video, Dream Evil just might have performed better than it did in 1987.
For all its strengths, though, the album still stumbles. It never for a second feels like Craig Goldy is able to create his own voice, as if he's playing riffs he was handed. Nowhere is that more obvious than on the title track and "Overlove", both of which have him basically nicking the riff from Rainbow's "Man on the Silver Mountain" and doing little else. "Seems I've heard this song a thousand times before," sings Dio on "Overlove". No kidding, Ronnie. Campbell and Dio might have been at odds, but musically they were perfect foils for each other, and you just don't hear that with Goldy. While "Faces in the Window" and "When a Woman Cries" bring the album to a close on a decent note, they're not exactly classics (Schnell's synths on "When a Woman Cries" are a touch overbearing), complacently continuing The Last in Line's formula.
Dio himself was not a big fan of Dream Evil. In Martin Popoff's The Top 500 Heavy Metal Albums of All Time, he said,
"Dream Evil was all right…We didn't have the same writing impetus that we had on Holy Diver and Last in Line…It was not a happy album and people were starting to really get down on Craig. And now I now why, but certainly I didn't at the time. But it made for an unhappy time; it was tough, like pulling teeth…There was just this big, horrible dark cloud over everything, it seemed like. So Dream Evil was a difficult one. There were some good songs on it, but I don't think it holds up at all next to Last in Line; not even close."
In the following years the core of the Dio band would go their separate ways. Goldy would be replaced by teenaged hotshot Rowan Robertson, Appice by former AC/DC drummer Simon Wright, Schnell by Yngwie Malmsteen's innovative keyboardist Jens Johansson, Bain by Teddy Cook. Despite the new blood, 1990's Lock Up the Wolves failed to raise Dio's profile, and it wouldn't be until Ronnie reunited with Black Sabbath on Dehumanizer two years later that he'd be enjoying considerable success. But then that would be fleeting. That's how it went for old Leather Lungs. Dio's career wasn't beset by failures by any stretch, but it had its peaks and valleys, and even though it's a better album than people made it out to be 25 years ago, Dream Evil nevertheless was one of those valleys.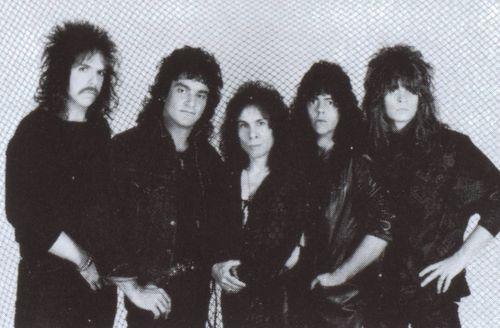 live local music on
Enter your ZIP code to see concerts happening in your area.
Data provided by Zvents
follow msn music