Former Cro-Mags Bassist Harley Flanagan Assaults Former Bandmates
Slashing, biting incident brings new meaning to 'The Age of Quarrel'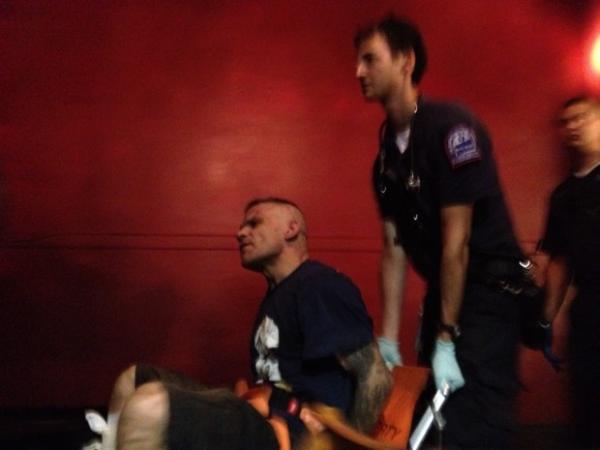 In case you missed it late Friday night, former Cro-Mags bassist Harley Flanagan is in some serious hot water. As originally reported by BoweryBoogie.com, as Cro-Mags were about to take the stage at the CBGB Festival at Webster Hall in New York City, Flanagan made his way to the VIP area and slashed two people with a knife, including current Cro-Mags bassist Mike "The Gook" Couls.
The New York Daily News reported that Couls was cut in the arm and stomach, while a second victim, William Berario, was slashed above the eye and bitten on the cheek, while Flanagan suffered a broken leg in the melee that ensued. BoweryBoogie reported, "Security mobilized in a hot minute and beat the s**t out of him. It took no less than six beefy dudes to control the madness. Blood was everywhere, and bone protruded from his shin. Cops quickly appeared and took him away in cuffs."
After being treated at Bellevue Hospital Flanagan was charged with two counts of second degree assault and criminal possession of a weapon.
Organizers of the CBGB Festival immediately cancelled the event. An Instagram photo of Couls was posted on Saturday, while on Sunday Cro-Mags issued a statement:
We as a band are truly sorry for the way it all turned out in every regard, even the ex-member whose family is now affected by his choices. Our prayers go out to them as well as Mike C., and the others who were hurt, but it was 'his' choice to come to our concert with a hunting knife, standing by our dressing door. Who knows what his actual intent was?! Obviously he wasn't there with it to cut bread for a peace offering as he was heard saying outside he was putting an end to us playing without him. Let's move on now and stop the trash-talking. Keep that PMA — that's what we are all.
Flanagan, a founding member of Cro-Mags, the highly influential New York hardcore band who achieved crossover success with their classic 1986 album The Age of Quarrel, has long been at odds with vocalist John Joseph and other former bandmates, but to see this feud come to a head like it did this past weekend is nothing short of shocking, a sad – not to mention profoundly idiotic on the part of Flanagan - incident that no hardcore fan will forget anytime soon.
[photo by Dave Gustav, via BoweryBoogie.com]
live local music on
Enter your ZIP code to see concerts happening in your area.
Data provided by Zvents
follow msn music