Roadrunner Records Shuts Down UK, Europe, Canadian Offices
Prominent metal label shuttered by Warner

This morning rumors spread like wildfire that Roadrunner Records in the UK and Europe have been shut down as a cost-cutting measure by Warner Music Group, and indeed, it's been confirmed that the prominent metal/hard rock label – home to many popular bands including Opeth, Megadeth, Slipknot, Rush, Nickelback, and Trivium - is in serious peril.
The label has made no official statement yet, but Roadrunner UK publicist Kristen Spinks confirmed the UK closure earlier:
Meanwhile, Trivium's Matt Heafy has confirmed the closure of Roadrunner's international offices: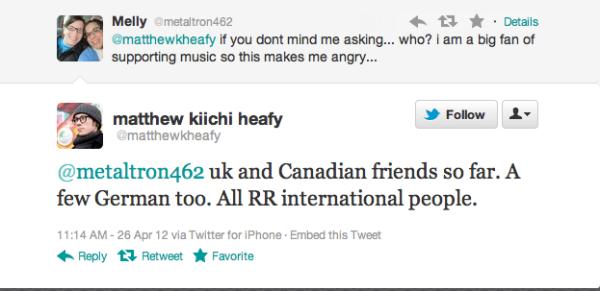 Rose Slanic, GM of Roadrunner Canada, has confirmed the Canadian closure as well:

There's been no word yet on how this will affect Roadrunner in the United States, but at the moment it's looking very dire. I'll have more on the situation as it unfolds.
live local music on
Enter your ZIP code to see concerts happening in your area.
Data provided by Zvents
follow msn music