Katatonia release video for "Lethean"
North American tour with Opeth starts April 18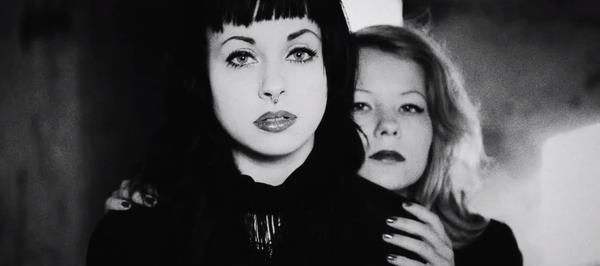 I was a bit down on Katatonia's 2012 album Dead End Kings, which quite frankly felt like the Swedish band had reached a creative dead end of their own, and nearly a year later I still think they underachieved on the record. However, there are just enough good moments on the album for me to offer a damning-by-faint-pra​ise recommendation, and one of those highlights is the song "Lethean", which just so happens to be the band's newest video, and has been released this week.
Directed by Lasse Hoile, who along with helmed past Katatonia videos has worked with Opeth and Porcupine Tree, the monochrome clip is befuddling, as viewers watch a pair of girls run in slow motion, strike some pretentious poses, and run some more. It's a beautifully shot video, though, and does mirror the enigmatic ominousness of the music very well. Watch the video below, and be sure to catch Katatonia on tour with Opeth this spring.
 4/18 - Buffalo, NY @ The Town Ballroom
4/19 - Montclair, NJ @ Wellmont Theatre
4/20 - Worcester, MA @ New England Metal & Hardcore Fest
4/21 - Quebec City, QC @ Capitole
4/23 - Halifax, NS @ Halifax Forum
4/24 - Moncton, NB @ Casino New Brunswick
4/25 - Montreal, QC @ Petit Campus **Katatonia headline
4/26 - Guelph, ON @ Guelph Concert Theatre
4/27 - Allentown, PA @ Crocodile Rock
4/28 - Clifton Park, NY @ Upstate Concert Hall *w/ Steven Wilson
4/29 - Brooklyn, NY @ Music Hall of Williamsburg
4/30 - Norfolk, VA @ NorVa Theatre
5/02 - Ft. Lauderdale, FL @ Culture Room
5/03 - St. Petersburg, FL @ State Theatre                 
5/04 - Athens, GA @ Georgia Theatre
5/05 - Raleigh, NC @ Lincoln Theatre
5/06 - Asheville, NC @ The Orange Peel
5/07 - Wilmington, NC @ Soapbox **Katatonia headline
5/08 - Lexington, KY @ Buster's Billiards & Backroom
5/09 - Indianapolis, IN @ The Vogue
5/10 - Flint, MI @ The Machine Shop
5/11 - Joliet, IL @ Mojoe's
5/12 - Cleveland, OH @ House of Blues
5/14 - Fargo, ND @ The Venue
5/15 - Des Moines, IA @ Wooly's
5/16 - Sauget, IL @ Pop's
5/17 - Lincoln, NE @ Bourbon Theatre
5/18 - Tulsa, OK @ Cain's Ballroom
5/19 - Merriam, KS @ Aftershock **Katatonia headline
5/20 - Boulder, CO @ Fox Theatre
5/21 - Boulder, CO @ Fox Theatre
5/22 - Farmington, NM @ Top Deck **Katatonia headline
5/23 - Tucson, AZ @ Rialto Theatre
5/24 - Los Angeles, CA @ The Roxy
5/25 - Agoura Hills, CA @ The Canyon Club
5/26 - Santa Cruz, CA @ The Catalyst
5/27 - Los Angeles, CA @ The Roxy **Katatonia headline