Striker Play With Fire on New Video For "Let it Burn"
Beer-loving pyromaniacs set to release second album August 7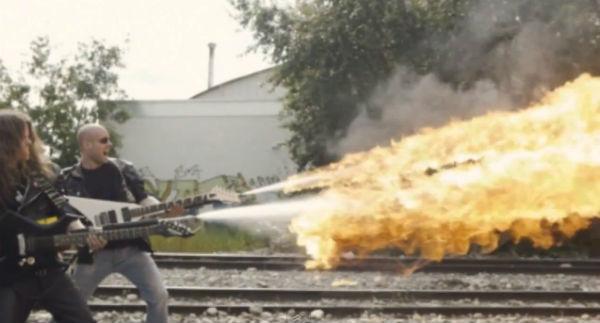 Back in the 1980s metal videos tended to eschew innovation and artsiness in favor of good, simple fun. A funny little storyline was often all you needed to endear a new song to MTV-watching fans, and best of all for record labels, it was relatively cheap to pull off.
Canadian speed metalers Striker are total throwbacks to that musical era, and their new video from their forthcoming second album Armed to the Teeth takes that low-budget idea from old '80s metal videos and has an absolute blast with it: band steals beer truck, gets in a car chase, unleashed flame throwing guitars, and sends a car off a cliff in an hilarious cut to stock footage, band throws a kegger. Straightforward, to the point, and pretty awesome.
Watch Striker's video for "Let it Burn" here. 
Produced by the great Michael Wagener (Accept, Dokken, Skid Row), Armed to the Teeth is a stellar, incredibly catchy slice of retro metal, and will be released on August 7 via Napalm Records.