New Releases For August 28, 2012
Eccentric UK heavy rockers lead the charge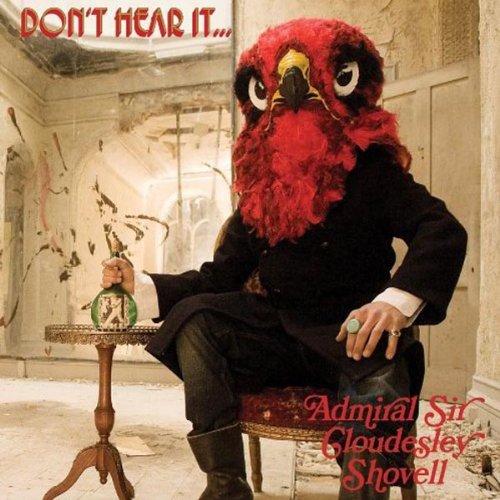 Album of the Week:
Admiral Sir Cloudesley Shovell, Don't Hear It…Fear It! (Rise Above/Metal Blade):
Where to even begin describing this peculiar UK band? They might fit under the same umbrella as UK retro rockers Uncle Acid & the Deadbeats, but Admiral Sir Cloudesley Shovell (what a mouthful) venture further outside those boundaries, equaling the primal, minimalist ferocity of Budgie and the heavy rock jams of early Sabbath and Rutsey-era Rush. But more than anything else, and what set this band apart from everyone else bent on recreating the proto-metal sounds of the early-1970s, is the indisputable fact that this is one hellishly fun record. You can't listen to a song like "Red Admiral Black Sunrise" and not have a big goofy grin across your face; not only is the song fabulously bombastic, but the way it flows from stoner grooves to full-throttle speed is inspired. "The Last Run" has a fuzzed-out groove so massive it warrants comparison to the mighty Church of Misery, while "iDeath" heads full-bore into the filthier side of vintage rock occupied by The Stooges and Groundhogs. These are nine stupendous, flamboyant songs by a band that clearly knows a thing or two about bringing some true personality to heavy rock. What a debut.
Also out this week:
All Hail The Yeti, All Hail The Yeti (AFM): An even combination of the sludge of early Mastodon, the Southern swagger of Down, and the simple approach of hardcore, this debut by the Los Angeles band would have felt fresh if it came out ten years ago. Still, those muscular riffs and songs like "After the Great Fire" and "When the Sky Falls" make this all a lot more convincing than, say, Hellyeah.
Andrew W.K., I Get Wet (Century Media): As I reviewed a month ago, this legendarily raucous debut album has aged very well over the past eleven years. If you don't own it yet, this remastered deluxe edition does nicely
Assembly Of Light, Assembly Of Light (At A Loss): best known as the choir that sang on The Body's acclaimed All the Waters of the Earth Turn to Blood, this "secular all-female choral faction" from Providence, Rhode Island, have released their own album, and it's a riveting piece of work that continually veers from the haunting to the heavenly, often accentuated beautifully by doomy guitars and ethereal drones.
Beardfish, The Void (Inside Out): The seventh album by the Swedish progressive rock band sees them taking a heavier approach that counters their prog influence nicely. Better yet, these guys are smart enough to not let self-indulgence muddle the songwriting, as these tracks are plenty complex – not to mention long - but never impenetrable.
The Chariot, One Wing (eOne): After four albums that did little to convince me that they'd turn into anything other than a boring Dillinger Escape Plan rip-off, The Chariot have come through with an absolute revelation of a fifth full-length. Typically tetchy and complex but now possessing some genuine hooks, and accentuated by a playfulness that pops up from time to time, One Wing sees the Georgia band forging their own identity at long last.
Dysrhythmia, Test Of Submission (Profound Lore): I've always been very picky about Dysrhythmia's past work, as their instrumental compositions, while technically dazzling, have tended to feel chilly and impenetrable. However on their latest album that's all changed, as the new songs feel warmer and more accessible while still remaining structurally complex. It's a perfect example of how an experimental band can employ simple dynamics and still sound innovative. Highlighted by 'In Secrecy' and 'The Madness Of Three', it's easily the band's best work to date.
Eagle Twin, The Feather Tipped the Serpent's Scale (Southern Lord): Another album of peculiar, sludgy doom by the Salt Lake City duo. With a sound that's surprisingly difficult to pin down – the music veers from such influences as Sleep, Melvins, and even Swans – listeners are left just listening to these epic, monstrous-sounding compositions unfold with power and grace.
Eluveitie, The Early Years (Nuclear Blast): On the heels of fifth album Helvetios, which came out in February, comes a nicely timed exploration of the Swiss folk metal band's early work, featuring a re-release of the 2006 debut Spirit, as well as a re-recorded version of 2004's Vên EP. While I'm usually not a fan of re-recordings at all, the new version of Vên does feel a lot richer with the 2012 version of the band performing it. But the real keeper here is the excellent Spirit album, which sees Eluveitie taking the initial steps toward becoming one of the finest pagan metal bands in the genre, led by such standouts as "Your Gaulish War", "Of Fire & Wisdom", and "Tegernako".
Grave, Endless Procession Of Souls (Century Media): Like Unleashed, you can always count on Grave to deliver some first-rate, no-frills Swedish death metal every single time out. Not a lick has changed in their approach, and nor does anyone want it to. It's predictable, but it's still exciting to hear these death progenitors continuing to perform with passion.
Gypsyhawk, Revelry & Resistance (Metal Blade): First of all, this Pasadena band couldn't be less original and more badly named. Secondly, for all the Thin Lizzy imitating, which they do well, they lack the soul that Phil Lynott brought to his music time and again. Thirdly, who the hell covers Rick Derringer's "Rock 'n' Roll Hochie Koo" these days and gets away with it? That said, this is nevertheless fun album, as swaggering tracks like "The Fields" and "State Lines" show that while the Lizzy worship might be on the slavish side, these guys nevertheless know how to write some good songs.
Hex Machine, Fixator (Learning Curve): A combination of AmRep noise and the thudding sounds of the Melvins, the latest by Richmond, Virginia's Hex Machine is a tough one to digest upon first listen, but tracks like "Haunted" and "Shemeless Premonition" do manage to wriggle into your head.
I Am War, Outlive You All (Razor & Tie): Don't let the phrase "featuring Atreyu singer" scare you off, this is actually some impressive hardcore. Loaded with snark ("Uninvite Me to Your Facebook"), gang vocals, and some aptly crushing riffs, Alex Varkatzas has done a good job distancing himself from his more pop-oriented main band. A very pleasant surprise.
Ian Gillan & Tony Iommi, Who Cares (Eagle Rock): The charity collaboration by two of metal's most influential artists has followed up last year's good "Out of My Mind" single with a double album to continue to help raise money to rebuild a music school in earthquake-ravaged Armenia. It might be a real hodgepodge of assorted odds and ends from Gillan's and Iommi's bands, but it's a very fun one, ranging from a previously unreleased Deep Purple studio jam to a performance of "Smoke on the Water" featuring Gillan and Ronnie James Dio, and augmented nicely by some terrific liner notes by Gillan.
Katatonia, Dead End Kings (Peaceville): Three years ago Night is the New Day, the eighth album by Katatonia, felt like the culmination of a long, gradual evolution by the Swedish band. Transforming from death/doom innovators to a more accessible, equally unique brand of slickly recorded, gothic-tinged doom, it was a beautiful thing to witness, whether it was the restrained songwriting, the increased use of ambient influences, the increasingly rich arrangements, and best of all, the voice of Jonas Renkse, who started off tentatively singing clean melodies and now exudes so much confidence on record. On album number nine, there are plenty of such moments that follow the majestic example of the previous record ("The Parting", "First Prayer", Dead Letters"), but for the first time in a very, very long time, the consistency simply isn't there. The band's desire to evolve with each new record has now led them down a path where mellow is the new heavy, and the middle of the new album is bogged down by turgid ballads. Fans who don't listen to much music outside metal might find tracks like "The Racing Heart", "Undo You", and the jazzy "Leech" to be daring, perhaps innovative, but they couldn't be further from the truth. By echoing trip hop, these songs, in fact, are nearly 20 years behind the times, and if that wasn't worse, as pop songs they couldn't be more stultifying. Is it a bad album? Not at all. It sounds gorgeous – as all Katatonia albums do - and the good songs do slightly outweigh the mediocre. But for a band that could do no wrong for the past dozen or more years, an album this inconsistent is inexcusable. Looking at where the band is creatively right now, the title Dead End Kings turns out to be sadly, ironically, appropriate.
Khonsu, Anomalia (Season Of Mist): This debut album featuring masked Norwegian musician S. Gronbech (the brother of Keep of Kalessin's singer/guitarist, it turns out) is a very slick-sounding coupling of progressive and black metal, but one that tests listeners' patience as well. The lengthy compositions don't so much meander as plod along, and as a result the songs are only intermittently engaging. It's not horrible, but nowhere near as clever as last year's album by black metal/prog hybrid The Konsortium.
Monuments, Gnosis (Century Media): One for the "djent" kids, this is yet another band bent on ripping off Meshuggah and tossing in half-baked post-hardcore elements. It pales in comparison to the likes of Tesseract, doing nothing to distinguish itself from the rest of the herd.
Murder Construct, Results (Relapse): Featuring members of Exhumed, Intronaut, and Cattle Decapitation, this supergroup focuses more on grindcore than death metal, and comes through with a savage piece of work, led by Travis Ryan's commanding vocals.
Over Your Threshold, Facticity (Metal Blade): It's hard to get over the terrible band name, but these Germans specialize in very similar technically-oriented​ death metal as countrymen Obscura, and this is a fairly solid debut album. They have a long way to catch up with what Steffen Kummerer has accomplished, but a song like "Self Exhibition" is a very good start. Unfortunately "Desolation Row" is not a cover of the great Bob Dylan tune. Now that would've been something.
Stealing Axion, Moments (InsideOut): The Tacoma band sometimes comes close falling into "djent"-riddled laziness, but for the most part their brand of progressive metal – equal parts Textures and Devin Townsend – remains mildly involving. It's a shame an album has to be this long, though. Leave your audience wanting more, guys!
Stratovarius, Under Flaming Winter Skies - Live In Tampere (Armoury): The Finnish power metal band sounds simply impeccable on this two-disc live album, as they hammer out fan favorites and pay tribute to drummer Jörg Michael, who has since retired from the band. While skeptics will have a field day with the inclusion of "flaming" in the title (the band foolishly placed it right on the tee there), this is nevertheless a fine example of power metal done right. Fans will love it.
Triumph, Live At Sweden Rock Festival (TML): After 20 years apart, the Canadian power trio reunited for a special one-off performance at the Sweden Rock Festival in 2008, and at long last the official document of the show has arrived. Their ten-song set focuses solely on the band's classic 1976-1983 period, dusting off such prog-tinged, motivational-speaker​ anthems as "Lay it on the Line", "Never Surrender", "Fight the Good Fight", and while the once-ubiquitous "Follow Your Heart" is conspicuously absent, "Magic Power" – their greatest song - serves as a fitting climax. The video quality on the DVD isn't the best – it's clearly the feed from the big screens at the fest – but drummer Gil Moore and guitarist Rik Emmett are still in good vocal form, complementing each other as well as they ever have. Longtime Triumph fans will relish this nice little set.
live local music on
Enter your ZIP code to see concerts happening in your area.
Data provided by Zvents
follow msn music