New Releases For July 17, 2012
Other than Baroness, what else should you hear this week?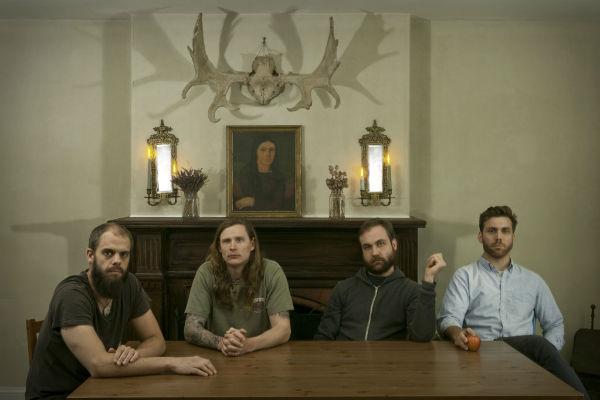 Album of the Week:
Baroness, Yellow & Green (Relapse)
It's hardly a surprise that Baroness's ambitious third album would garner the Album of the Week nod; I've been listening to it a lot over the last three months, and it's the easy choice among this week's huge crop of new releases. As I mention in my review, in no way does it qualify as "metal", but because their fanbase is largely rooted in that scene and because the album is on a label that caters primarily to metal enthusiasts, it can't be ignored on a metal/hard rock blog like MSN Headbang. Besides, genre bias is pointless, but especially when the music is as good as it is on Yellow & Green. It's the best rock double album since the Drive-By Truckers' Southern Rock Opera, and one of the best albums of the year, period.
Read my full review of Yellow & Green here.
Also out this week:
Asva & Philippe Petite, Empires Should Burn (Basses Frequences/Small Doses): You spend your waking hours listening to countless albums by metal bands that desperately try to sound scary, then you put on this collaboration between G. Stuart Dahlquist and avant-garde composer Philippe Petit at night and hear a truly unsettling, claustrophobic 23-minute drone/spoken word piece called "And Empires Will Burn" that compels you to keep looking over your shoulder. Four more shorter but equally harrowing pieces follow, and 22 minutes later your wishing like crazy that the sun would come up.
Bestial Holocaust, Into The Goat Vulva (Metalhit): Go beyond the hilarious title, and this album by the Bolivian band is a decently filthy fusion of black metal and thrash, featuring some very impressive vocal gurgling and gargling by one Sonia Sepulcral.
Blacklodge, Machination (Season Of Mist): With electronic beats so clatteringly loud that all other sounds are completely drowned out, the latest by the French industrial black metal outfit quickly turns into a painful exercise. And when you're able to discern the actual songs from underneath the racket, the band's not very good at the black metal side of the music either. Stay away from this swill.
Bury Tomorrow, The Union Of Crowns (Nuclear Blast): The UK band pushed all the metalcore buttons on their second album, but there's no personality whatsoever. The riffs are devoid of imagination, and the clean vocal melodies by Jason Cameron, which are supposed to be the big pay-off, are forgettable and fall flat every time.
The Contortionist, Intrinsic (Good Fight): The hyped Indiana band certainly has the chops to follow in the proggy footsteps of Between the Buried and Me, and there are definitely some impressive moments on their second album - "Geocentric Confusion" and "Dreaming Schematics", for instance – but all too often the songs just aren't engaging enough and the "clean" singing feels too tentative. It's a promising start, though.
Denial Of God, Death And The Beyond (Hells Headbangers): For those who like a little theatricality in their black metal, this concept album by Denmark's Denial of God should do the trick. Combining a gothic element with vocalist Ustumallagam's overtly melodramatic storytelling, it's suitably bombastic while remaining perpetually grim.
District 97, Trouble With Machines (Lasers Edge): Having a charismatic lead singer can do wonders for a progressive rock band. The quirky, unabashedly nerdy approach by Chicago's District 97 is enough to alienate those who aren't into prog, but thanks to the charismatic presence of former American Idol finalist Leslie Hunt, these lengthy, often arch compositions are given some welcome personality. Consequently, this second album turns out to be quite the charmer, something that's rarely said about prog rock these days.
Enabler, All Hail The Void (Southern Lord): The Milwaukee band returns with an explosive second album that's a surprisingly clever amalgam of hardcore, crust, and death metal. Unlike so many Southern Lord bands these days, Enabler aren't so much about channeling Discharge and Entombed as they're concerned with creating something original in a genre that celebrates the formulaic. The perfect example of that this band is getting at is on the brilliantly tetchy "F**k Today", which is one of the best hardcore tracks you'll hear all year.
Hellyeah, Band Of Brothers (Eleven Seven): It might be a lazy, dumbed-down version of Pantera, but the drunken cowboy shtick by Vinnie Paul and his bandmates continues to be modestly popular, and album number three sees Hellyeah doing the same old thing. The more boisterous the songs are, the more this lowest-common-denomi​nator metal tends to work, as on "War in Me", "Band of Brothers", and the deliriously stupid "Drink Drank Drunk", but as usual this gimmick wears awfully thin over the course of 11 tracks. If you like this stuff, you'd be better off sampling it beforehand and downloading the tracks that jump out at you, because it's certainly not worth the full price.
A Hero A Fake, The Future Again (Victory): These Underoath clones are at it again with another album of haphazardly-arranged​ metalcore that can never settle down long enough to allow a single good riff idea develop. Instead it's nothing but glitchy production and lazy breakdowns. They can play their instruments, sure, but they can't write a song to save their lives.
Hexen, Being And Nothingness (Pulverised): The second album by the Los Angeles thrashers fails to impress: the songs feel awkwardly written, the vocals are generic, and worst of all it severely lacks energy, which will kill a thrash album every time.
Hordes Of The Morning Star, Consummatum Est (Metalhit): Heavier than usual black metal from Texas. Simple, devoutly formulaic, but also unspectacular.
The Howling Wind, Of Babalon (Profound Lore): Guitarist Ryan Lipynsky is always praised for his work with Thralldom and Unearthly Trance, but if you ask me, he's at his best when channeling his inner Quorthon and Tom G. Warrior as half of The Howling Wind. This is the kind of black metal that strips away all frills in order to fully evoke the first wave bands from the 1980s, and for the third straight album Lipynsky impeccably captures the aesthetic and the power of the era. And although the range is fairly limited within that template, he and drummer Tim Call keep things surprisingly varied, harsher tracks like "The Seal Upon the Tomb" offset by a mid-tempo song like "Scaling the Walls". Capped off by a wickedly good cover of Hellhammer's "Horus/Aggressor", Of Babalon might be simple in structure, but as satisfying a black metal album you'll hear all summer.
Kadavar, Kadavar (Tee Pee): Another psychedelic-tinged proto-doom trio, but from Berlin instead of Sweden. So what do they bring to the table that the others don't? Mainly a lower-fidelity feel on their debut album, but from the lumbering riffs to the otherworldly singing, this has "Pentagram fanboys" written all over it. It's not necessarily a bad thing, but Kadavar have a way to go if they want to catch up to Graveyard and Witchcraft.
Moonloop, Deeply from the Earth (Listenable): Named after the Porcupine Tree song, the debut by the Spanish band has its proggy moments, but the bland cookie monster growls have to go. When a band is this adept at solid progressive arrangements yet doesn't care at all about vocal melodies, why even bother? You're not Opeth circa 1995, kids. Work on the clean vocals.
The Other, The Devils You Know (SPV): This German "horror punk" band sounds like a group of musicians who only know how to play power metal trying to sound like Samhain. In other words, bombastic and kind of awkward.
Ozzy Osbourne, Speak Of The Devil DVD (Eagle Rock): Not to be confused with the 1982 Speak of the Devil live album that featured a full set of Black Sabbath songs, this concert video was originally aired on MTV and subsequently bootlegged like mad throughout the 1980s. It's been released officially for the first time, and though it's not without its flaws – Ozzy's vocals to this day sound retouched – it's still a valuable document from an often overlooked period in Ozzy's career, when Night Ranger's Brad Gillis briefly replaced the late Randy Rhoads shortly after the fatal plane crash. If you're an Ozzy fan and haven't seen an umpteenth-generation​ VHS of this show, this is well worth checking out.
Satanic Bloodspraying, At The Mercy Of Satan (Hells Headbangers): The second Bolivian black metal album to be reviewed this week, this debut is an absolute corker. Comprised of eight songs over just 24 minutes, not a second is wasted as the anonymous musicians (or musician) stick to simple, raw, Satanic tunes that attack early and often.
Tremonti, All I Was (Fret 12): Best known as the guitarist for Creed and Alter Bridge, Mark Tremonti has released his first solo album, and while he shreds as well as anyone and is more than capable of a few good metal riffs, this is little more than a slightly heavier, less cloying version of Nickelback, Tremonti yarling in dude rock fashion all the while.
Virgin Steele, Life Among The Ruins (SPV): The most commercial-sounding album by the Long Island metal veterans has been re-released for some reason. It's only just now struck me how desperately these saccharine songs try to like Rough Cutt's Wants You! album. David DeFeis actually does a decent job selling the stuff ("Invitation" is unintentionally hilarious") but in the end this collection of '80s hard rock clichés should have been left out of print.
Witchcraft, Witchcraft/Firewood/The Alchemist (Metal Blade): In anticipation of the Swedish band's long-awaited fourth album, Metal Blade and Rise Above have re-released their outstanding first three albums. 2004's Witchcraft saw the band in full-on Pentagram worship, including covers of "Please Don't Forget Me" and "Yes I Do", as well as dedicating "No Angel or Demon" to Bobby Liebling, and they capture that circa-1970 vibe so accurately it's spooky. Recorded on exclusively vintage equipment, 2005's Firewood focuses more on the heavier side of the band, deriving from the swinging, blues and jazz-influenced grooves of early Black Sabbath. Although at the time it felt like the band was already starting to stagnate, the album actually holds up well seven years later. Still, neither album tops 2007's The Alchemist, which broadens Witchcraft's sound to include folk and psychedelic influences, as if Donovan and Roky Erickson crashed that Pentagram/Sabbath party. Highlighted by "Walk Between the Lines", "If Crimson Was Your Colour", and the 15-minute title track, it remains a phenomenal record, the best of the recent wave of Swedish retro rockers.
Are you sure you want to delete this comment?
live local music on
Enter your ZIP code to see concerts happening in your area.
Data provided by Zvents
follow msn music