An Interview With Scorpions' Klaus Meine
Legendary German band set to tour North America this summer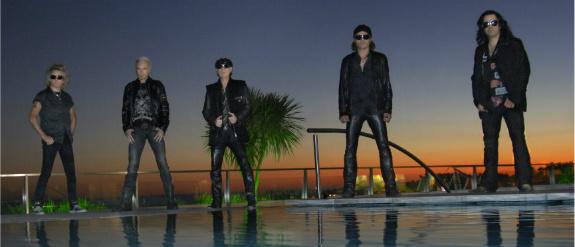 It's been a good couple years for Scorpions. 2010's Sting in the Tail was a very solid 17th album, and the band's farewell tour has been extraordinarily successful as they've taken their show around the world. With the surprisingly impressive stopgap release Comeblack out in the US this week - which features fun cover songs and energetic re-recordings of Scorps classics - the band is getting set for a very busy 2012, which will include tours of North America in June, July, and October. I caught up with singer Klaus Meine, calling from his home in Hanover, Germany, to talk about the new record, the tour, and whether or not this really is the last go-round for one of hard rock and heavy metal's most enduring bands.
Sting in the Tail was supposed to be the last Scorpions album, so how did the idea for Comeblack come about?
Klaus Meine: That's actually a very good question. When we announced that it would be our last album along with the farewell tour that would take us around the world for two of three years, of course we asked that question ourselves when Sony Music said, "Come on, Scorpions, you've got to give us a product. We want to support this tour and you'd better go back to the studio. Come on." So I said, "Okay." We hooked up with our Swedish producer who worked on Sting in the Tail with us, Martin Hansen and Mikael "Nord" Andersson, and we said, "Let's pay tribute to some of those legendary bands who inspired us when we were kids in the '60s, and let's go shopping back in the '60s for some great music." Of course we also wanted to touch up some of our classics, "The Zoo". "Still Loving You", "No One Like You", "Rhythm of Love", and present some of those classics with the sound of the 21st century for a whole new generation of Scorpions fans. Thinking what you can do in the studio today compared to the early-'80s – some of those tracks were recorded 30 years ago, it was a lot of fun to hear both tracked guitars coming out of the speakers. Probably somebody would hadn't said, "Stop, we have a release date," we'd probably still be in the studio recording covers and having fun with the music.
It does sound like you had a lot of fun.
Meine: It's kind of weird when you go back in the studio and re-record some of your biggest hits. But then on the other side, many of those songs are still in our live set, so when it comes to performance there's also a lot of experience. We didn't want to reinvent the wheel and come up with totally different arrangements. We wanted to stick the originals pretty much. But in the cover department that was really a lot of fun because it was not so easy to pick the right songs. All those songs are legendary compositions and there's no point to record those, there's no way to top any of those. The only thing you can do is find material that works with my voice, maybe there's a great riff in the song that works with the Scorpions, and you can try to come up with your own interpretation and put the Scorpions' DNA onto it. That's what we tried. And it was not too easy to find the right songs. I think it started with "Across the Universe", and when the guys in the band liked that vocal performance we took it from there. And then Matthias [Jabs, guitar] said, "Come on Klaus, you're a Beatles fan but I'm a Stones fan, we've got to do a Stones song." I said, "I don't know, I'm not a blues singer [laughing], should I sing a Mick Jagger song?" And we tried "Ruby Tuesday", which turned out great I think. We picked some other songs, like The Kinks for example. They were one of the bands that came over here in the '60s when we were kids and we were standing at the front of the stage when the Davies brothers played "You Really Got Me" with their Flying V guitars. We were really inspired. Then we went with some outsiders as well like T. Rex or "Tainted Love"…I think Rudolf [Schenker, guitar] brought that in because he liked the riff. We took the Gloria Jones version, which was recorded in 1965. We know Soft Cell had a huge hit with it and then Marilyn Manson came up with a cover version of that, so we said, "Let's give it a try and make it a great Scorpions song, a great hard rock/metal version."
And then the fun really started, like with every album when you're thinking about a title. Oh man. [laughing] We went to hell and back. When we were thinking about it, we had this concept with the covers on one side and the Scorpions songs on the other side, like in the good old vinyl record days, so a title like Diamonds and Pearls would be great, then we said we couldn't use that. Somehow Comeblack came up, because the most-asked question since we started the farewell tour was about a possible comeback, so this was in a way a pun of course, playing with words, an ironic response to this most-asked question over the last two years. I was looking for titles again and again and again, and Comeblack was always coming back to me, "Klaus, we've got to do this." [laughing] And everybody went, "Comeblack? Come on, give me a break." But I was trying to find a new word, create something different, have fun with it and never take it to seriously.
How difficult was it to choose which Scorpions songs to re-record?
Meine: It was also not so easy because when we were thinking about going back to the '70s and re-record songs like "In Trance" or "We'll Burn the Sky", some of those great early songs. But then in the end we went back to the big classics like "Rock You Like a Hurricane" and all those, so it was a whole different concept. This could be a great concept to just follow that line and record some more of that stuff, because there's great early material, with I think for the die-hard Scorpions fans to give some of those [songs] a whole new touch. That would also be great. But we ended up doing the classics, and then we were really very much focused on the covers. We recorded some more stuff we didn't use, I think we also recorded The Yardbirds. We tried Led Zeppelin, we're all huge Led Zeppelin fans, but in the end there was too much respect to do a Zeppelin tune. We thought there was no reason to touch any of their songs.
Which of the cover songs mean the most to you personally?
Meine: "Across the Universe" is a beautiful song, and John Lennon is one of my all-time favorite artists. It means a lot to record a John Lennon song. It's just a beautiful song, and I tried to perform it my way, but like I said there's no way to top any of those legendary recordings, you try to put your own stamp on it. But it just feels really great, and you realize it's a ballad, yes, but when you try to sing it yourself you realize because of the vocal pattern of that song it's very difficult to perform. Matthias and Rudolf did a great job doing the guitars on there.
How enjoyable has this whole farewell tour been for you?
Meine: You know, it's a very twisted feeling. It's an emotional rollercoaster in a way. When we started the tour in 2010 and announced it was going to be a farewell tour, we played a couple shows in Russia. We went to Moscow, and there were a lot of fans waiting for us with presents, signs, banners, singing for us. Someone gave me a photo book that said, "Remember the good times." I had a lump in my throat. And I realized talking about it and making this kind of announcement is one thing, but when you realize that at one point there will be a final curtain it's a whole different story. I think all of us, we may have a lot of experience in many ways after 40 years with the Scorpions, but we don't have any experience how to deal with this on the emotional side. And the longer we're on tour, it's a bittersweet thing because it's very successful, we play packed arenas all over the world. We just finished in 2011 a totally sold out tour in France, including the Palais Omnisports de Paris Bercy. It's just amazing, we are blown away, especially because of the fact that not only do we have the longtime fans who have been following us and supporting us for so many years and decades, but there's a whole new audience of young Scorpions fans who are probably seeing us live onstage for the very first time. That is a wonderful thing, that our music is reaching out to a young generation as well, and it makes such a nice mix of the older generation who were supporting us from the early-'70s, '80s, and then those young kids who see the Scorpions for the first time live on YouTube, because wherever we play you can see songs from wherever the concert is on YouTube. Those young kids, they make a decision for themselves, I like what I see, what I hear, and it looks like they like it a lot because those arenas are packed and there are so many young kids in front of us, going totally nuts singing songs like "Blackout" that were written 30 years ago, before they were born. It's a wonderful thing.
Sooner or later this farewell tour is going to end. How difficult will it be to walk away from that life?
Meine: We'd probably better call our therapists right now. [laughs] I have no idea. All I know is, since we are working on a movie about the Scorpions, we started shooting a year ago in Bangkok, filming in London, Paris, Berlin, we'll bring this crew to America this summer. There will be a lot of working on this project, even after we play the last show, and there will be a lot of things that are connected after 40 years. It's not that you play the last song and then tomorrow you're saying goodbye to your buddies and you never see them again. That's definitely not the case. I think there are a lot of things, projects that will support this final tour. And I'm sure wherever the last concert will be, there will be a DVD coming out or whatever. But right now I can feel that we're coming closer to this moment in our lives, and it's a very emotional thing, and right now I don't want to think too much about it, but I know on the other side that we said this is farewell. We've stretched it already quite a bit, which is fine, but the fact that it's so very successful that it's tempting to rethink that decision and say, "It's very nice, let's keep going because it feels too good." But I don't think so. I like to think that since we will always be musicians and artists, songwriters, producers, I think after the last song is played hopefully there will be new challenges for all of us waiting around the corner. I think life will be just as exciting, and we'll do what we do best, being artists and musicians. So when I think about that I'm very relaxed.
Is there one old Scorpions song you'd love to play but never get to because the others in the band vote against it?
Meine: There's a song that would also be a great last song, which is called "Moment in a Million Years". But I think we've played it some place in Russia, but it never made it to be a regular song in the set. It's a beautiful song that's about the band, about the fans, and that all we've got is just a moment in a million years to share with you right now at this very moment in time standing onstage singing for you, singing with you, celebrating life. So that's one song I would love to have back in the set. There are songs that you wish that came out that you never played, but there are so many songs. I have another one, which is also a beautiful song we've never played live, called "Lonely Nights". We've never played that song, but I cannot blame the other guys in the band, I can't play it myself [laughs] because the vocal performance is really high up there, and I guess that's one of the reasons that song never really made it into the regular setlist. But I like that song very much.
live local music on
Enter your ZIP code to see concerts happening in your area.
Data provided by Zvents
follow msn music