The Queensrÿche Split Reaches a New Level of Ugliness
Three members spill the beans on 20 years of animosity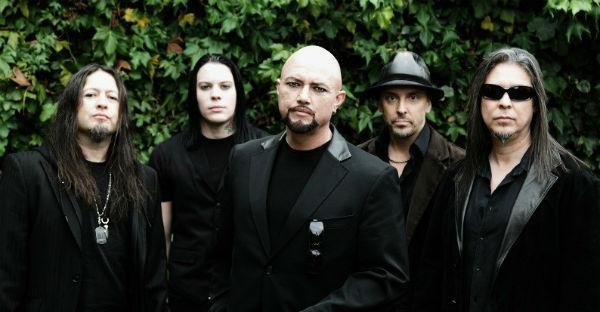 When we last left the Queensrÿche break-up story, singer Geoff Tate had been fired and replaced by Crimson Glory singer Todd LaTorre, and in an interview with Rolling Stone Tate said a lawsuit had been filed over who owns the Queensrÿche brand and music, and that "it's probably gonna get ugly." Well, it's officially gotten ugly.
Two days ago guitarist Michael Wilton, bassist Eddie Jackson, and drummer Scott Rockenfield filed a response to Tate's motion for preliminary injunction and included declarations from all of the defendants. "Declarations" is a massive understatement. The dirt's been spilled, the can of worms has been opened, the you-know-what's hit the fan. In four epic-length statements obtained by Blabbermouth – a joint statement as well as declarations by Rockenfield, Wilton, and Jackson - all of the ugly sentiment that's been brewing for 20 years within the band has been publicly spilled, the likes of which I can't ever recall seeing from a metal band.
I have a 2,000-word limit per post here at MSN, and there's no way I can quote everything, but here are a few gems from Wilton's declaration:
It was during the creative process of [1994's Promised Land] that tensions over songwriting credits started to emerge. The sense of playing on an equal balance was gone. It was also at this time that Geoff was letting it be known that he was unhappy with us as band mates and also with the direction of the band as he didn't want to sing in the 'metal/hard rock' style anymore. He also let us know that this would possibly be his last album and he would be quitting.

 

During the touring of 'Promised Land', Geoff Tate had started to distance himself from the rest of us. He wanted to bring theatrics into the show and felt he needed to have more to do on stage than sing with a microphone. He was going through a hard and difficult time personally. Everyone understood and gave him the space and creativity he needed. There was a feeling that this could be our last tour.

 

At the end of the tour, we came home to let things settle in. The album had not done as great as 'Empire' in album sales, the future of the band was uncertain, the pressure to stay on top was huge, and now the sound of grunge was taking over.

 

After many talks, the band decided we would go forward and do another album. Geoff Tate had made a change in his personal life and had decided that he would not be leaving the band. It was also during this time that the writing for 'Hear In The Now Frontier' started. It was a more song-driven and not guitar-driven album for the first time in Queensrÿche history. The songs were very individualistic. With the now huge phenomenon of the 'grunge' sound, the production for this album was very sparse and raw as we were trying to capture an essence of that sound to make us sound more current.

 

During the recording of 'Hear In The Now Frontier', personal things changed. Because of a divorce battle between Geoff Tate and Suzanne Tate, band members were subpoenaed and were now put in the middle of a personal fight that ended up causing a large amount of resentment and hurt amongst the band members. It was at this point that tensions became higher and the resentment over royalties became a big issue. Now the demand to be a writer on future Queensrÿche songs would start to erode the friendships. The dynamics of the band itself had changed.
***
In 2005, things got worse. Geoff Tate came to the band and wanted to kick Lars Sorensen out and have his wife Susan Tate manage the band. There was huge resistance from the rest of us, but Geoff Tate said that unless we hired Susan Tate to manage, Geoff Tate would no longer work with us. We were forced to work with her or the band was over. Reluctantly we agreed to this, feeling we had no other choice if we wanted to remain as a band, but we did refuse to sign a binding contract with her. Again, there was more resentment within the band as the feeling of being held hostage by Geoff Tate's 'my way or the highway' theme was becoming apparent.
***
On the day of our show in Brazil [in April 2012], Geoff Tate demanded a meeting before the show. We agreed to meet before sound check. We all decided it was best to record the meeting. He asked why we fired Susan Tate and what it was that we wanted. We stated that we were no longer interested in Susan Tate as management and that we wanted different representation. He asked if we had anyone in mind and we told him we were in talks with AGPS (this is the management team that I proposed we talk to in 2010) but that nothing was agreed to. He then asked about our thoughts regarding him selling the rights away to 'Operation: Mindcrime'. He said, 'You have frozen my money.' We stated we felt it was done behind our backs and as we were part of the creation of 'Operation: Mindcrime', we felt it was an intellectual property issue and needed to be reviewed by an attorney. Geoff Tate stated that he had nothing more to say, got up and walked towards the door, and then said, 'Have a nice show.' The meeting was brief. I didn't see Geoff Tate again until we were in the elevator back at the hotel (where he said nothing to me and I said nothing to him), and when we were in the lobby to meet our van to take us to the show. Geoff Tate decided to stay in the bar instead of going with the band and arrived later. The next time I saw him was as we were walked onto the stage by our tour manager.

 

Geoff Tate was setting up his station and the three of us walked around his area to our stations. I walked over to the area where my equipment was. I had just put on my guitar in preparation for the show when I heard a loud bang and then an 'uh oh' by our singer, Geoff Tate. I looked over to see that he (Geoff Tate) had knocked over the whole drum kit and was now spitting at our drummer, Scott Rockenfield, and yelling obscenities at him. At this point, I went over behind the drums to help assist pushing the drums back up on the stage when I heard our singer say, 'Hey, Mike, have a nice show,' and then when I looked at him, he spit right in my face and called me a 'motherf**ker.' As I was wiping my face, feeling violated, Geoff Tate came back at me yelling obscenities, 'F**ker,' 'F**k you, you mother f**ker.' I gave him a look from my towel, he approached me and when I was not looking, he punched me on the side of my face. The punch also hit my right eye which had a contact lens in it. My contact jostled and I was trying to get it back in place so I could see. I told him to get away from me, but he kept pushing his chest into me calling me 'Pussy, f**king pussy! What, are you going to cry?' My eye was watering from my contact, I couldn't see clearly, and I pushed him away. Then Scott Rockenfield (our drummer) came down and told him to get away from me. Geoff Tate then threw another punch at me, but I ducked and it hit Scott Rockenfield right in the face (his mouth area). Scott Rockenfield told him to back off and then Geoff Tate punched Scott Rockenfield again in the face. At this point our tour manager, Fozzy O'Hare, pulled Geoff Tate away and one of our guitar technicians, Kenny Bender, helped me by getting a cold water bottle on my face to stop any swelling or redness. Geoff Tate came back over and called me a 'pussy' and a 'crybaby' again. I told everyone I needed a minute until I was able to get my vision back and I was moved to the other side of the stage until the crew felt they could get the situation under control. I then told my guitar technician, Gino Bishop, to get a towel to wipe off all the spit on my guitar that kept coming from Geoff Tate. From this side of the stage, I could see confusion between the security and our crew. Everyone was shocked and completely caught off guard with Geoff Tate's irrational and violent behavior. Geoff Tate was continuing to move about the stage, trying to get around the security and crew who were trying to block him from any further attacks and trying to get him under control. He continued to rant back and forth, spitting at the band members and their equipment. Fozzy O'Hare was finally able to pull Geoff Tate off stage and took him to where his station is during the performance. At this point, we were not sure if we were going to continue the show or if we would have to cancel due to Geoff Tate's antics and violence. There was communication between Gino Bishop and Fozzy O'Hare as to what to do. Fozzy O'Hare then indicated that Geoff Tate had calmed down and he was ready to do the show. Gino Bishop had a security guard stationed right behind Geoff Tate and one right behind Scott Rockenfield just in case Geoff Tate tried to attack the band members and their equipment again.
***
You can't make stuff like this up. You can read all three very lengthy statements here, here, here, and here. And you know this astonishing, ugly public battle is far from over. As reader Víctor Aguilar Gómez commented to me via Twitter today, "Someday someone should write a concept album about this break-up."

This really comes as no surprise to me. As huge QUEENSRYCHE fan for many years, seeing the state of  the band for the last several years and albums, is just SAD. From the complete overdoing the MINDCRIME saga to the Queensryche Cabaret, the Tates have destroyed Queensryche. The fans have really noticed, and out of love and respect, we have stayed loyal. But its been really hard to do so. The last several albums seem to be  more like Geoff Tate solo albums, as oppose to QUEENSRYCHE. I often refer to Queensryche these days as a cover band with 4 original members.
Are you sure you want to delete this comment?
live local music on
Enter your ZIP code to see concerts happening in your area.
Data provided by Zvents
follow msn music