Lamb of God's Willie Adler Comments on Randy Blythe's Arrest
Lamb of God singer faces 5-10 years in prison; band will issue official statement Monday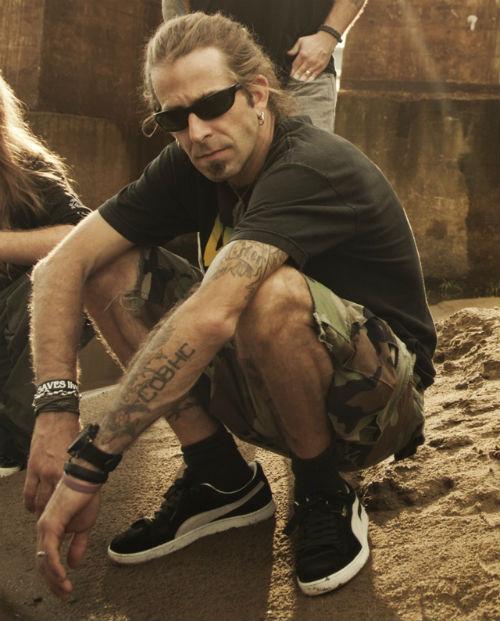 Lamb of God guitarist Willie Adler is the first member of Lamb of God to publicly comment on yesterday's arrest of singer Randy Blythe for manslaughter in Prague, Czech Republic, stemming from an incident in 2010 where an audience member confronted Blythe onstage. He tells Blabbermouth, "It's been a rough couple of days. All I can say is that I can't recall that particular show let alone a fan being beaten on the stage. I think I would've noticed something like that considering the Dime ['Dimebag' Darrell Abbott] thing.
"We're all still here in the Czech Republic awaiting what is to happen. We hope we'll be able to get Randy out this afternoon. All our thoughts are with him as well as the family of the deceased fan. We've no real clue as to what happened to him, but we send our condolences. All we try to do is entertain; the fans are why we're here. We would never try and harm anyone."
Maria Ferrero of Adrenaline PR issued a statement this morning:
Lamb of God management will be issuing an official statement on Monday regarding the charges made against singer Randy Blythe. As no formal charges have yet been made and the case is only in the investigation stages, it would be premature to make an official statement filled with false truths or innuendos.

 

Having said that, management wished to address today one false piece of information that has been included in many of the news stories released so far. Under no circumstances was there a fight of any kind involved. This incident deals with a fan that three times during the concert jumped the barricade and rushed Randy during the performance. It is alleged that the third time, security was not able to reach him and that Randy pushed him back into the audience where supposedly he fell and hit his head.

 

Again, until the investigation is concluded this weekend, nothing more will be released, but clarity and the facts needed to be addressed on this one reported point which is totally inaccurate.
Richmond, Virginia's WTVR TV reported last night that Blythe's brother Mark says the charge is, "bogus and outrageous and will be dropped immediately."
Meanwhile, Novinky.cz, the Czech website that broke the news yesterday of Blythe's arrest, unearthed a review of the 2010 show in question, from a blog called Sicmaggot (translation courtesy TheGauntlet.com):
Randy behaved exactly as I expected him to, a son of a bitch who pisses off everyone. He's confirmed by firing up several fans. [Randy] was very irritated when someone decided to join him on stage. At first Randy hit him a lot, then Randy jumped on him to hold him down while he continued singing? When the fan got up, Randy took him by the hair and threw down quite quickly. It was a good thing the fan was so dazed that he probably felt nothing. It took him a little while to realize what happened and as he struggled to get his breathe back. Randy does behave quite pretentious, but the performance was important to him.
According to Novinky.cz, Blythe faces 5 to ten years in prison if found guilty. 
live local music on
Enter your ZIP code to see concerts happening in your area.
Data provided by Zvents
follow msn music