New releases for November 20, 2012
Led Zeppelin's return is a slam dunk as the top pick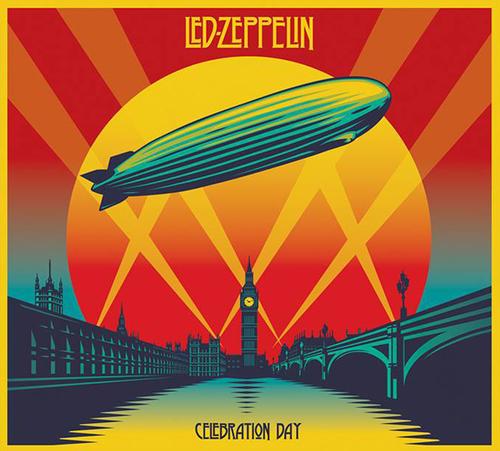 Album of the Week:
Led Zeppelin, Celebration Day
After disbanding in the wake of the death of drummer John Bonham, Led Zeppelin's subsequent attempts to reunite have been lackluster at best. Live Aid in 1985, with Phil Collins and Tony Thompson filling in on drums, was a shambles, while their 1988 performance at the Atlantic Records 40th anniversary celebration, with Bonham's son Jason on drums, was all hype and little payoff. The end results were so disappointing that most people, like yours truly, were content with the prospect of never hearing the surviving members of Zeppelin performing together again. We got the stupendous Led Zeppelin DVD back in 2003, which featured classic performances from the 1970s and did the job just fine.
So along with the excitement when it was announced in 2007 that the hard rock titans would be getting back together one more time at a benefit concert held to celebrate the life of record company executive Ahmet Ertegun, there was a little trepidation as well. Would Led Zeppelin come through with a performance more dignified than their past reunions? The answer, quite simply, is an emphatic hell yes. And then some. Five years after the concert, the official live document is now here, and it was every bit worth the wait.
The key difference between this show and the past reunions is that the band took a lot more time to rehearse together, to try to bring back some of that old chemistry, and from the opening bars of "Good Times, Bad Times", to such staples as "Black Dog", "Whole Lotta Love", and the ubiquitous "Stairway to Heaven", the performance is a resounding success. Sure, Robert Plant can't hit the high notes anymore, Page muffs the odd riff or solo, and Bonham lacks the swing of his dearly missed dad, but the energy the foursome exude is palpable.
By far the most fun is had when the band delves into the back catalog. "No Quarter" is typically murky and gorgeous, while "Trampled Underfoot" is a monstrous, groovy jam, both songs driven by John Paul Jones' work on keyboards (that single-note foot pedal bassline on "Trampled" is wicked throughout) and hammered home by Bonham's thunderous beat. From day one Page and Plant have always been perfect foils for each other, and they simply shine together on "In My Time of Dying" and "Nobody's Fault But Mine". Page, who now bears a striking resemblance to the Quaker Oats guy, proves to be as nimble and searing on his Les Paul as ever – even bringing out the bow on "Dazed and Confused", while Plant smartly sings in a lower register on such songs as "The Song Remains the Same" and "Black Dog", his more measured delivery throughout giving the concert a little more grit than, say, 35 years ago. And as for Bonham, what he lacks in swing he more than makes up in discipline; he's ten times the drummer he was 25 years ago, and he does a fantastic job replacing arguably the most irreplaceable drummer in rock 'n' roll history.
As for the concert DVD, it's gloriously filmed, offering tremendous angles, never cutting away too quickly. Coupled with a massive mix by the great Alan Moulder, it's an absolute corker of a live DVD/Blu-ray, and even is just as good as a straightforward live album. Whatever format you prefer, you will not be disappointed. For longtime fans and those of us who were far to young to experience Led Zeppelin firsthand, this is a wonderful experience, seeing these great talents together again, like they were always meant to be.
Also out this week:
Aeon, Aeons Black (Metal Blade): Straightforward, but very good dense-sounding death metal along the lines of Kataklysm, featuring a vocalist in Tommy Dahlstöm who shows impressive charisma, delivering powerful death growls while enunciating well, which is becoming a lost art.
Cryptopsy, The Best Of Us Bleed (Century Media): This is an odd situation for me, because I can't review this compilation, having written a 1,600 word essay for it (of which I'm awfully proud). But I will say that while it's odd to see a "best-of" comp from a death metal band, it's a thorough one, spanning Cryptopsy's eclectic, sometimes polarizing career.
Death, Spiritual Healing (Relapse): The latest Death album to get the remastered and expanded reissue treatment from Relapse, 1990's Spiritual Healing isn't a classic, but was a significant turning point for Chuck Schuldiner's band. With guitarist James Murphy replacing Rick Rozz, the arrangements became a lot more technically sound on this third album, best exemplified by "Altering the Future" and the ambitious title track. Most importantly, it would set the stage for a stunning, groundbreaking run of classic albums: Human, Individual Thought Patterns, and Symbolic. The bonus content, featuring rehearsal footage, studio outtakes, and instrumentals, is hit-or-miss, but it's nevertheless an essential purchase for any Death fans.
Destinity, Resolve In Crimson (Lifeforce): The French band with the bizarre name return with another album of melodic death metal drenched in synthesizers, but while it doesn't waver from the formula they've been so good at using in the past, the hooks are missing, there's not enough here that sticks out at all. "Only Way" is a good moment, but there's not much else here to fully recommend.
Diagonal, The Second Mechanism (Rise Above): No question, Diagonal know how to capture the sound of 1970s prog rock like Camel and Eloy, but while they're proficient, there's a stiffness, a lack of emotion that dogs the listener throughout this new album. It feels like people playing jazz with sheet music rather than improvising. Nice, but far too stilted.
The Devil, The Devil (Candlelight): What a peculiarly riveting album this is. Nowhere near the kind of music you expect a band called The Devil to sound like, it's a strange blend of restrained heavy metal, progressive rock, and movie soundtrack, a series of mood pieces often built around samples of real life news events. Ominous, groovy, and often surprisingly soulful, this album heads in directions that blindside you.
Dunderbeist, Songs Of The Buried (Indie): Okay, this is new, a metal band unironically using the line, "Row, row, row your boat gently down the stream" in a song. The sixth album by the Norwegian band is indeed an odd one, feeling like a cross between the proggy sludge of Mastodon and the haphazard hyper-technicality of Unexpect, but the music never spirals out of control, though at times it comes perilously close.
Grand Supreme Blood Court, Bow Down Before The Blood Court (Century Media): One can't have too many Martin Van Drunen albums in a single year, can they? An extension of Hail of Bullets and Asphyx, whose latest album came out early this year, it's exactly what you'd expect a van Drunen project to sound like: simple, bruising, throttling death metal, and nothing more. Only unlike many other younger death metal bands out there, these grizzled guys truly excel at it, not worrying a lick about how many notes they can cram into a song, but just settling into a relentless groove and creating the most violent music they can. This is a must-own for death metal aficionados.
Hell Militia, Jacob's Ladder (Season Of Mist): Capable French black metal that is refreshingly dynamic, but perhaps hampered by the fact that the loud, crisp production strips the music of any atmosphere and mystique whatsoever, which is a shame, because this songs are often fantastic.
Kylesa, From The Vaults, Vol. 1 (Season Of Mist): This might be an odds-and-sods compilation, but it's a good odds-and-sods collection, as Kylesa have put together an album of various rarities, alternate versions, a great new song ("End Truth"), and best of all, their astounding 2009 cover of Pink Floyd's "Set the Controls For the Heart of the Sun".
Monolithe, Monolithe II (Debemur Morti): A taxing but well constructed, 52-minute single track doom opus, the latest by the French band is impressive enough, but imagine how much better it would be if they had a vocalist who actually sung rather than carry on in a monotonous, tuneless growl.
Porcupine Tree, Octane Twisted (Kscope): Recorded during their tour in support of their 2009 album The Incident, this double live album sees the prog band playing the hour-long suite The Incident in its entirety, as well as a handful of older material. Impeccably performed, fans of Porcupine Tree will love it, but to be honest, 2007's Fear of a Blank Planet – which was just re-released this year - is the only album of theirs I can wholeheartedly recommend, far and away their finest work.
Porta Nigra, Fin De Siècle (Debemur Morti): It's a week for strange metal releases, I suppose, because here's another, this time from Germany, which somehow assumes that French Symbolists would have listened to black metal. Who knows, if they'd heard this stuff, which careens from the cathartic to the dramatic, from screams to singing, they might have.
Troubled Horse, Step Inside (Rise Above): A project dating back to 1995, this Swedish band featuring Witchcraft bassist Ola Henriksson and guitarist John Hoyles of Spiders have taken their own sweet time putting their Rise Above debut together. It's finally out, and it's a good one, heading in a more Hellacopters-style direction, with occasional dips into 1960s garage rock, as well as the requisite Pentagram worship.
Uncle Acid & The Deadbeats, Blood Lust (Rise Above): Incredibly, the British band's scorching, much talked-about second album is finally available in North America, a full year and a half after it originally came out. It took me a long while to get used to Uncle Acid's odd singing style, but what was never a question is how mightily this psychedelic doom record swings. An album that should have made my top 50 list last year, it's one you need to own. The band's forthcoming performance at Roadburn 2013 is certain to be one of the most anticipated sets of the festival.
live local music on
Enter your ZIP code to see concerts happening in your area.
Data provided by Zvents
follow msn music