Canadian Grind Stalwarts Die Miserably on Brilliant New LP
Effing the facts, once again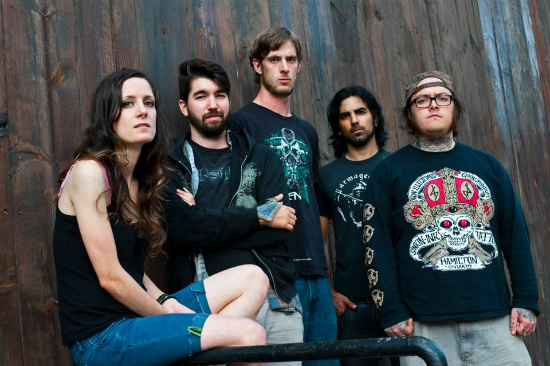 When it comes to grindcore, few bands are as exciting, both live and on record, as Canadian band F**k the Facts. In person, the Ottawa, Ontario quintet are mind-blowing, letting loose a dizzying array of riffs, blastbeats, and intricate tempo changes while diminutive vocalist Mel Mongeon transforms herself into an absolute force of nature, putting every ounce of her tiny frame into the most awesome screams and roars any woman in extreme metal is capable of. So ferocious are F**k the Facts performances that you hardly have a chance to absorb it carefully; you simply experience it as one would a roller coaster, feeding off the visceral experience and catching your breath once it's over.
On record, on the other hand, the band presents a different dimension. Not only is the aggression represented exceptionally well, but it gives listeners a chance to study the arrangements more closely, and what's more than evident on such pieces of work as 2006's Stigmata High-Five, 2008's Disgorge Mexico, or their latest, Die Miserable, is that the musicality of it all is staggering. It's insane, but very catchy, with enough inventiveness that echoes the likes of Frank Zappa and King Crimson, ranging from two minute bursts of fury to enthralling epics that go on far longer than your normal grind composition.
Die Miserable is a remarkable step forward, too. Whereas Disgorge Mexico was a bit of a grower, the new album – the band's ninth studio album in 12 years – feels so much more immediate, as if F**k the Facts are embracing the metal side of their sound more than the hardcore, be it slow, doom riffs, thrashy tempos, blackened tremolo picking, crushing death metal, or even a slyly-timed bit of groove, as evidenced on the crazed "Alone". A perfect example of the band's extraordinary versatility is "A Coward's Existence", which can be streamed at the band's Bandcamp page. The way the four instrumental members, led by guitarist Topon Das, shift from blinding fury, to introspection, to a genuinely moving resolution is something to behold. One minute you're assaulted by an astonishing grind passage, and the next, you're listening to a blind-siding guitar solo that's far more expressive than you could ever have expected. All the while Mongeon snarls lyrics that seem as if she's envisioning a more mundane path in life she could have taken, but didn't:
The dust, the stench of the flaws I can't face.
I'd rather look into the emptiness for a comforting hollow thought.
Absorbed in my own routine
Floating in my empty shell.
I won't dare, but smile with the sad, and hold back for time to bring me the end.
Thankfully Mongeon and her bandmates are into taking huge risks rather than taking the safe route, as the end result of "A Coward's Way Out" and the rest of Die Miserable is a thrilling, taut 35 minutes of extreme music that defies categorization.
Stream "A Coward's Existence" here.
Die Miserable will be released on October 11th on Relapse.
live local music on
Enter your ZIP code to see concerts happening in your area.
Data provided by Zvents
follow msn music