Nightwish Now Hawking Wine; Post Funniest Statement Ever
"The long, smooth, star-filled finish of Lucid Dreams"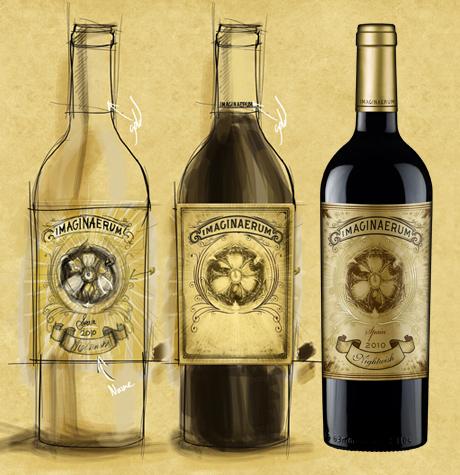 Metal bands selling bottles of wine under their own brands has become one of the more ludicrous promotional gimmicks of the last few years. After all, wine isn't metal! Beer is quintessentially metal. Mead is über-metal. Whiskey, vodka, Jagermeister is metal. But overpriced, fancy wine?
Things got a bit ridiculous this year when Slayer, Motörhead, and Amon Amarth all released their own red wines. A Motörhead drink that isn't Jack and Coke isn't right. An Amon Amarth drink that isn't mead or at least beer isn't right. But some fans appear to like the gimmick, because these bands wouldn't be doing it if there wasn't demand for it.
By far the silliest metal wine to come along, though, is courtesy Nightwish. And typical of Nightwish, it's not just wine. According to keyboardist Tuomas Holopainen, it's a veritable elixir, as frilly and ostentatious as the symphonic power metal the Finns play. Quoth Master Holopainen:
What you see here is a bottle of the most imaginative wine on the planet. Imaginaerum is inspired by otherworldly splendours, moments of wonderment and the joyous sound of laughter with a hint of campfire poetry, music of the spheres, and the long, smooth, star-filled finish of Lucid Dreams. This is a wine best enjoyed with the ones you hold dear.
Oh, good lord.
Considering their constant in-fighting with lead singers and Holopainen's reputation for being a control freak, you'd figure a Nightwish wine would taste of dysfunction and megalomania.
At any rate, prices and ordering info have not been posted yet, but you can learn more about Imaginaerum wine, and sign up for an email list for updates if you're so inclined, at Nightwishwine.com. In the meantime, watch a new commercial for it below.
Are you sure you want to delete this comment?
live local music on
Enter your ZIP code to see concerts happening in your area.
Data provided by Zvents
follow msn music