Review: Pantera, 'Vulgar Display of Power: 20th Anniversary Deluxe Edition'
A new level of power and confidence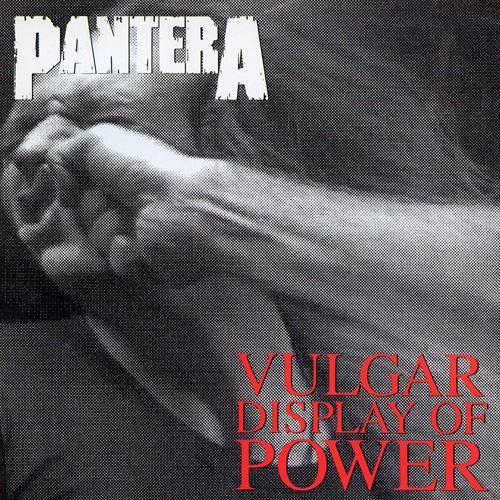 If I were to name one of the worst years for new metal music, I'd nominate 1992. It was a serious transitional period for the genre: thrash's popularity was on the slide, death metal was gaining momentum, black metal was a year away from making a serious impact, pop metal was virtually wiped off the face of the earth, and of course, grunge was all the rage. Looking back at that year, despite the massive success of Megadeth's Countdown to Extinction, while newer bands like Cannibal Corpse and Eyehategod were just starting to find their footing, the most interesting albums came from bands branching far outside metal, such as Faith No More's Angel Dust, Ministry's Psalm 69, Helmet's Meantime, Alice in Chains' Dirt, and White Zombie's La Sexorcisto: Devil Music, Vol. 1. But what about good, old-fashioned, true blue-collar metal? Metallica softened their sound the previous year. Iron Maiden was in a horrible funk. Rob Halford left Judas Priest. I'm sorry, but Megadeth's Countdown paled in comparison to their previous four albums. Sure, Manowar was still around, but Ross the Boss was long gone by then. And Dream Theater were hardly metal saviors.
Those aforementioned grey-area, borderline-metal albums aside, there was just one honest-to-goodness metal record that stood above the rest, distancing itself from the competition by an incredible margin: Pantera's Vulgar Display of Power. Everyone knows the story of how the Dallas foursome started off playing a poppier, spandex-clad form of metal before taking a page from Exhorder's book, roughening their music around the edges, and making collective jaws drop on 1990's Cowboys From Hell. Two years later, singer Phil Anselmo, guitarist "Diamond" (soon to be "Dimebag") Darrell Abbott, Darrell's brother, drummer Vinnie Paul, and bassist Rex Brown would return with a new album that boasted massive improvements on all fronts. That indelible cover image of a fist hitting a face was perfect in more ways than one, as much of the public wouldn't know what hit them. Vulgar Display of Power just turned 20 three months ago, and next week it's being re-released in a new expanded edition by Rhino, featuring a previously unreleased bonus track, a DVD featuring live performances and promo videos, and best of all, a swanky new remaster of the actual album.
Where The Black Album alienated many metal fans in 1991, Vulgar Display of Power galvanized them the following year, ultimately bridging the sounds of the 1980s with what would be a wildly popular style of metal in the 1990s. The first five tracks of the record alone are staggering, starting with "Mouth For War", which opens with that memorable, thunderous intro led by the Abbott brothers, launches into a headbanging groove before exploding into a wicked thrash coda during the last minute. "A New Level", on the other hand, is dominated by the convincing braggadocio of Anselmo, who unflinchingly boasts of his band's "new level of confidence and power." He wasn't lying. The ubiquitous "Walk" follows, the simplest and catchiest song Pantera ever wrote – not to mention the song that spawned bazillions of terrible nu-metal bands - built around a dumb but perfect burping Dimebag riff and a contagious shuffling beat by Vinnie. "F**king Hostile", meanwhile, is the thrash anthem Metallica was no longer willing or able to write anymore, Dimebag's robust rhythm picking downright Hetfieldian as he puts Metallica Lite to shame. While "This Love" starts out as a rather rote power ballad, it's all about two crucial moments, first at the 1:17 mark where the chorus amplifies the tension a hundredfold, and then at 2:46 when Dimebag's palm-muted riff releases that tension and is followed by the most vicious of breakdowns. If you want the most perfect example of how incredibly dynamics work in heavy metal, that's it right there.
The second half holds up just as well, and some will say it's even better. "Rise" is a brilliant blend of the speed of Metallica's "Damage, Inc." with the stuttering, mechanical riffing style pioneered by Helmet, while "No Good (Attack the Radical)" is driven by Anselmo's subtly catchy chorus (Anselmo's vocal talents on this record cannot be overstated), capped off by that monstrous-sounding outro led by the marching beats by Vinnie. Dimebag channels his sleaze metal past with the opening riff and talk box on "Live in a Hole" but quickly transitions into a nasty, dissonant lead riff that leads into the menacing palm-mutes that punctuate Anselmo's snarls of, "My fear grips the will of stone / My grip fears I'll die alone." "Regular People (Conceit)" is highlighted by an effective give-and-take between Dimebag and Brown, and "By Demons Be Driven" is the murkiest track on the record – the tension and catharsis of that chorus remains incredible to this day – but that last half of Vulgar is all about the sheer devastation "Hollow". Written about a friend of Anselmo's who was in a coma, like "This Love"  "Hollow" starts off quite plainly, echoing Metallica's "Fade to Black" and "Welcome Home (Sanitarium)", but Dimebag turns the song into something special, first with a disarmingly soulful solo, then with a devastating, intense coda that last the entire latter half of the track.
The remastering by Howie Weinberg is typical of contemporary reissues, as it's overall a lot louder than the original 1992 version, but it's tastefully done here, never to the point where one can hear clipping, giving the album more punch, especially from the bass. As for the bonus material on the 20th anniversary reissue, "Piss" is the one extra audio track, and astute listeners will notice its main riff is the same one heard in the crushing "Use My Third Arm" from the 1994 follow-up Far Beyond Driven. While this song is decent, not surprisingly it pales in comparison to the rest of Vulgar, and besides, that riff was definitely put to better use two years later. The accompanying DVD, meanwhile, has a 28-minute live performance from Monsters of Rock in Italy circa 1992 (which has been up on YouTube for a while), as well as the videos for "Mouth For War", "This Love", and "Walk". In addition, the four-page essay by Jon Wiederhorn in the CD booklet is insightful and well written.
Overall, the bonus material is good but not great, but this reissue is all about the album itself, which sounds as aggressive, colossal, and empowering today as it ever has. Only mastered for today's iPods, which many people will be happy with. Vulgar Display of Power remains an undeniable classic, the defining record by a band that bucked any and all trends in 1992, one of the only breakthrough metal albums in a year where metal to many was all but dead, and whose influence is still felt two decades later.
Are you sure you want to delete this comment?
live local music on
Enter your ZIP code to see concerts happening in your area.
Data provided by Zvents
follow msn music