Comic Book Tribute to Mercyful Fate in the Works
Kickstarter campaign underway to finalize 'Satan is Alive: A Tribute to Mercyful Fate'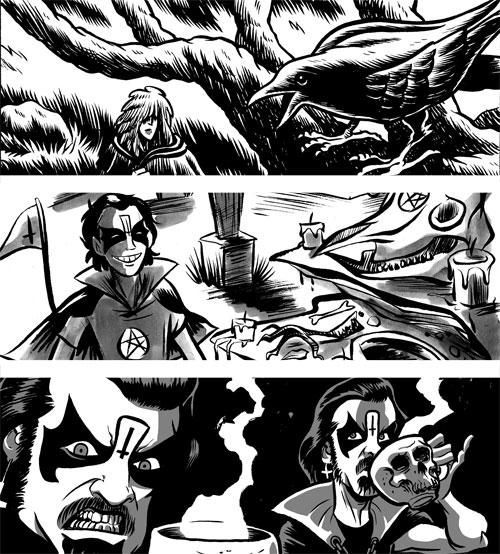 If you're a regular reader of Decibel magazine, you're undoubtedly familiar with the work of Mark Rudolph, whose clever illustrations grace the publication every month, primarily at the front of the reviews section.
Rudolph has a very cool new project in the works, a book called Satan is Alive: A Tribute to Mercyful Fate, a 5.5" x 7", 152-page book featuring comics, prose and illustration inspired by the music of one of the greatest heavy metal bands to walk this earth. With forewords by Scott Carlson (Repulsion/Death Breath/Cathedral) and Fenriz  of Darkthrone, the book will feature such artists and writers as Tom Neely, J. Bennett, Bruno Guerreiro, Sam Wolf, Kim Holm, Chuck BB, Tim Sievert, J.T. Dockery, Ed Luce, Kevin Cross, Johnny Ryan, Stephanie Buscema, Mark Thompson, Sara Turner, Nick Green, Dave Acosta, Ali Horn, Kelly Larson, Roger Langridge, Tim Shagrat, Danny Martin, Ben Marra, Vasilis Lolos, and Rudolph himself.
Rudolph has set up a Kickstarter campaign to raise the final $4,500 he needs to pay the printer, cover shipping supplies/cost, and compensate contributors. Several different incentives are offered for those who wish to pledge, including a copy of the finished book, an original page of art from the book, to co-publisher credits. It looks like a fantastic marriage of metal and comics (see the sample illustrations I've posted here), and as of this afternoon he's raised $2,750 with 18 days left in the campaign, so if this book interests you at all, feel free to help out.
Contribute to Satan is Alive: A Tribute to Mercyful Fate at Kiskstarter here.
Learn more about Satan is Alive: A Tribute to Mercyful Fate here.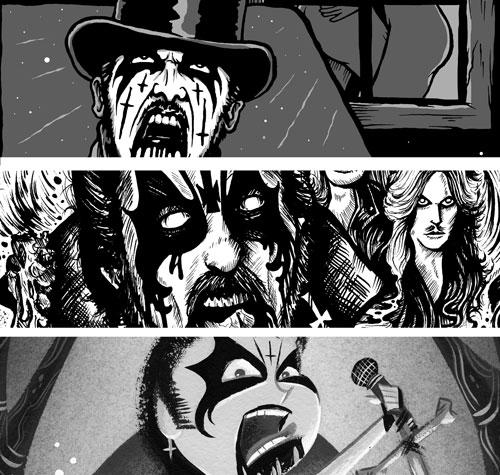 live local music on
Enter your ZIP code to see concerts happening in your area.
Data provided by Zvents
follow msn music