Live Review: Ghost, Sabbath Assembly, Natur
More guest-listers than ticket-holders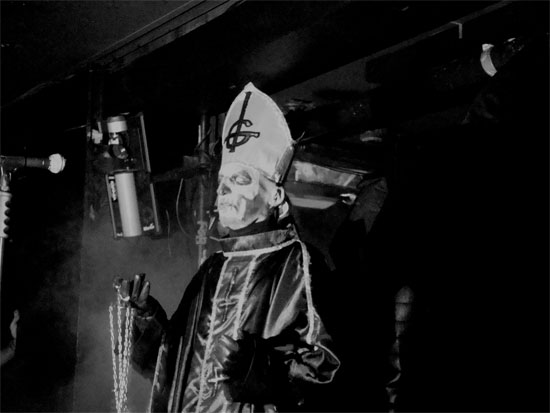 The anonymous Swedish band
Ghost
made their NYC performance debut last night in the Studio at Webster Hall—a tiny basement room (it probably holds as many people as my apartment would, if you moved out all my furniture, which I would not help you do) with bad sightlines but reasonable acoustics. I don't know why the show wasn't in the main room—I would have figured the press hype surrounding the group (
Decibel
cover, reviews in non-metal outlets, etc.) would have gotten enough New Yorkers in the door. As it was, at least half the audience was on the guest list; between the oppressive heat and the reek of scenesterism, I was flashing back to South by Southwest in a big—and not good—way.
T-shirts I noticed: Enslaved, Isengard, King Diamond, the Cramps, and Natur (the opening band, who brought a small but vocal contingent of friends and fans). I took myself out of the game, wearing a plain black T-shirt I got at Old Navy for $6.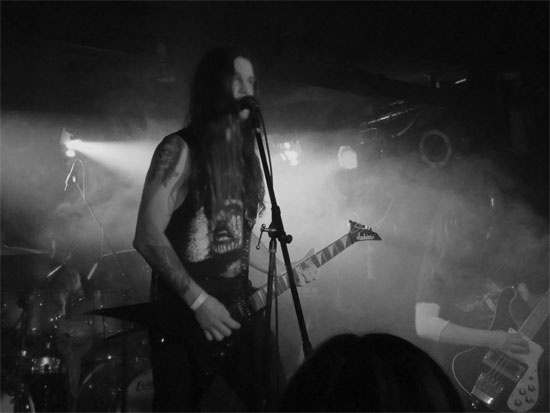 Natur
went on at 8 PM, a two-guitar quartet. Their T-shirts are basic: their logo in white on the front, the words "Old Metal" on the back. It fits. They were very old-school; hell, they opened with an instrumental. Their songs are mostly NWOBHM gallops or Sabbathy doom that swings a little, or combinations of the two. They played a few more instrumentals in addition to songs with vocals—their singer isn't a major talent, but he gets the job done. Indeed, that about describes the whole band. With no room to move on the tiny stage, they had to stand or fall on their music alone, and it was...okay. At their best, they cross
The Sword
and very early
Iron Maiden
, but they're nowhere near as good as either of those bands. Six or seven songs into their set, I checked my watch, thinking it had to be at least 8:45. It was 8:25. Not a good sign.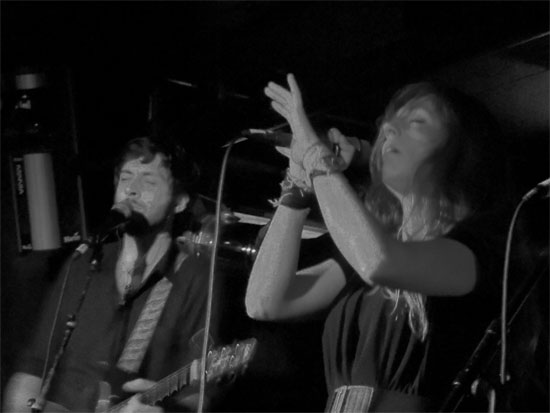 Sabbath Assembly
are a bluesy psych-rock trio (guitar, bass, drums) with a female singer,
Jex Thoth
, whose primary band is named after her. That one is early '70s blues-doom, very much in the vein of
Witchcraft
. Sabbath Assembly is different. They've got one album out,
Restored to One
, on which they wrote music for unrecorded hymns from the late '60s/early '70s cult the
Process Church of the Final Judgement
. Most of the songs are swaying dirges, but some of them speed up a little and there are some decent guitar solos sprinkled in here and there. But the vibe is very much retro Christian rock, with a slightly darker edge 'cause the Process believed (I'm fudging a lot here) that Jesus and Satan were aspects of one divine being, or something like that. Anyway, the vibe reminded me of that brief moment in the mid to late '80s when
Sonic Youth
and
Lydia Lunch
and
Henry Rollins
and the filmmaker
Richard Kern
all got obsessed with
Charles Manson
, crossed with music you might hear in an episode of
ChiPs
about an evil hippie cult. Thoth's singing was suitably incantatory, and she did these tranced-out go-go dance moves and wiggled spirit fingers at the audience. Sabbath Assembly feels more like a project than a band, though. It's hard to imagine them making a second album, good as the first one was.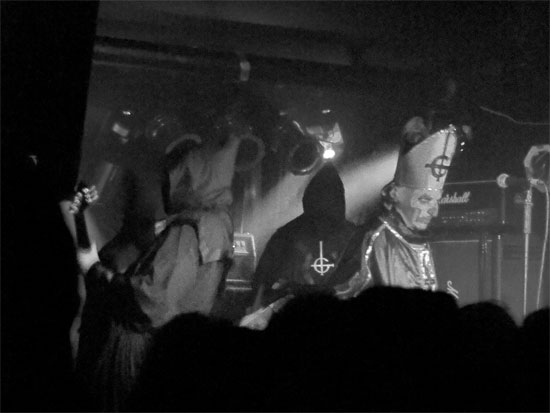 Ghost
took the stage about 10:15, walking from the back of the room rather than out from behind the thin curtain that led to the backstage area. All the bandmembers wear hooded black robes, like monks or members of
Sunn O)))
, except for the singer, who's dressed like a Pope, except he's wearing a symbol of the band's own invention that combines a cross with the letter G. He's got a good voice, and the band's songs are retro and catchy—they sound like
Blue Öyster Cult
, but with lyrics about Satan and Elizabeth Bathory and stuff like that. They were the largest band—six people all told, including the Pope, two guitarists, a bassist, a drummer and a keyboardist. They really had to remain in one spot as much as possible to perform; I kinda felt bad for them, standing up there, probably dripping with sweat under their robes.
Ghost's album, Opus Eponymous, is quite good; I recommend checking it out. But again, like Sabbath Assembly, they seem to be getting over on gimmick power—costumes! anonymity!—at the expense of their music. At some point, they're gonna have to/want to take the masks and robes off, and it's hard to predict whether the metal world is really gonna want one more spoooooky '70s-style hard rock band cluttering up the place.
All in all, I guess I'm glad I went, in an "I was there, maaaannn" way, but as a musical experience, I probably would have been better off just listening to the albums (Restored to One and Opus Eponymous both) in my living room. I kinda felt bad for Natur, who are a band attempting to make it on the strength of their songs, with no visual hooks or stunts. But hey, they had a bunch of fairly vocal supporters in the house. Maybe they'll get somewhere.
Here are some more photos.
Natur: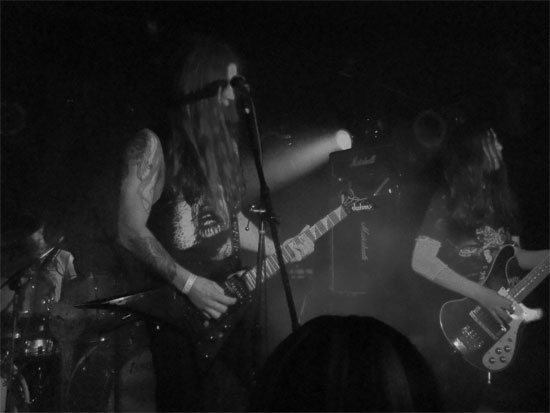 Sabbath Assembly: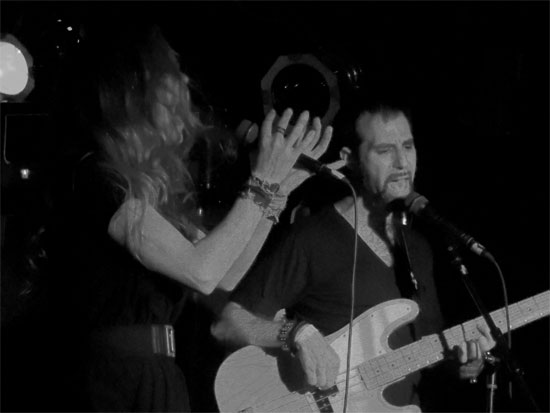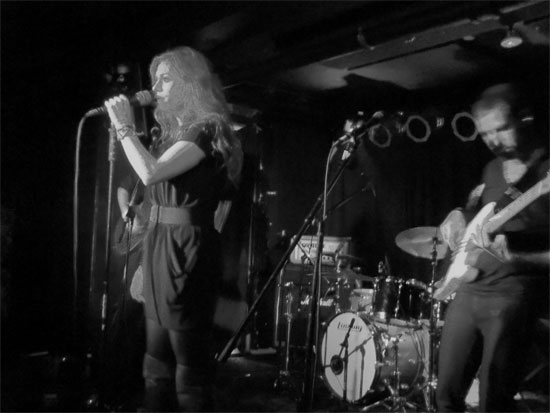 Ghost: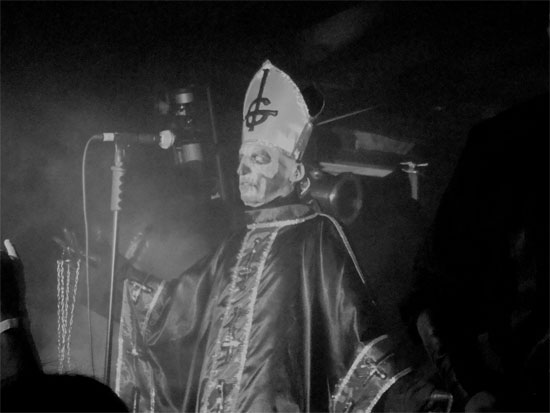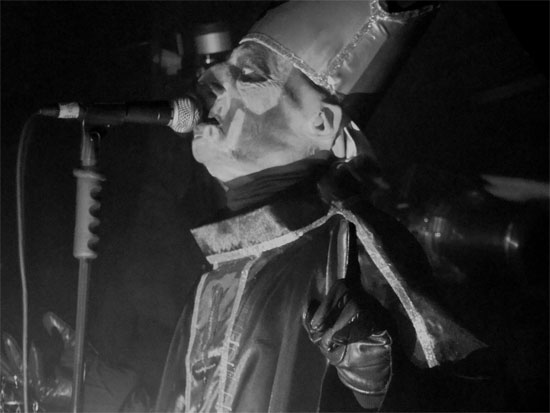 live local music on
Enter your ZIP code to see concerts happening in your area.
Data provided by Zvents
follow msn music