It's Official, Queensrÿche is a Mess
Despite attempts at diplomacy, the once great band is imploding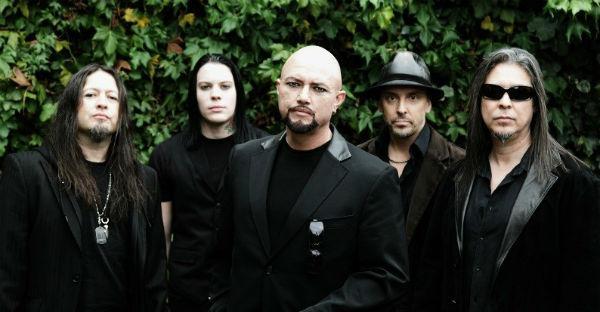 The situation surrounding Queensrÿche is so bizarre that it's impossible to turn away from it. It's salacious, amusing, and especially sad all at once, and what seemed to be getting worse by the week is now getting worse by the day.
As mentioned a couple weeks ago, the future of the band seemed in doubt after reports out of Brazil that singer Geoff Tate got into a scrap with drummer Scott Rockenfield during a sound check in Sao Paolo. A weird performance at Rocklahoma followed a month later, during which Tate berated the crowd, and not long after the rest the band  - Rockenfield, guitarists Michael Wilton and Parker Lundgren, bassist Eddie Jackson -announced they were forming a new band called Rising West with Crimson Glory singer Todd LaTorre, to specifically play covers of their own Queensrÿche material. They announced a couple shows in Seattle, Tate went on playing some solo sets, and both sides laughed off the Brazil rumors and denied a break-up was imminent.
Here's where it gets fun. Before last weekend's two shows in Seattle, the other four guys appeared with LaTorre on KISW radio in Seattle to plug the Rising West show and supposedly dispel rumors. Only when they were quizzed about the incident in Brazil, all Rockenfield would say was, "The 'guy with the tie' told me to say, 'what happens in Brazil stays in Brazil.'"
Okay.
Rising West went on to play a couple very well-received shows over this past weekend, playing a bevy of older Queensrÿche songs including "En Force", "Roads to Madness", and "Child of Fire". Then yesterday word spread that, unlike what their publicist promised earlier about the band being committed to play their remaining 2012 tour dates, all band members save from Tate had bothered to show up in Salt Lake City where Queensrÿche was scheduled to open for Scorpions. Instead, Tate and his own supporting band would play that show.
And to cap off quite a nutty day in Queensrÿcheland, an epic Facebook rant posted last Thursday by Miranda Tate, stepdaughter of Geoff and daughter of band manager Susan Tate, and who helps oversee Queensrÿche's business affairs, started making the rounds after Blabbermouth picked up on it:
It's about time to get some truth on the table.

 

1. No one...not Geoff or anyone else in QR has posted on the qr.com in months. Posting by all members was stopped at the same time. This was not Geoff's doing.

 

2. Geoff and the other members of queensryche can post any sort of event on the qr facebook just in the same fashion as they always have.

 

3. Geoff is on the defensive and all the truth as to how hostile he has been treated will be known soon.

 

4. Look back at who wrote the songs for QR since Chris [DeGarmo, guitar] left. The heavy majority of the songs has been Geoff with an outside writer. This is due to very little to no material being submitted by the other members of the band.

 

5. Geoff originally wanted to go in a different direction for the last qr album... heavier. But for the first time in years the other guys were submitting songs. So Geoff used their material and DTC [Dedicated To Chaos] is what they together came up with. Don't believe me... check the credits.

 

6. Geoff does the majority of the writing, the majority of the interviews, is there every day for the mix, produces with every producer while the other members are hardly ever in the room. I have watched this with my own eyes since I can remember. Geoff never complains and splits album sales royalties equally.

 

7. Susan, as the band's manager, negotiated with outside writers (pissing them off) to give part of their publishing royalties to the other non-writing members of Queensryche.

 

8. My family worked tirelessly and happily to keep Queensryche working.

 

9. I e-mailed endlessly to get photos and words or anything to post (on the app or Facebook) for the fans from all the members in Queensryche and got little to nothing from any of them except Geoff.

 

10. When our business attorney wrote an e-mail to the band stating how some of our employees did a fantastic job and thanking them... one of the other members of QR (not Geoff) wrote back saying that he didn't want our employees thanked since they were being paid.

 

11. No one has checked the fan club email or taken care of giving away one meet-and-greet pass since the Tates were stopped by the other members of the band from doing it. However, Geoff has honored the Queensryche fan club and given away meet-and-greet passes to his solo shows.

 

12. Every fan club event was planned by my family for the last several years and Geoff happily attended all while other members complained.

 

13. Every concept for every tour was voted on by the band (including the cabaret). All members of Queensryche happily split equally, all the money made from each tours although some (not Geoff) complained later when some of the tour concepts were received with less-than-open arms. Geoff stood by the creative decision and took the good with the bad.

 

So before you think the man that worked the hardest by a long way for years and years is a tyrant then think again. You don't know the facts.
To which Rockenfield's wife Misty replied shortly thereafter:
This is all a flat out lie
And Miranda Tate fired back:
The Facebook has always been run by an [administrator], NO member has ever had 'direct' access to the Facebook page. I used to update the Queensryche app. I sent countless emails to ALL members of the band asking for content and received little to nothing from everyone except [Geoff Tate]. This is the same with the Facebook page. Not one e-mail, text, phone call etc. has been made from any member of Rising West asking to promote their shows. Instead they came out with they are blocked from the site. Geoff Tate, on the other hand, sends his info to the admin to update with his events.

 

The reasons that comments are banned is because too many people were writing profane things so instead of someone having to monitor posts 24/7 posts were banned for the time being.

 

By Misty stating that 'this is ALL a flat-out lie' is untrue she is saying that the members don't vote, that passes are still being issued, etc. Many of the things I stated in my original post can be proven true by looking at CD credits, the fan club etc.

 

Also most of Operation: Mindcrime 2 was recorded in my basement — I was there every day so I saw first-hand who really shows up and did work everyday and that was [Jason] Slater [producer], Mike Stone [former Queensryche guitarist] and Geoff. The other members were not very involved and this was true for many recent endeavors as well. That being said, Misty's comment doesn't hold up.

 

Also I know Geoff Tate is doing some interviews this week that will also give his point of view.

 
Got all that?
25 years ago, Queensrÿche was one of the smartest, most imaginative heavy metal bands in the world, and while the fact they've never been able to equal their 1983-1988 output ever since is a shame, to see them implode in such an ugly fashion is even worse. 
live local music on
Enter your ZIP code to see concerts happening in your area.
Data provided by Zvents
follow msn music