Guitarist Rob Caggiano leaves Anthrax
"I'm truly honored to have been a part of their brilliant legacy"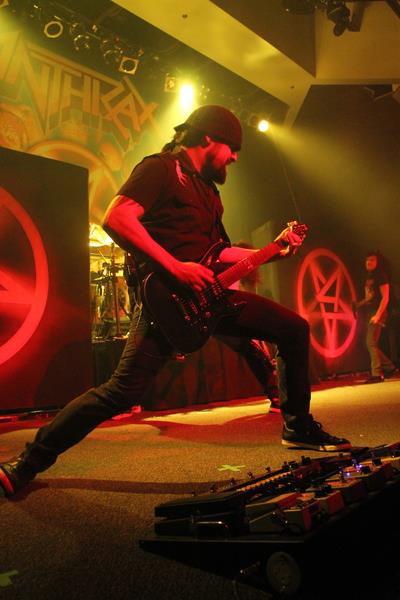 (photo by Darcy Begrand)
Nearly 12 years after first joining Anthrax as lead guitarist, Rob Caggiano announced today he is leaving the band to focus on his producing career. He posted the following statement:
"I'm extremely proud of my time in Anthrax. Actually, that's an understatement! We accomplished so many great things together over the years and I shared some of the best times of my life with these guys. As a band, we also weathered quite a few storms along the way. It's been a wild ride (to say the least) from Day One and I wouldn't change one single thing about the last 12 years. This is an extremely difficult and emotional decision for me to make but my heart is just steering me in a different direction right now. I've always been one to follow my heart in everything that I do and while this might be one of the hardest decisions I have ever had to make, it feels like the right one for me at this time. Scott, Charlie, Joey, Frankie (and John Bush) will always be part of my family and this decision doesn't change the way I feel about that in the slightest. I would also like to say thanks to all the amazing fans I've met and hung out with worldwide over the years. You guys always were and always will be the reason why I make music! In this day and age, being a musician isn't always easy -also an understatement- but the fans truly make it worthwhile for me. I hope to see each and every one of you again really soon. The fact that Anthrax is at the top of their game right now and totally 'out for blood' after all these years is a testament to this band's longevity and conviction! I'm truly honored to have been a part of their brilliant legacy.

 

"I can't wait to get back in the recording studio again! Over the years, I've been blessed with the privilege of working with a wide range of great bands/artists from Anthrax and Cradle of Filth all the way to Bruce Springsteen, and I look forward to a hopeful continuation of that side of my career while I figure out my next move as an artist. BTW in case anyone was wondering after reading all of this, I do FULLY intend to get back out there on the road very soon in some way shape or form….it's in my blood! Please feel free to follow me on Twitter @RobCaggiano for any and all updates on what I am up to."
Meanwhile, Caggiano's former band has this to say about his departure:
"Rob has been an integral part of Anthrax for so many years, as our lead guitarist, in a production capacity, but most of all, as our close friend. His contributions to the band have been enormous. While we are sad that he is leaving, we wish him nothing but great success going forward, and hope to share the stage with him again sometime down the road.

 

"With the Metal Alliance Tour on the horizon, we have been considering several lead guitarist options, and will be making an announcement on that shortly."
Caggiano brought a lot of positivity to Anthrax when he replaced Dan Spitz in 2001 and again in 2007, but the band remains Scott Ian and Charlie Benante's baby, so not much will change, other than a new face on stage right this spring.
And speaking of the Metal Alliance Tour, Anthrax will be heading out across the U.S. (with one quick dip into Canada) this spring with fellow thrash greats Exodus, with a fantastic supporting cast featuring Municipal Waste, the mighty High on Fire, and Holy Grail. And in a move that will please many fans and annoy those who are sick of bands performing albums in their entirety, Anthrax will be playing their 1987 classic Among the Living on this tour. The complete list of dates is below:
Mar. 22 – House of Blues – Anaheim, CA
Mar. 23 - House of Blues - Las Vegas, NV
Mar. 24 - Marquee Theatre - Tempe, AZ
Mar. 25 - House of Blues - San Diego, CA
Mar. 27 - House of Blues - West Hollywood, CA
Mar. 28 - Regency Ballroom - San Francisco, CA
Mar. 29 - The Crystal Ballroom - Portland, OR
Mar. 30 - Commodore Ballroom - Vancouver, BC
Mar. 31 - Showbox SoDo - Seattle, WA
Apr. 02 - Summit Music Hall - Denver, CO
Apr. 04 - First Avenue - Minneapolis, MN
Apr. 05 - House of Blues - Chicago, IL
Apr. 06 - The Fillmore Detroit - Detroit, MI
Apr. 07 - Bogarts - - Cincinnati, OH
Apr. 09 - House of Blues - Dallas, TX
Apr. 10 - House of Blues - Houston, TX
Apr. 12 - House of Blues - Lake Buena Vista, FL
Apr. 13 - Tremont Music Hall - Charlotte, NC
Apr. 14 - The Fillmore - Silver Spring, MD
Apr. 16 - House of Blues - Cleveland, OH
Apr. 18 - Theatre of the Living Arts - Philadelphia, PA
Apr. 20 - Irving Plaza - New York, NY
live local music on
Enter your ZIP code to see concerts happening in your area.
Data provided by Zvents
follow msn music