New Releases For September 11, 2012
Bringing the "evil" back to doom metal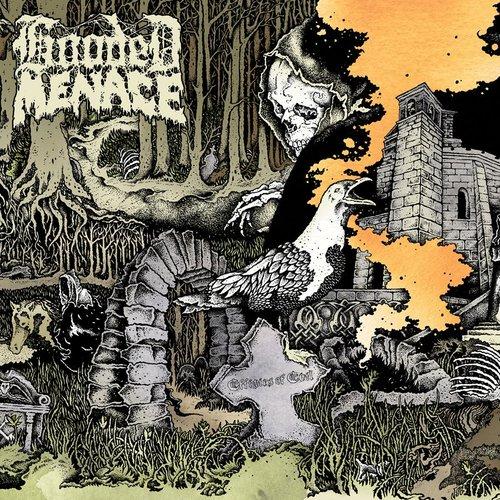 Album of the Week:
Hooded Menace, Effigies Of Evil (Relapse):
Two and a half years ago the Finnish duo Hooded Menace turned a lot of heads when Profound Lore released their excellent second album Never Cross the Dead. Featuring guitarist/bassist/vo​calist Lasse Pyykkö and drummer Pekka Koskelo, it wasn't so much a fresh take on classic doom metal than a fetid one: they brought a level of stench and filth to this form of music that few bands have been able to pull off in recent years. It immediately stood out amidst other metal albums that year, and won over many new admirers, including yours truly.
Now Hooded Menace have foregone the underground cred of Profound Lore in favor of a higher profile deal with Relapse, and Effigies of Evil raises the bar even higher. Again, it's an inspired combination of a classic form of metal and some truly effective atmospherics, Saint Vitus and Candlemass-derived jams and grooves sounding like they were recorded in an echoing abyss deep underneath the earth's surface, augmented nicely by some well-chosen horror movie samples. With Pyykkö providing an ungodly, guttural growl, it's doom at its most evil-sounding and smothering.
However, what I always like the most about Hooded Menace is that for all the extremity and emphasis on mood, there's plenty of nuance in the music. The music is more often than not slow and lumbering, but is always interspersed with sly melodies, surprisingly rich-sounding solos, and dynamic passages that owe more to the NWOBHM. Songs like "In the Dead We Dwell", "Crumbling Insanity", and the title track see the band creating music that's not only plenty evil, but feels even richer than ever. For all the variety shown, though, it's still all about the sheer weight of the riffs and grooves, and Effigies of Evil is the most colossal sounding Hooded Menace record to date. It's been a very, very good year for doom, and this is yet another title to add to the already stacked list of the year's finest.
Also out this week:
Altar of Oblivion, Grand Gesture of Defiance (Shadow Kingdom): People might be tempted to compare this band to Mercyful Fate because they're from Denmark, but nope, Altar of Oblivion have Candlemass written all over them, from the mournful doom riffs to the solemn singing of Mik Mentor. It works well enough to warrant a mild recommendation.
Beastwars, Beastwars (EMI): A quirky, bludgeoning, catchy, and very fun album, this debut by the New Zealand band wastes no time in carving themselves quite a unique niche in sludge/doom. Featuring bone-dry that places the focus on the Helmet-meets-Tool riffs and some seriously distorted bass and featuring the charismatic voice of Matt Hyde, Beastwars leave an immediate, lasting impression. This is far too good to be limited to just Down Under; it's an album you need to hear immediately. Stream and download "Damn the Sky" for free via Bandcamp. 
Castle, Blacklands (Prosthetic): I reviewed the fine new album by the San Francisco band back in May, and since then they've signed with Prosthetic, who have given the record a proper North American release. Don't miss out on this clever combination of doom and traditional metal.
Cloudscape, New Era (Nightmare): The Swedish prog/power band specializes in a brand of uplifting and hook-oriented metal that couldn't be less fashionable right now, but it's a welcome change of pace. And not only that, but the accessibility of the tunes on their likeable fourth album strips away the kind of pretentious façade that usually comes with this music.
Cocks Arquette , Cocks Arquette (OSCL): First of all, terrible band name. Secondly, when you play this debut album you start off thinking this is all arbitrary noise rock. But as it goes along, it turns out this Australian band knows what they're doing, and these three epic-length tracks skillfully glide from harrowing, aggressive parts to ambient passages. I doubt I'll ever get over the name of the band, but this music is very good.
Deserters, The Slow Rhythms Of A Dead-Beat (Mediaskare): Forgettable hardcore featuring a singer who goes out of his way to show you how tone-deaf he is.
Ex Deo, Caligvla (Napalm): I loved the swaggering first album by Maurizio Iacono's side project - essentially Kataklysm playing symphonic death metal centering on Roman history – and the follow-up continues in the same vein. Simple yet crushing death riffs are offset by lavish orchestral synth arrangements, while Iacono has a blast bellowing from the point of view from various figures ("I am Tiberius!"). Even if you don't want to learn anything about Roman history, this is nevertheless good, fun metal escapism.
Grave Digger, Clash Of The Gods (Napalm): These guys have been making music forever it seems, but not all of it has been consistent. Their sixteenth album, however, is a stronger than average  helping of old-timey heavy metal, despite the odd cringe-inducing moments ("Medusa").
The Graviators, Evil Deeds (Napalm): Instrumentally this is average doom/occult rock, but the thin-voiced singing is too annoying to make this album work.
Khors, Wisdom Of Centuries (Candlelight): They might not get the kind of attention that their Ukrainian countrymen in Drudkh receive, but Khors make some very good, at times very unique atmospheric black metal. This fifth album doesn't disappoint in the least, either, eight exceptionally arranged songs that range from pensive ("Horizong Glassy") to near-euphoric ("The Last Leaves").
Pagan Altar, The Time Lord (Shadow Kingdom): The five demos on this remastered EP might date back to 1978, when the NWOBHM band was still in its infancy, but the dodgy recording quality means nothing when the songs are this good. Especially the phenomenal, eight-minute, Dr. Who-inspired title track. Well worth seeking out, especially students of pre-1980s heavy metal.
Prototype, Catalyst (Nightmare): The Los Angeles band owes a great deal to Sanctuary and Nevermore, the influence of those two bands looming continually over their third album. In other words, plenty of melodic thrash with progressive tendencies, smartly written enough to achieve a nice balance between hook-oriented and complex.
Reverence, The Asthenic Ascension (Candlelight): There are moments where you can envision Reverence's fourth album achieving the same transcendent heights as the likes of Deathspell Omega and Blut Aus Nord, but every so often an inventive moment is countered by a lapse into ripping other bands off. Decent record, but leave the pick scrapes to Gojira, guys.
Revolting, Hymns Of Ghastly Horror (FDA Rekotz): I'd go into greater detail about how this is some solid, old-school death metal by the Swedish band, but the NSFW cover art is so mind-bogglingly bad – living up to the band's name – that they're lucky I'm even mentioning the record here.
Serpentine Path, Serpentine Path (Relapse): Essentially Unearthly Trance with Ramesses' Tim Bagshaw on guitar and Ryan Lipynsky ditching the guitar in favor of  vocals, this doom collaboration focus less on the swinging, old-school side of the genre and more on the lumbering, crushing side, and does so very well. Bagshaw's tone is suitably ugly and filthy, and Lipynsky matches those riffs step for step with his commanding roar.
Spheric Universe Experience, The New Eve (Nightmare): The French band serves up a very strange blend of progressive rock and upbeat active rock on their latest. If they picked a side, it's more than obvious they would excel – their hooks are very mainstream-friendly – but instead we're stuck with a record that's unfortunately awkward and sometimes overbearing.
Svölk, Nights Under The Round Table (Napalm): The Swedish band might strive for the mainstream success of Black Label Society, but the music lacks the personality to put them over the top. Like their 2011 album, it's passable, but hardly worth getting excited about.
Threshold, March Of Progress (Nuclear Blast): Progressive metal so proggy it feels antiseptic. Dazzling instrumentation, intricate arrangements, but led by the starchy singing of Damian Wilson, the British band lacks soul on this overlong record.
Wodensthrone, Curse (Candlelight): The British band's second album is nothing new, combining atmospheric black metal with elements of folk, but the way it moves so gracefully soaring, melodic extreme passages giving way to acoustic interludes, is executed superbly.
Yellowtooth, Disgust (Orchestrated Misery): This surprisingly good album is loaded with primitive, ugly, lo-fi, swaggering sludge courtesy the Indiana band, with occasional forays into traditional heavy metal. Not too shabby.