Aluk Todolo bring experimentation to extreme metal on 'Occult Rock'
85-minute double album is anything but tedious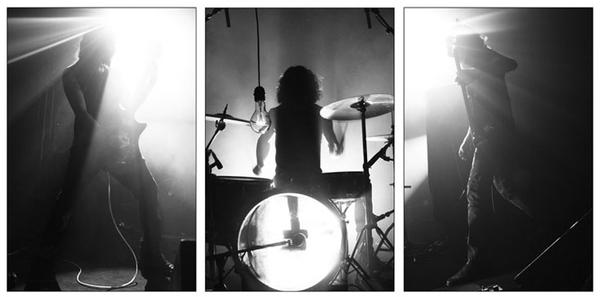 Talking to Deftones' Chino Moreno recently, he told me his band has a terrible habit of starting off jams with a concrete idea of what they want to come up with, but get so lost on a tangent that two hours later they're nowhere near where they originally thought they'd wind up. While that might serve as a good creative exercise for a band like Deftones, who prefer to put out songs in the four to five-minute range, other bands take that idea and make a career out of it.
Covering the sheer volume of new music that I do, it's often easy to miss the odd release or two any given month, and one that nearly got by me was the massive double album Occult Rock (out now on The AJNA Offensive), the fourth full-length album by French instrumental band Aluk Todolo. Over the course of ten tracks - all but one more than ten minutes long – the trio of guitarist Shantidas Riedacker, bassist Matthieu Canaguier, and drummer Antoine Hadjioannou start off firmly rooted in black metal, but through experimentation and repetition, achieve a trance-like quality that soon surpasses what listeners would normally expect from a black metal band. Experimentation through repetition was a hallmark of the great krautrock bands of the 1970s – namely Can, Faust, and Neu! – and Aluk Todolo take that idea, combine it with the atmosphere and atonality of black metal and doom, throw in some swirling, Hawkwind-style crescendos, improvise along the way, and come up with something extraordinary on Occult Rock. It's a long album, with a lot of music to take in, but each song has its own distinct identity, far from overwhelming, and what starts off as decidedly grim winds up liberating and rather beautiful at the end. And like Moreno described his own band's jams, nowhere near where you thought you'd end up. A couple tracks from this outstanding album are online, and I strongly suggest you take some time to sit back and take in this mind-bending music.
Listen to "Occult Rock II" via Soundcloud here.
Listen to "Occult Rock V" via Soundcloud here.
In addition, here's a terrific 20-minute performance by the band, recorded in Brooklyn this past September:
live local music on
Enter your ZIP code to see concerts happening in your area.
Data provided by Zvents
follow msn music