An Interview With Meshuggah's Tomas Haake, Part One
Delving deeper into new album 'Koloss'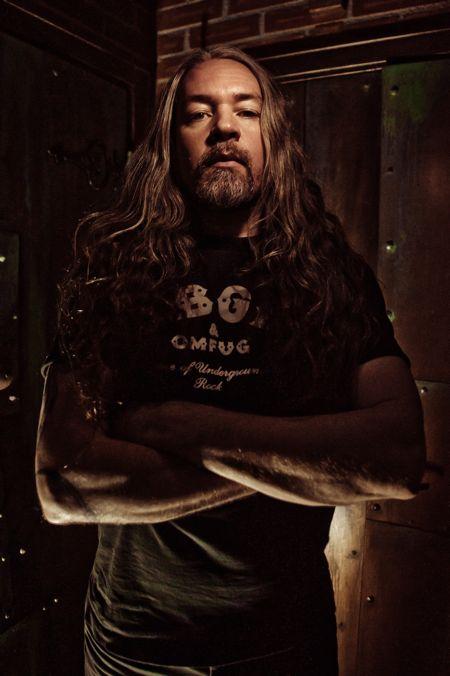 On March 27th Swedish progressive metal giants Meshuggah will release their eighth studio album Koloss on Nuclear Blast. Trust me when I say that the album is every bit as colossal as the title implies, too. Coming on the heels of 2008's ObZen, which felt like a good encapsulation of the groundbreaking styles Meshuggah had honed since the beginning of the 1990s, Koloss sees the band setting their gaze forward once again. While the band's famous precision is still evident on all the new tracks, what sets this album apart from everything else they've done is its warmth. The tone is a lot less sterile than ObZen and 2005's Catch Thirtythree, and for the first time there's a grooviness in the new material that we've never heard from the band before: Tomas Haake's drumming swings more, while the riffs by guitarists Fredrik Thordendal and Mårten Hagström, while as disjointed as ever, nevertheless compel listeners to move. That sense of groove can be heard on tracks like "Behind the Sun", "Marrow", and especially the quirky funk (that's right) of "Do Not Look Down". Make no mistake, though, this is a Meshuggah record, and it boasts some of the band's most pulverizing material since 1998's Chaosphere. "The Hurt That Finds You First" and "The Demon's Name is Surveillance" are unrelenting exercises in intricate speed, while the more deliberate pace of "I Am Colossus", "Break Those Bones Whose Sinews Gave it Motion", and "Swarm" focus on the band's massively heavy side. All the while, Thordendal's trademark jazzy solos are some of his best work to date, offsetting the band's monstrous side with moments of delicate beauty, while vocalist Jens Kidman provides his usual commanding growl, as meticulously choreographed as the guitars and drums.
It all makes for Meshuggah's best album since 2002's masterful Nothing, and needless to say one of the best albums of 2012 so far. Early last week I talked with drummer Tomas Haake while he was in Los Angeles doing advance promotion for Koloss, to talk in detail about, among other things, the making of the album and its strange accessibility. Here's Part One of the conversation, with Part Two to follow tomorrow:
ObZen felt like a combination of everything Meshuggah had done prior to that, but the new album feels like you've deliberately tried to expand your sound even more. Was this the case?
Tomas Haake: We definitely pushed ourselves hard with ObZen too, but as you said maybe that one feels even more like a flirtatious thing with the stuff we were doing earlier on and the stuff we grew up with. I still feel there's some of that on this one too, with the different tunings, and a couple of the songs are actually written for six-string guitar and not all of them being really down-tuned eight-stringed stuff. That's definitely to get that old-school thrash vibe in there, even though the music is different of course. There's definitely a little bit of that going on this album too. But apart from that we basically tried to create something that we find intriguing. We always try to find new ways of writing our own music so to speak, to see if there's an additional lateral movement, a sideways step that we can take for ourselves to feel that we did something new with this one and that we pushed ourselves into doing something that came out cool and refreshing. That's kind of what we always aim for, and this time it came out like this.
I remember hearing about a year ago that the original intent was to put out this album in the fall of 2011…did anything in particular push the release back to late March?
Haake: Maybe not so much anything in particular, more than the fact that we have been constantly, not necessarily touring, but doing things every year even though we haven't been very visible much in the States. We've done a lot of festivals in other parts of the world, of course the European summer festivals that range from May to the end of September. We've just been busy and not until this last fall did we really find that calm. That was kind of when the coin dropped and we really focused in on trying to get this done. We've always been like that, we've always been slow starters, and we kind of need a knife to the jugular for things to really kick in. So that's pretty much what happened with this one too. We were definitely aiming for a 2011 release, but all of a sudden 2011 was almost over and you're standing there with your pants down. You've got to perform. [laughs]
I remember hearing how you wanted to take a more organic approach with this one, rehearing your songs more beforehand. Did you actually wind up doing that?
Haake: We wanted to do it like that, definitely. We ended up not doing it like that after all, basically because it's so easy to fall back into the routines of the last two albums, how we're used to doing things. There was only one track on this album, I guess it's a step forward from some of the previous stuff, the track "Swarm" which was a track that we actually rehearsed as a whole band, where we came with suggestions and made changes to it as a band. We kind of feel like we want to do everything like that, but at the same time we're so accustomed to doing everything on computers. That is also a very fast way for us to do it, just because we're accustomed to doing it that way. But at the same time you can lose a little bit of that feeling of you actually being a band, from when you're out playing. So that was the attempt, to bring in more of that vibe back. We tried. And failed. [laughs] But it's all good, we were still able to put this thing together, and I think it came out pretty cool. The organic side of things is at least there sound-wise I think. It's definitely a warmer album. Even though it's very brutal, the drums sound more organic, the guitar tone is a bit less in the digital soundscape. It all depends a bit on what track you're listening to as well, but I definitely think that it sounds organic, more visceral. And for some weird reason that kind of makes it even more brutal.
This album even sounds a little groovier at times.
Haake: Oh yeah, that was definitely something that we went for, put a lot of emphasis on and put a lot of work into, making the songs swing, making that groove really pop. So instead of the ObZen album where as far as the drum playing goes you had a lot of very intricate, tricky parts and a lot of different bass drum patterns over the whole album. This one is definitely way more straightforward, more air in there, more time for the guitar tones. The same amount of effort as I would have put into learning songs on the ObZen album for the technical aspects of that album, the same amount of effort was put into just having songs that are in the tempo that's not in your comfort zone, but trying to get into that, trying to learn those tempos and still trying to get it to groove. So that was a separate type of challenge on its own.
Did Mårten and Fredrik take a similar approach to their guitar work? I hear a song like "Marrow", that's a really elastic-sounding opening riff.
Haake: Yeah, definitely. That's something that fuses the whole album, I would say. It wasn't so much like an outspoken idea that we went for when we started recording the album, but the more we got into it we just felt that these songs really need to swing for them to stand out the way they're meant to. So there was definitely a lot of effort on everyone's behalf, trying to get that groove.
You mentioned going back to arranging songs on the computer again, but when it came to writing and recording the album, was there anything else you did differently from ObZen?
Haake: We didn't mix this one ourselves, and we didn't spend as much time in the studio because for ObZen we almost killed ourselves. We did things in a weird way, we spent too much time on vocals and stuff like that instead of going in and trying to get through the songs, have some good takes and not be too anal about everything from the get-go. I guess those are mistakes that we've learned over the years. It still ended up being a tall task to pull this one out of the hat, regardless, but it was definitely a smoother ride in the studio this time around than it was with ObZen. Of course with this album we contacted Daniel Bergstrand for the whole mixing of the album, and having him do that took some weight off the shoulders of a couple of the band members that are usually the ones that have to do that. He really brought out the organic sound of the drums too in a cool way.
The focus was less on the technicality of playing the drums, for example. It was pretty much the same amount of takes on this album as ObZen, probably an average of ten to 12, 15 takes for each song, and pretty much the same for the guitars too. There was definitely a certain amount of work put into it, for sure.
Meshuggah's always been a very physical sounding band, but there's a much more primal feel to a lot of these new songs than usual.
Haake: There's so much to be had in that arena of things, in the guitar tone, letting the tone and the sound of the production letting you get that viscera of it out. That's something I could definitely see ourselves really digging deeper into.
For instance, a song like "Break Those Bones Whose Sinews Gave it Motion", that struck me as one of the more punishing songs from you in a while.
Haake: Yeah. And again, it's one of those songs where I think we really got that groove in there. That really helps a song too. It's definitely a very brutal song. That one was actually written for the ObZen album originally. So we kind of unpacked it, unwrapped it when we started with this album and tried to revamp it and make it work for what we wanted to do now. It's actually one of the songs that we spent the most time on, even though it's one of the oldest songs on this album.
So how often do these songwriting sessions leave you with leftovers like that?
Haake: Only occasionally. We are not a band with a lot of surplus stuff. Once we have an album done, it's pretty much, "Now we have nine songs, okay, let's see of we can make an album out of these nine songs." Usually there's not a lot of spare stuff.
Read Part Two of the interview here.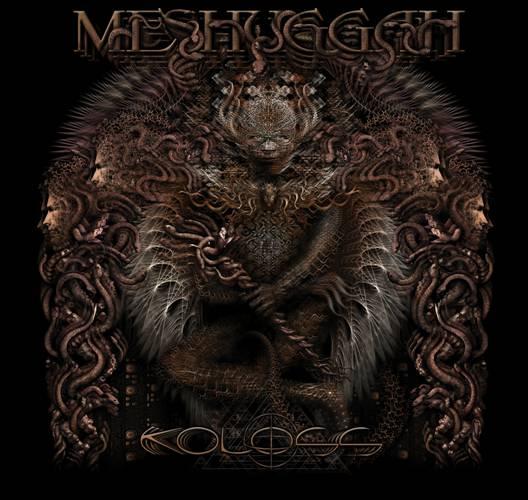 live local music on
Enter your ZIP code to see concerts happening in your area.
Data provided by Zvents
follow msn music