Live Review: Slash, Myles Kennedy, & the Conspirators, July 20, 2012
A few glances to the past, but never dwelling in it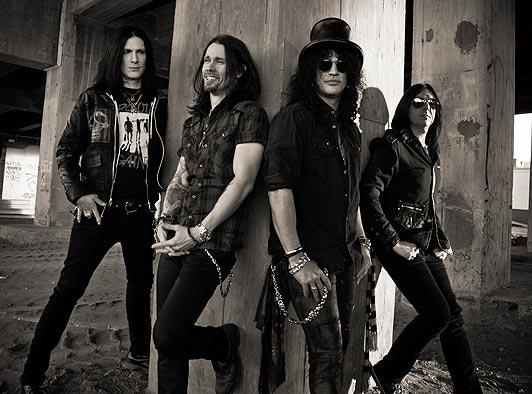 In the weeks leading up to the weekend of July 21, I was starting to mentally prepare for writing about the 25th anniversary of Guns N' Roses' classic debut Appetite For Destruction. All the while I was not aware that former guitarist and arguably the most recognizable musician from the band, the inimitable Slash, was playing a show on the night of the 20th in my home city of Saskatoon, Canada. That was too serendipitous a moment to pass up on, so I figured, why not cover the event for MSN?
Just like any other Gen-Xer in their 40s, I'm as nostalgic as anyone, but I tend to shy away from seeing glam metal bands from the '80s reliving their glory days. While I still love the music from that era to this day, playing those old songs – some of which are now 30 years old – at an embarrassingly frequent rate, I prefer to attend a show featuring musicians who are more creatively driven as opposed to being content as a cabaret act. When it comes to the current incarnation of Guns N' Roses, the idea of shelling out for a horrendously overpriced ticket to see Axl Rose and whatever group of hired hands he's put together take the stage two hours late, plodding through a bunch of oldies and a pile of boring Chinese Democracy songs has absolutely no appeal to me whatsoever.

As for Slash, I wasn't a big fan of his first post-GNR project Slash's Snakepit, and I think even less about the very popular Velvet Revolver. It wasn't until I heard last year's impressive double live album Made in Stoke 24/7/11 that I felt compelled to force myself to reassess Slash's present-day work. Since his 2010 solo debut Slash, he's put together a very good band, featuring journeyman drummer Brent Fitz, former Age of Electric bassist Todd Kerns, longtime friend Dave Schneck on live rhythm guitar, and Alter Bridge singer Myles Kennedy, and not only do they show tremendous chemistry on the live album, but that energy has carried over nicely on to the straightforward but fun new album Apocalyptic Love, which came out a couple months ago.
Walking to the 2,000-seat downtown theatre in the muggy July heat, merging with other such concertgoers as couples my age and older, young metal fans, 20-something bros and "woo girls", biker dudes (the national gathering of Hells Angels was going on at the same time) and kids with their parents, seeing a mob around the merch table, I found myself wondering how many of these folks were there to hear music from Slash's 25-year body of work, or where there simply to hear the requisite Guns N' Roses classics. Either way, it was a lively, eclectic crowd from the start.
20 minutes after a workmanlike opening set by Ontario retro-rockers Monster Truck, who are sort of the Grand Funk Railroad to The Sheepdogs' The Guess Who, the lights dimmed, the cheers went up, and a gigantic backdrop dramatically descended from the theater's fly tower. Bearing the name "Slash featuring Myles Kennedy and the Conspirators", it's enough to make one wonder just how much of an actual band this is, but as "One Last Thrill" kicked in, it was more than apparent Slash and his cohorts are a bona fide unit onstage. Sporting the ubiquitous top hat that never left his noggin, Slash shared the spotlight with the casually-clad Kennedy as Kerns, Schneck, and Fitz were more than willing to play in the shadows. For all the attention the two frontmen attracted the chemistry between the five members was evident, everyone interacting and clearly enjoying themselves as they tore into songs old and new.
The reception was lively from the start, but when the band kicked into Appetite's "Nightrain", it was officially bedlam, Slash leading the charge with his riffs and solo, Kennedy proving to be very worthy of filling the lead singer's role. Overall the two-hour show was impeccably laid-out, with five Appetite classics spread out over the 20-song setlist, allowing plenty of room for the band to showcase their strong recent material only to bring the house down with an old favorite. Of the more recent fare, songs like "Ghost", "You're a Lie", "Standing in the Sun", "Back From Cali" (which got a big response), and "Anastasia" were immediate standouts. Meanwhile, Appetite deep cuts "My Michelle" and "You're Crazy" were very pleasant surprises, and an extended version of the great "Rocket Queen" – with a lengthy jam during the middle break – was a show-stopper. Of course, "Sweet Child O' Mine" got the biggest response, the entire crowd singing along, Slash performing the classic solo note for note. After a couple of Velvet Revolver tunes, "Slighter" and "Fall to Pieces", "Paradise City" brought things to an end, confetti cannons – the lone concert gimmick during this otherwise stripped-down show – going off during the song's climactic final two minutes.
Although I was hoping to be impressed, I didn't expect to be was floored as I was. Sure, it's a bit weird seeing Kennedy sing lyrics that have much more personal meaning to Mr. Rose, but seeing Slash and the rest of this legitimate band perform those tracks and the newer songs with such verve, charisma, and a sense of joy was more than enough to win me over. If you ask me now, I'll say I'd much, much rather see Slash, Kennedy, and those Conspirators play live than Axl's present version of Guns N' Roses. If you have the chance to see them play this summer and fall, don't miss it.
Here are the remaining North American dates:
Jul 23, 2012    Thunder Bay, ON Community Auditorium
Jul 25, 2012    Belleville, ON Empire Rock Fest
Jul 26, 2012    London, ON Rock The Park
Jul 27, 2012    Montreal QC, Olympia Theatre
Jul 29, 2012    Quebec, QC Agora de Quebec
Jul 30, 2012    Moncton, NB Casino Moncton
Jul 31, 2012    Halifax , NS Cunard Events Centre
Aug 2, 2012    Boston, MA House of Blues
Aug 3, 2012    Montclair, NY Wellmont Theatre
Aug 4, 2012    Huntington, NJ The Paramount
Sep 4, 2012     San Diego, CA House of Blues
Sep 5, 2012     Phoenix, AZ Celebrity Theatre
Sep 7, 2012     Austin, TX Stubb's
Sep 8, 2012     Dallas, TX House of Blues
Sep 9, 2012     Houston, TX House of Blues
Sep 11, 2012   New Orleans, LAHouse of Blues
Sep 12, 2012   Atlanta, GA Tabernacle
Sep 16, 2012   Hampton Beach, NH Hampton Beach Ballroom
Sep 18, 2012   New York, NY Hammerstein Ballroom
Sep 19, 2012   Cleveland, OH House of Blues
Sep 21, 2012   Cincinnati, OH Bogart's
Sep 22, 2012   Detroit, MI The Fillmore
Sep 23, 2012   Toronto, ON Sound Academy
Sep 25, 2012   Indianapolis, IN Egyptian Room
Sep 28, 2012   Chicago, IL Riviera Theatre
Sep 29, 2012   Springfield, MO O'Reilly Events Center
Oct 2, 2012     Oakland, CA Fox Theater
Oct 3, 2012     Los Angeles, CA The Wiltern
live local music on
Enter your ZIP code to see concerts happening in your area.
Data provided by Zvents
follow msn music