New Releases For June 19, 2012
Ihsahn, Burning Love, Ahab, Lita Ford lead an eclectic batch of new albums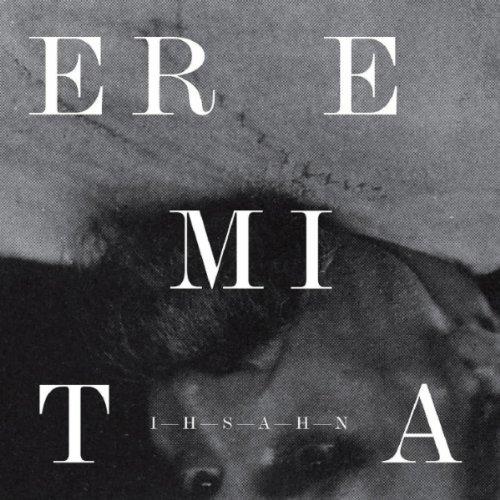 Album of the Week:
Ihsahn, Eremita (Candlelight):
Watching Vegard Sverre Tveitan, best known as Ihsahn, evolve since his days with the pioneering Norwegian black metal band Emperor has been nothing short of fascinating, especially over the last decade. Having created what many consider to be his greatest music during his teens, Ihsahn is stuck working underneath he shadow of such seminal albums as In the Nightside Eclipse and Anthems to the Welkin at Dusk. After numerous projects he started his own proper solo endeavor in 2005, and The Adversary, released the following year, saw Ihsahn tentatively feeling his way around in an effort to figure out his own musical voice. It wasn't until his third solo album, 2010's After, that his compositions started to distance themselves from Emperor's black metal legacy. Creating music without caring one bit about genre restrictions, he sounded liberated on that record, ultimately coming up with a unique metal hybrid, dipping into progressive rock and jazz, going as far as employing saxophone as a central instrument on the record.
Two years later Ihsahn continues his metamorphosis on Eremita, and as forward thinking as After was, this new album is even less predictable. You have no how any of these songs are going to unfold, but as further proof just how skilled a songwriter Ihsahn has become, for all the technicality this is a remarkably laid back album for something so ambitious. It's hard to describe and even fathom at times, but it all flows. Beautifully so.
An interesting aspect of Eremita, and one that will attract a lot of attention, is that it features an impressive group of guest musicians, including Devin Townsend (who sings on "Introspection"), Jeff Loomis (who performs a solo on "The Eagle and the Snake"), Leprous singer Einar Solberg (who sings on "Arrival"), Shining (Norway) mastermind Jørgen Munkeby, whose saxophone permeates this record again, Leprous drummer Tobias Ørnes Andersen, and Ihsahn's wife Heidi Solberg Tveitan (who sings on "Departure". Although it seems that this is Ihsahn's most collaborative solo album to date, in reality he remains very much an auteur, in charge of every aspect of his music, and Eremita never wavers from that idea, the songs displaying a peculiar charm.
"Arrival" is a tetchy, King Crimson-style jam, "Introspection" broods, "The Paranoid" blends black metal influences with quirky grooves, while Munkeby's improvisational solos highlight "Grave". "The Eagle and the Snake" is arguably the album's strongest moment, a spellbinding nine-minute song that best shows how much Ihsahn has evolved as a musician and songwriter. He's previously insisted he's not the biggest progressive rock fan, but a progressive element permeates all of Eremita in how Ihsahn is willing to take his music into strange and different realms, while never completely abandoning the music that got him here in the first place. Eremita is a very challenging album, but never alienates the listener, instead revealing new aspects with each listen. Unlike a lot of bands that like to call themselves "progressive", the word "progress" is crucial in Ihsahn's work, and once again he's done so with incredible grace and artistry.
Also out this week:
Ahab, The Giant (Napalm): When it comes to nautical-themed funeral doom, Germany's Ahab is without peer. Are there any other nautical funeral doom bands out there? At any rate, Ahab made a big splash (see what I did there?) with their fantastic The Call of the Wretched Sea in 2006, and their third album is even better, employing more clean vocals, the arrangements, while as slow as ever, are much more varied than before. "Antarctica the Polymorphess" is incredible. Highly recommended.
Burning Love, Rotten Thing To Say (Southern Lord): Led by Chris Colohan, former vocalist for Canadian crust legends Cursed, the Toronto band might be an odd fit on Southern Lord, their rampaging hardcore contrasting with the plethora of d-Beat bands on the label's roster, but if this gets Burning Love's music out to more people, then that's all the better. The ubiquitous Kurt Ballou produces, and like on Disfear's great 2008 album Live the Storm, Rotten Thing to Say has a very strong rock 'n' roll feel that gives the music soul instead of nothing but blind rage, an unmistakable, irresistible Motörhead vibe. As fun as the music is, there's menace lingering in these tracks, best exemplified by "Karla", a harrowing tune sung from the point of view of serial killer Karla Homolka. Fun but always on the verge of slipping into pure depravity, this album's a must-hear.
Canaan, Of Prisoners, Wandering Souls and Cruel Fears (Eibon): Murky, at times lovely goth/dark ambient music from the Italian band, although they do bite off a little more than they can chew on this overlong double album.
Chelsea Grin, Evolve (Razor & Tie): The increasingly popular deathcore band is back with a well-timed stopgap EP as a product to flog on the Vans Warped Tour, and while the "Don't Ask, Don't Tell" and "The Second Coming" actually show promise, the rest of this six-song collection lacks focus. It's the usual ADHD-riddled, kitchen-sink approach to songwriting that far too many young metal bands employ, slickly performed but devoid of personality. Less is more, kids.
Dr. Acula, Nation (Victory): I put on this album with dread, knowing how much I dislike deathcore and how awful the last one by this Long Island band was. As it turns out, though, these guys have figured how to write songs, and while it's far from great, Nation is undeniably catchy in a Cancer Bats sort of way.
Dying Fetus, Reign Supreme (Relapse): The Maryland veterans return with their catchiest album in years, one that dials down the technicality and slam gimmickry enough to elicit comparisons to their 2000 favorite Destroy All Opposition. Pounding, often articulate, no-frills death metal.
Katana, Storms of War (Listenable): Produced by Andy LaRocque (King Diamond, Death), the Swedish band is back with more traditional metal on their second album, but for all its energy it lacks the hooks this form of metal relies so heavily on.
Lita Ford, Living Like A Runaway (SPV): Three years after the subpar attempted comeback Wicked Wonderland and in the wake of a bitter divorce, Lita Ford finds herself with something to prove, and her latest album returns to the brash hard rock that made her famous, going back to her days with The Runaways. Only this time she's revealing more of herself than ever before whether in the hooky, country-tinged title track, the terrific kiss-off tune "Love 2 Hate U", or the gutwrenching "Mother". Aside from the unnecessary, industrial-inspired "A Song to Slit Your Wrists By" this is a tremendous, impassioned album.
Lykaion, Nothin' But Death (Bakerteam): I suppose the best way to describe this Italian band is a cross between gothic metal, symphonic metal, and hair metal, but as nice as the arrangements sometimes are, the overtly flamboyant singing of Alessandro Sforza – it's like he's auditioning for Rock of Ages - is unbearable. What an awkward album this is.
Manowar, The Lord Of Steel (Magic Circle): After the overblown symphonic disaster that was 2007's Gods of War, Manowar has wisely gone back to the basics, stripping down the band's sound and playing to their strengths. It's as corny as ever, but when they're on their game they sell the shtick extremely well – singer Eric Adams is in his usual fine form - and aside from a few plodding numbers The Lord of Steel is a return to form, highlighted by the title track, "Touch the Sky", and "Born in a Grave".
Mantas, Death By Metal (Relapse): The demos by Chuck Schuldiner's first band Mantas have been compiled and released officially for the first time, and while the quality is dodgy at times, it's nevertheless a valuable piece of metal history, as traces of the great Death can be heard in these tracks, especially the early versions of "Evil Dead".
Mnemic, Mnemesis (Nuclear Blast): I was a big fan of the Danish band's second album The Audio-Injected Soul back in 2004, but as much as I admired Mnemic's take on groove metal, their subsequent two albums were weaker follow-ups, and judging by the title, I was skeptical about their latest as well. At long last, though, they're back on track with a tremendous album that avoids the blatant Fear Factory-isms that plagued 2007's Passenger and sounds a whole lot more consistent than 2010's Sons of the System. Instead the band is back forging their own identity with clever riffs and melodies that just might endear them to the "djent" crowd, and a charismatic performance by vocalist Guillaume Bideau.
Morbid Saint, Spectrum Of Death (Relapse): Here's a fun one. The Wisconsin thrash band's debut remains a cult classic, a record that slipped in under the radar in 1988 and has since built a strong following. Taut, ferocious, and more extreme than the Bay Area sounds at the time, there's an unmistakable Kreator vibe to Spectrum of Death, but the adventurous songwriting of epic tracks "Assassin" and "Scars" show just how advanced this band was at the time. Mandatory listening, for thrash fans especially.
My Dynamite, My Dynamite (Listenable): This is a mildly enjoyable debut by a Stones/Black Crowes knock-off from Australia. They mimic the style well enough, but where's the personality?
Rumpelstiltskin Grinder, Ghostmaker (Candlelight): These Philly thrashers always deliver exuberant albums, but for their energy, they often lack the hookiness that made early thrash metal so great. Their latest album is not much different, though whenever the band veers more toward traditional metal than death metal (in other words, 1983 thrash versus 1989 thrash), as on "Nightworms", it's better than expected.
Spineshank, Anger Denial Acceptance (Century Media): The alt-metal band that became mildly popular a decade ago is a shadow of its former self on their first album since 2003. Granted, Spineshank was never anything special back in the nu-metal days, but the songs on Anger Denial Acceptance are weak (the melodic choruses especially bland), and even worse, horribly dated.
U.D.O., Celebrator: Rare Tracks (AFM): If you feel you really need a lounge piano version of "Balls to the Wall", then by all means, go nuts. For everyone else, ignore this compilation.
Vampires Everywhere!, Hellbound and Heartless (Hollywood Waste): An absolutely moronic Marilyn Manson rip-off that tries to be outrageous but fails miserably, featuring an unlistenable cover of Nirvana's "Rape Me". Besides, these kids look more like Pretty Boy Floyd than scary vampire dudes. This is one for the worst-of-the-year pile.
Whitechapel, Whitechapel (Metal Blade): Now here's one deathcore band I always tolerate. Unlike the majority of their peers the Tennessee band actually create deathcore music that has an ear for dynamics rather than either constantly playing breakdowns or haphazardly piecing together half-baked riff ideas. Their fourth album is their strongest to date, too, led by "Hate Creation" and "Dead Silence".
The Wretched End, Inroads (Candlelight): The second album by the collaboration between guitarist Samoth and former Dark Funeral drummer Nils Fjellström is more of the same thrash-infused death metal that Samoth has been plying since leaving Emperor. His guitar work is as nimble as ever, but the songs on Inroads do little to distinguish themselves from on another, making for an ultimately stultifying listen.
live local music on
Enter your ZIP code to see concerts happening in your area.
Data provided by Zvents
follow msn music