25 @ 25: Poison, 'Open Up and Say... Ahh!'
L.A. glam goes for safe instead of sleaze, and it pays off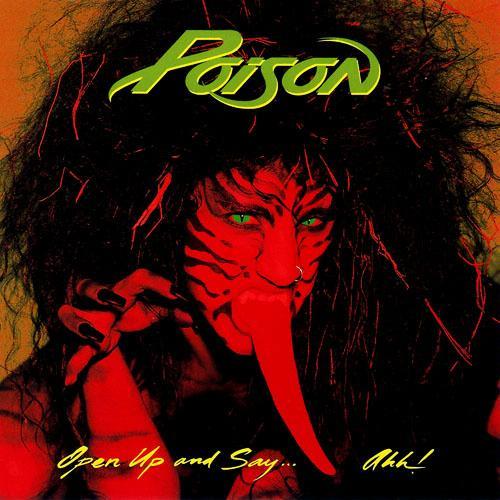 When Poison's first album Look What the Cat Dragged In eventually broke in early 1987 on the strength of the single "Talk Dirty to Me", it was the breaking point for a lot of us who had spent the early part of our teens listening to the bands that had opened the door for glam metal. Prior to that the pop-oriented side of heavy metal coming from the Sunset Strip in Hollywood still had plenty of bite. Sure, the bands looked ridiculous, but there were some serious metal chops to be heard on Shout at the Devil, Tooth and Nail, and Out of the Cellar. The pop aspect of the music was always there, but when Poison came out with their debut in 1986, the music felt so watered down, the lyrics were safe, and the band's dolled-up image was all too much. Pop metal seemed crossed the line into self-parody.
From Poison's perspective, though, it was pure genius. They were every bit the partiers that Mötley Crüe, Ratt, and Guns N'Roses were, but their music was a safe brand of sleaze. Underneath the garish music was an aw-shucks boy-next-door sentiment that was likely a holdover from their Pennsylvania background, and that clicked in a big way with the teen girl crowd. "Talk Dirty to Me" wasn't risqué, it was cute, and it came with a snappy, upbeat riff and boyish harmony vocals. Aided greatly by a camera-mugging video that played up the fun of the band, the single was perfectly timed for the 1987 zeitgeist.
The stage was set for Poison to make a huge commercial impact with their second album in 1988, but at a time when so many Sunset Strip bands struggled to successfully follow up their breakthrough records (Crüe had limped their way through two very weak albums by then), Poison kept it together on Open Up and Say… Ahh!, a record that would yield three startlingly good singles and go on to sell more than eight million copies.
Tom Werman, who had produced Crüe's last three albums, was hired to helm the recording, and while Open Up… is far from a work of sonic genius – his cookie cutter style of production was loathed by audiophiles but loved by record companies – it did boast a more robust sound than Look What the Cat Dragged In. In fact it almost feels as if Poison are going out of their way to assert that they can play with more grit and power that people were willing to give them credit for. "Love on the Rocks", a song that bears an uncanny resemblance to the barroom rock of Kix, opens the track in strange fashion, its stops and starts not exactly getting the festivities off to a blazing start. Cowbell punctuates "Back to the Rocking Horse", "Good Love" features harmonica, "Look But You Can't Touch" has a decided Ratt feel in its lead riff, while "Tearin' Down the Walls" sees guitarist C.C. DeVille doing his best Joe Perry imitation. It's all well and good, and the music feels far more credible than the debut, but in the end, those deep cuts are completely overshadowed by the album's singles. Open Up and Say… Ahh! is all about its singles, and it's a shame that Poison didn't bring more of those songs to the table.
With an opening riff that pays sly tribute to Kiss's "Deuce", "Nothin' But a Good Time" remains a knockout party anthem, and should have been the opening track on the album. It remains one of glam metal's defining songs, the best encapsulation of what Poison was all about: having fun, and delivering it in a package that appealed to the kids in a non-threatening kind of way. Not even Werman's stiff production can keep this song from feeling vibrant and gleefully garish. "Fallen Angel", meanwhile, is arguably Poison's strongest single ever, an impeccably arranged country rock song tarted up as glam metal, its cautionary tale of the seamier side of Hollywood countered with some some huge, irresistible hooks. While any other Hollywood band would have addressed such a subject with smarm, dark humor, or cynicism, instead Bret Michaels inserts the line, "Where's the girl I knew a year ago?" That sweetness set Poison apart from all those other bands, and is a perfect example of why so many people found them appealing.
Then there's the ubiquitous "Every Rose Has its Thorn", a song that's been lampooned as much as it's loved. Michaels' sentiment is as corny as all get-out, but there's palpable sincerity in his tale of heartbreak, and as soon as it was released as a single in October 1988 it became a massive crossover hit, eventually topping the chart on Christmas Eve. It's so unlike every other glam metal power ballad; instead of playing up those huge rock riffs in the chorus, it remains tender and intimate like a mainstream country ballad, which was obviously Michaels' intention, considering the twang in his voice. The power ballad was all about pulling off the sensitive tough guy shtick, and "Every Rose Has its Thorn" does so masterfully.
After "Rose", the album limps to the finish, exhausted of ideas. The cover of Loggins and Messina's "Your Mama Don't Dance", which was far too similar to Mötley Crüe's "Smokin' in the Boy's Room" cover for comfort, was their fourth single and third to hit the top ten. Closing track "Bad to Be Good" is a failed attempt at sleaze rock, the band trying too hard to be something they weren't, the most glaring misstep on the record.
An hilarious side story about this record is how its cover art, which featured a garishly costumed and made-up model with a comically long tongue, was banned in the United States, released with a heavily censored cover that only showed the model's eyes. Considering the band's safe appeal, the censored cover was actually the more fitting choice for the record, and better yet, it kept American eyes from seeing what was one of the dumbest album covers of the 1980s.
Although it had four very successful singles, Open Up and Say… Ahh! could never top the US chart, peaking at number two as albums by Guns N' Roses, Def Leppard, and Bon Jovi dominated the album chart that year. Still, this was the beginning of a heady time for Poison, as they'd be one of America's biggest rock bands for the next three years. Despite its several flaws, Open Up and Say… Ahh!  remains Poison's best overall album, an affable snapshot from glam metal's high water mark period.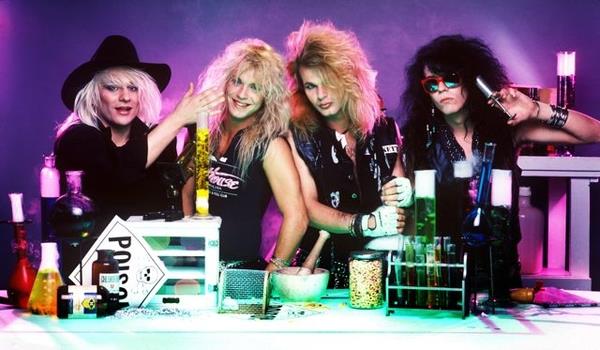 live local music on
Enter your ZIP code to see concerts happening in your area.
Data provided by Zvents
follow msn music