New Releases For July 3, 2012
Seventh album by Egypt-obsessed death metal favorites leads the way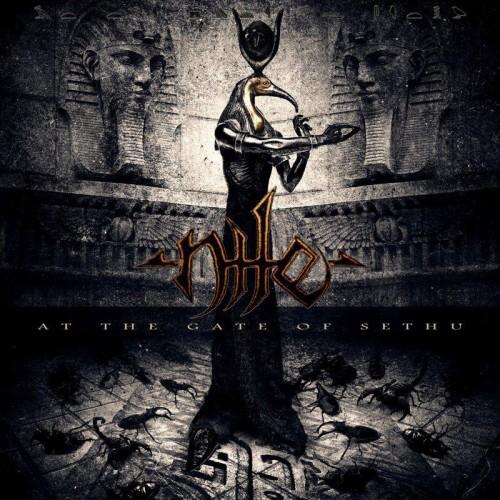 Album of the Week:
Nile, At The Gate of Sethu (Nuclear Blast)
Ever since the release of their superb 1998 debut Amongst the Catacombs of Nephren-Ka, Nile has followed the same formula for every album since: dexterous and bludgeoning death metal featuring obsessively-research​ed lyrics that explore Ancient Egyptian history and mythology, interspersed with ambient pieces that lend the albums a theatrical air. That's it. Guitarist Karl Sanders set that template from the get-go, and it's worked fine for his band ever since.
So when it comes to a new Nile album, it's not so much a matter of what it's going to sound like, as we all know pretty much exactly what it's going to sound like. Instead, it's more about whether or not the band is on top of their game. After the stupendous one-two punch of 2002's classic In Their Darkened Shrines and 2005's near-perfect Annihilation of the Wicked, Nile followed with Ithyphallic in 2007, an album that fell flat thanks to some uninspired songwriting and some questionable production. However, 2009 saw them rebound in a huge way with the excellent Those Whom the Gods Detest, which simply stuck to what Nile does best, and sounded phenomenal in the process. So with seventh album At the Gate of Sethu now here three years later, the only question anyone has is whether Sanders, guitarist Dallas Toler-Wade, and drummer George Kollias are able to maintain that positive momentum. The funny thing is, though, this is the one Nile album that packs in a few more subtle surprises than a lot of us could have expected.
Once again the band has teamed up with producer Neil Kernon, who has worked with the band since 2002. While his work on In Their Darkened Shrines and Annihilation of the Wicked created an impeccable balance between the physicality of Nile's music with very clear production, the new record throws listeners a curveball as Kernon creates a much more of a raw vibe. Consequently the attack of the trio is even more ferocious than usual, reminiscent of their early work while still retaining the clarity of their more recent work. In direct contrast with that rather primitive approach is the songwriting, which shows more dynamic flair than expected. There are a lot more peaks and valleys in these tracks, from the clever addition of well-timed acoustic breaks to some jarring moments of clean singing, both of which can be heard on the revelatory "The Fiends Who Come to Steal the Magick of the Deceased". Best of all, though, are Sanders's riffs, which are as contagious as they are bludgeoning, best exemplified by "Supreme Humanism of Megalomania" and the lumbering "When My Wrath is Done".
Still, At the Gate of Sethu is less about experimentation and more about further refining that trademark Nile sound, and songs like "The Inevitable Degradation of Flesh" and the wickedly good "The Gods Who Light Up the Sky at the Gate of Sethu" are quintessential Nile, unrelenting, borderline maniacal, and for all their density never for once forget to be catchy. It might be at times a little different than what fans have grown accustomed to, but unlike Ithyphallic, this record tweaks that Nile sound in a way that complements the songwriting perfectly. Is it predictable in structure? Sure, but when Nile are firing on all cylinders like they are right now, their audience couldn't be happier with the end result.
Also out this week:
Bonded By Blood, The Aftermath (Earache): The Pomona, California thrashers are back with a third album that's as stubbornly old-school as ever. With nary a trace of "extreme metal" the band faithfully replicates Bay Area thrash, coming through with plenty of fun, catchy tunes bolstered by the addition of new singer Mauro Gonzales, whose unique delivery gives Bonded By Blood more personality than in the past. That said, the cover of Rage Against the Machine's "Killing in the Name" is completely unnecessary.
Chrome Waves, Chrome Waves (Gravedancer): A collaboration between Stavros Giannopoulos (The Atlas Moth), Jeff Wilson (Nachtmystium, Wolvhammer), and Bob Fouts (The Gates of Slumber, Apostle of Solitude), Chrome Waves' first release can be seen as a cross between the progressive-minded black metal sounds of Nachtmystium and the more sprawling psychedelic/post-roc​k style of The Atlas Moth. It's raw and cathartic, but also capable of moments of jarring beauty, a very impressive outing that sounds far too promising to be limited to just one album.
Deathspell Omega, Drought (Season Of Mist): They might be one of the most peculiar and enigmatic bands in all of metal, but Deathspell Omega is also one of the very best, and this six-song EP is a very worthy follow-up to the astounding 2010 album Paracletus. Typically, the songs on Drought start off rooted in black metal but branch out crazily to the point where the music is completely impossible to categorize. Dissonance, melody, blastbeats, and wonky grooves interweave in oddly seductive fashion as tracks like "Salowe Vision" and "The Crackled Book of Life" continue to break new ground. Not only is this an absolute must-buy for longtime admirers but with its shorter song lengths it's a great way for new listeners to discover this genius French band.
Delain, We Are The Others (Sensory): Sure, Delain is one of an incredible number of woman-fronted symphonic metal bands from the Netherlands, but they've always been one of my personal favorites thanks in large part to Charlotte Wessels, who's one of the more charming singers in the genre. She has good charisma, but unlike so many of her peers she doesn't over-sing, and her tasteful delivery is a big reason why Delain's third album works so well. The dozen songs might be predictably rote structure-wise, but the hooks are there ("Get the Devil Out of Me" is a great example), and Wessels delivers them with grace and class.
Forefather, Last Of The Line (Metalhit): The seventh album by the long-running "Anglo-Saxon metal" band is quite the underrated gem, a rousing blend of the Viking metal of Ensiferum, the swashbuckling anthems of Running Wild, and the NWOBHM riffery of Saxon.
Luca Turilli's Rhapsody, Ascending To Infinity (Nuclear Blast): In one of last year's more ridiculous stories, veteran Italian power metal band Rhapsody of Fire amicably split into two bands, with Alex Staropoli retaining the Rhapsody of Fire name and guitarist Luca Turilli forming Luca Turilli's Rhapsody. Granted, Turilli and Rhapsody's flamboyant (to put it mildly) brand of power metal is an acquired taste, but if this is your sort of thing Ascending to Infinity is exceptionally done from start to finish. And the movie trailer-style narration throughout the album is so over the top, it's impossible not to crack a smile.
Miseration, Tragedy Has Spoken (Lifeforce): While the riffs and blastbeats are as technically sound as ever, the horrendously loud third album by the band (led by former Scar Symmetry frontman Christian Älvestam) lacks substance. There's lots of posturing, but no real songs to speak of.
Mongrels Cross, The Sins Of Aquarius (Hells Headbangers): The debut full-length by the Australian band is gritty blackened death metal, devoid of frills. Which in this band's case is all they need, considering how strong these seven songs are. If you like your metal on the filthy side, you have to hear this. Another knockout release from Hells Headbangers.
Periphery, Periphery II (Sumerian): The Bethesda, Maryland band has quickly become a favorite of progressive metal fans over the past few years thanks to the dazzling talent of guitarist Misha Mansoor. For their second album, though, it's become much more of a collaboration with nearly all members making significant contributions, and while the 14-song, 66-minute Periphery II flirts with overkill, with songs like "Pacepalm Mute", "Froggin' Bullfish", and "Scarlet" it's nevertheless a big step forward, feeling like the product of a full-fledged band rather than simply one musician's project. Expect this album to propel Periphery to even bigger heights.
Power Theory, An Axe To Grind (Pure Steel): The second album by the Philadelphia band faithfully tackles the heavier side of classic mid-'80s metal, deriving from the likes of Metal Church, Manowar, and Grave Digger, and despite the odd weak chorus they do quite a convincing job of it.
Primate, Draw Back A Stump (Relapse): Featuring Mastodon's Bill Kelliher, Brutal Truth's Kevin Sharp, and former members of The Despised, the 2011 album has been spruced up with extra guitars and re-released by Relapse. Which is a great thing, too, as this is some immensely enjoyable d-beat hardcore and grind, with some hard rock shredding by Kelliher tossed in as well.
Witchsorrow, God Curse Us (Metal Blade): Musically Witchsorrow is phenomenal, capable of monstrous doom grooves as wicked as the mighty Church of Misery, but time and again the vocal efforts of guitarist Necroskull are far too mediocre, never doing the instrumental arrangements justice. Because the jams on this album are so great, it's impossible to give God Curse Us a thumbs-down, but with a proper singer Witchsorrow could be truly incredible.
live local music on
Enter your ZIP code to see concerts happening in your area.
Data provided by Zvents
follow msn music