The Devin Townsend Project Premieres New "Unofficial" Video for "Lucky Animals"
Thom Yorke has nothing on Devy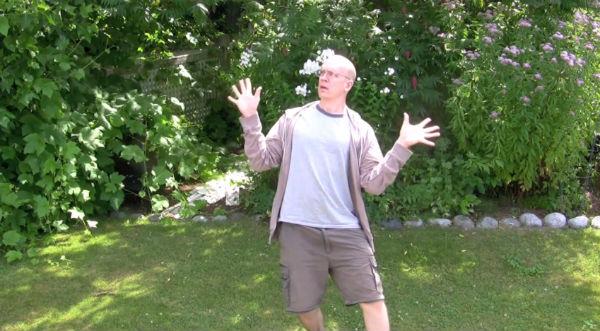 Devin Townsend is set to release Epicloud, the fifth album by The Devin Townsend Project, on September 18 via InsideOut. Billed by the Canadian guitar genius as something a lot simpler in structure than last year's ambitious albums Deconstruction and Ghost, and in his own words, "catchy as the flu, but with a sentiment that is romantic, positive and beautiful," his cult-like legion of fans have been practically drooling in anticipation of the record, and now they have their first taste of what to expect, in the form of new song "Lucky Animals".
The song actually leaked late Sunday night in the form of a terrible – not to mention unauthorized – radio rip, but Townsend has quickly one-upped the internet nerds with his own "unofficial" video for the song. He and the label might call the video unofficial, but his homemade clip of himself doing a goofy little dance routine to the song in his backyard yesterday – complete with jazz hands – is unique, to say the least. Combined with the insidious catchiness of the song itself, it's so silly that you can't watch it and not wind up with a smile on your face. So sit back and let Devy entertain you in his own inimitable way for a few minutes.
Watch The Devin Townsend Project's "Lucky Animals" here.
In the spirit of this video, Townsend has also put out a call to his fans to make their own performance clip of "Lucky Animals", for them to submit to be a part of this, in Townsend's drily funny words, "admittedly cheap and stupid video." Knowing the devotion of Townsend's fanbase, this could yield one (or several) very fun video mash-up. More details will be released soon, but in the meantime, watch Townsend's announcement of the project here.
live local music on
Enter your ZIP code to see concerts happening in your area.
Data provided by Zvents
follow msn music