To Hell and back
"Dude, where you been?"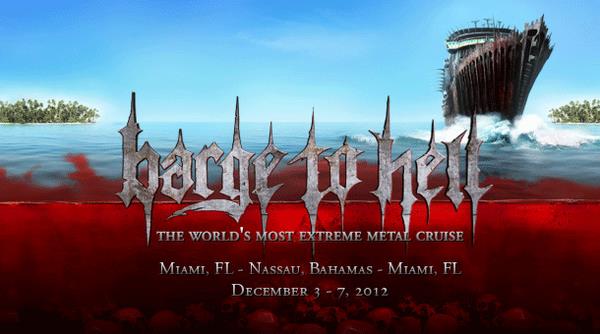 To those regular visitors to
Headbang
who might have been wondering just where the heck I was last week, I was off covering
Barge to Hell
, "the world's only extreme metal cruise", which loaded 40 bands and loads more fans on a massive cruise ship for four days of sun and metal, travelling from Miami to the Bahamas. Despite multiple efforts by
Delta Airlines
to ruin our crew's trip - sorry, World's Worst Airline, you failed - a fabulous time was had, and I hope to have a recap and photo gallery up on this page tomorrow.
It's strange going off on a trip like that during such a busy time of year with very limited internet access, and it turns out I missed some pretty big stories while I was away:
Lamb of God
singer
Randy Blythe
was
officially indicted
on the manslaughter charge in the Czech Republic, which stems from an incident at a concert which left a young fan dead. Blythe, who had already spent five weeks in a prison in Prague this past summer, has stated he would return to the country if a trial date was set, and it looks like that's going to happen. This saga is far from over, and it could mean big trouble for Blythe.
The 2013 Grammy Award
nominees for Best Hard Rock/Metal Performance
are typically hilarious, including Anthrax, Megadeth, Lamb of God, Halestorm, Marilyn Manson, and Iron Maiden's live performance of a song that's 12 years old. Of the five, I'd actually pick Lamb of God's "Ghost Walking", but none of the songs are indicative of the best metal and hard rock music in the last calendar year.
A week after acquiring the masters for all their albums and forming their own record label,
Metallica is now on Spotify
. Indie record labels will still contend that their artists are barely compensated at all for plays on the streaming music service, but for those who love
Spotify
, seeing it getting the full support of one of the biggest bands in the world is huge news.
Scion A/V
released a new
free EP
by the always excellent band
Arsis
. I haven't heard it yet.
***
Ten days into December, the year-end list craziness is in full swing in the online metal world, and I'll just offer a quick update about what's happening list-wise here at Headbang. I'll have a few miscellaneous year-end posts this week, capped off with the Ten Worst Metal Albums of 2012 on Friday. Then starting next Monday, December 17 I'll start posting the Top 50 Albums of 2012, doing ten titles daily all the way to Friday. So stay tuned!
In the meantime, give a listen to Within Temptation's surprisingly snazzy prom dress metal treatment of Adele's instant Bond classic "Skyfall":
live local music on
Enter your ZIP code to see concerts happening in your area.
Data provided by Zvents
follow msn music