Review: Deftones, 'Koi No Yokan'
As shimmering as it is crushing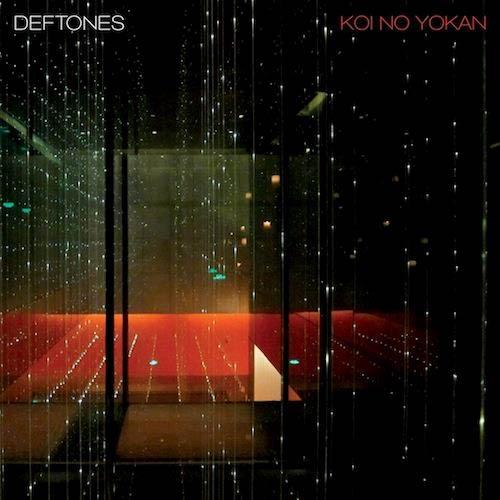 For all the words there are in the English language, there are still some things that are defined in other foreign languages that have no definition in English. L'esprit de l'escalier, saudade, schadenfreude are common examples of English loanwords. However, the Japanese phrase koi no yokan is particularly beautiful. Simply put, it's the sense a person gets upon meeting someone that the two of them will eventually fall in love. Unlike "love at first sight", love isn't felt yet, but it is inexorable, the person knows it will happen further down the road.
The music of Deftones is similarly elusive. It's as powerfully heavy as any metal band, yet at the same time displays a frailty so unlike anything in the genre. It's cathartic, yet also capable of plenty of moments of introspection. It might be rooted in mid-1990s metal, yet incorporates many other influences, from post-punk, to shoegaze and dreampop, to electronic. The Sacramento band have so completely transcended the "nu-metal" tag over the past dozen years that their music is now near impossible to accurately convey in what English words we have just what it sounds like. All we can do is bask in its many strange and enthralling contradictions.
Ever since 2000's classic album White Pony Deftones have been subtly tinkering with that indescribable sound, taking their own sweet time putting new material out, experimenting a little each time out, not so much redefining themselves as transforming with grace. 2010's Diamond Eyes, written and recorded in the wake of the accident that has since left bassist Chi Cheng in a minimally conscious state ever since, was arguably their most atmospheric work to date, producer Nick Raskulinecz giving the music a warmth that previous records had lacked. Two and a half years later – a very short time frame when it comes to this band – that collaboration in intact one more time on their seventh album.
Despite the artistic and commercial success of Diamond Eyes, singer Chino Moreno has been the first to admit that he and the rest of the band just were not in a good frame of mind during the writing and recording of that album. They've set out to make a much bolder statement on Koi No Yokan, and have succeeded in a way that will surprise many. Simply put, this record is all about dynamics, and the band's meshing of sounds heavy and delicate here is masterful. It's all there in the opening track "Swerve City" which is destined to become a fan favorite for years to come. It might be built around the most massive-sounding, swinging riff they've come up with in a very long time, but unlike so many bands these days, they're smart enough to not let that be the only thing the song offers. Moreno serves up layers of wistful vocal melodies, bassist Sergio Vega sneaks in some nimble melodies of his own during the more subdued verses, while guitarist Stephen Carpenter adds a sharp, minimal solo that slices through the fog. Richly layered yet instantly catchy, it sets the stage for a marvelous 51-minute record.
While past records might have suffered a little from the odd disjointed interlude, Koi No Yokan flows beautifully. The emotionally wrenching "Leathers" gives way to the intense groove of "Poltergeist", which then makes room for magnificent, electronically-enhan​ced "Entombed". "Tempest" treads familiar territory, but its constant shifts from brooding to explosive continues to work exceptionally well. The album's second half sees the band taking the music further outward: sinister tones underscore the jagged main riff of "Graphic Nature", the atonal guitars of "Gauze" echo the likes of Jawbox and Fugazi, "Rosemary" simultaneously channels the disparate sounds of Tool and Slowdive. It all converges on the daring "What Happened to You", combining a little dub-infused new wave groove with flat-out dreampop, Moreno turning in his most affecting singing on the album. It's a wonderful, enigmatic way to end the record, ending things not with the kind of forceful resolution Deftones fans might expect in a live setting, but a sort of ellipsis, as if showing listeners that the potential for this music is wide open, as if to muse, Who knows where it will go from here?
As strong as Diamond Eyes, 2006's Saturday Night Wrist, and 2003's Deftones were, the music has not been this consistently first-rate since White Pony, and in fact their music has never sounded more vibrant. This music has always meant to shimmer as much as crush, and Raskulinecz and the band capture that feel brilliantly, more than on any Deftones record prior. Koi No Yokan expertly plays to all strengths of the band, yet at the same time exhibits phenomenal growth. It's hard to encapsulate its appeal in 150 words, let alone 750; it's just near-perfect Deftones. But unlike its poetic title, it's an album that will have listeners smitten from the get-go.
Koi No Yokan will be released November 13 on Reprise.
live local music on
Enter your ZIP code to see concerts happening in your area.
Data provided by Zvents
follow msn music