New releases for November 13, 2012
It's all about Deftones this week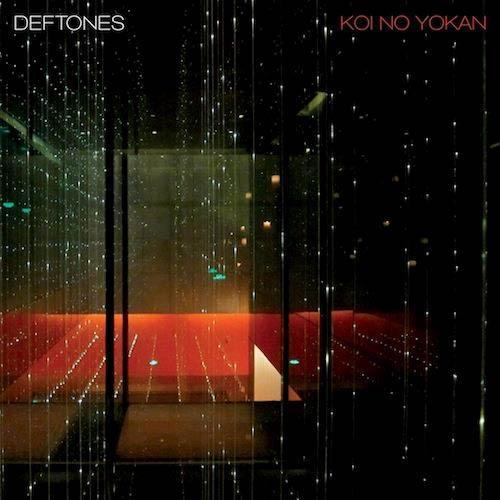 Album of the Week:
Deftones, Koi No Yokan (Reprise)
Considering the glowing review I posted last week, it's hardly a surprise that the seventh album by Deftones is the top choice this week's new releases. After all, it's a big improvement on 2010's already impressive Diamond Eyes, and I'd even go as far to say it's their best work since the classic White Pony album a dozen years ago. With production that accentuates the band's delicate side with their more robust tones, and consisting of eleven songs that ebb and flow between both sides, it's a gorgeous, invigorating work by a band whose evolution has been very fun to watch over the years. Highly recommended.
Also out this week:
Bell Witch, Longing (Profound Lore): Samothrace bassist Dylan Desmond has teamed up with drummer and Lethe bandmate Adrian Guerra for this new project, which for its minimalist set-up turns out to be a surprisingly rich sounding debut record. Slow, lumbering funeral doom made even heavier with its guitar-free arrangements, Longing very slowly unfurls to show a strong melodic sensibility, which becomes even more involving when the generic growls give way to cleanly sung lead vocals. "Rows (of endless waves)" is a perfect example of this album's understated quality.
Dissipate, Tectonics (Basick): These guys can churn out all the prog/technical/math/​hardcore/extreme metal they want, but all the dexterity they display means squat if the songs fail to involve the listener. And this California band does so only sporadically on their debut EP. When they're not shamelessly imitating Meshuggah while arbitrarily tossing in show-off riffs, they can be awfully good, as exemplified by "Such is the Mind (Of a Realist)".
Dordeduh, Dar De Duh (Prophecy): Three years after leaving Negura Bunget, Hupogrammos and Sol Faur have finally put out their new project's much-touted debut album. A half-interesting, half exhausting album, it tries to strike an even balance between black metal, progressive rock, and Romanian folk music, but often winds up leaning more toward the folk side. Trimmed of the fat, it might have made for an outstanding 40, 45-minute album, but instead it carries on for nearly 80 minutes, the mystery of the music giving way to tedium.
Eïs, Wetterkreuz (Prophecy): These Germans are total dead ringers for the Dimmu Borgir of the late-1990s, and considering how badly Dimmu have lost their way as of late, that can only be a good thing, because Eïs churn out plenty of frenetic, swirling black metal that accentuate melody a little more than atmosphere.
Flourishing, Intersubjectivity (Path Less Traveled): The band led by guitarist Garett Bussanick of Wetnurse is back with a very good three-song EP, an amalgam of sludge, doom, and noise that assaults listeners while creating a foreboding mood throughout.
Gifts From Enola, A Healthy Fear (Mylene Sheath): The Virginia band has grown impressively over the last five years, starting out as a promising instrumental band that straddled post-hardcore and metal, and turning into an outstanding progressive rock act that juggles various subgenres at the same time. Adventurous but not pretentious, diverse but never overindulgent, this new album continues to refine the band's unique hybrid style.
Kolp, The Outside (Temple Of Tortuous): There's not a lick of originality on the second album by the Hungarian band, but I suppose that's the point, as the duo effectively copies the raw atmospheric black metal of early Burzum. And they do it well enough to warrant a mild recommendation, although you'd be far better off actually listening to the first couple Burzum records instead.
Machine Head, Machine F--king Head Live (Roadrunner): When a band experiences a late-career renaissance as Machine Head have since 2006, it's never a bad idea to put out a live document to capture a snapshot of that period, and this collection of performances from throughout their 2011/12 tour accurately show just how strong a live band they are. Whether new "(The Locust") or old (the staple "Davidian"), this is a terrific glimpse of Machine Head in peak form.
Melencolia Estatica, Hel (Temple of Torturous): The brainchild of an Italian musician going by the moniker Climaxia, and inspired by Fritz Lang's Metropolis, this is a peculiar album, veering crazily from raw black metal arrangements to more cinematic, goth-infused sounds. It's a bit disjointed, but to its credit, never dull.

Skeletal Remains, Beyond the Flesh (FDA Rekotz): If you have a weakness for early 1990s death metal, the California band captures that feeling very well on their first album. Combine a strong early Death influence with a vocalist who sneers like John Tardy, and you've got yourself something that, while treading familiar ground, is nevertheless worth checking out. (bonus points for the cover of Gorguts' "Disincarnated")
Therion, Les Fleurs du Mal (End Of The Light): Like Cristofer Johnsson, I'm a big fan of the pop music of the French yé-yé girl singers of the 1960s, but why he had to make a Therion album featuring covers of 16 songs from the era is beyond anyone's comprehension. This music is supposed to exude double-entendre and fun, and these stiff symphonic metal renditions strip all that away, rendering them joyless, whether on the butchering of Serge Gainsbourg's classic "Poupée de cire, poupée de son", or a shrieky speed metal version of Claire Dixon's "Je n'ai besoin que de tendresse". Even worse, in a horrific case of bad judgment, Johnsson felt the world needed to hear Thomas Vikstrom sing a song about fellatio. The road to hell truly is paved with good intentions.
Tusmørke, Underjordisk Tusmørke (Termo): If you couldn't already tell, this band hails from Norway, but black metal these guys are not. Instead, it's full-blown psychedelic rock, and a peculiar version at that. The flute-accentuated tunes capture the late-'60s era impeccably, but the album suffers when the focus is placed on the singing, which tries too hard to come off as eccentric as Damo Suzuki.
live local music on
Enter your ZIP code to see concerts happening in your area.
Data provided by Zvents
follow msn music