New Release Roundup 11/24/09
It's a pretty slow week for new metal, and that's a trend that's likely to continue for the next few weeks. No major artists will be releasing albums between now and year's end. There are some smaller, underground releases worth spotlighting, though.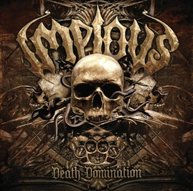 Impious
,
Death Domination
(Metal Blade): This Swedish death metal band doesn't sound like "Swedish death metal" in the sense you'd ordinarily use that phrase. They have no D-beat/rock 'n' roll swing to their rhythms, and little or no melody to their riffing. In fact, they pretty much play straight-up Florida-style brutal death metal, right down to the guttural subhuman vocal gurgling. A few of these songs, like "I Am The King," have a little bit of semi-melodic guitar work in the background, but the primary focus is on downtuned roar and blast beats. The one thing that separates them from the pack is the fluid, thrashy shredding of the guitar solos. This is a good album, but if you didn't read up on the band online you'd be hard pressed to identify the band as being Scandinavian.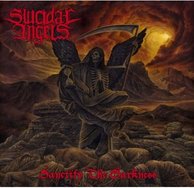 Suicidal Angels
,
Sanctify The Darkness
(Nuclear Blast): These guys play a modern style of thrash which owes a lot to the 1980s Bay Area sound but musters enough energy and technique to keep it interesting. Their first album came out in 2007, which means they were right there at the beginning of the retro-thrash "movement." The only weak point is the vocalist, who enunciates like a pro wrestler trying to hype up the crowd rather than a metal frontman barking out lyrics. It's a subtle distinction, but one that won't be lost on most listeners. Perhaps the churning power of their lightning-fast riffs will get you past it; for me, it seemed a little goofy.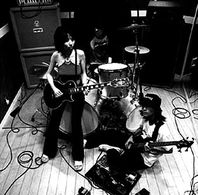 Boris
,
Japanese Heavy Rock Hits Vol. 3
(Southern Lord): The Japanese band
Boris
has been releasing a series of non-album 7" singles monthly since September; the third and final volume in the set arrives in ultra-hip record stores today. The only truthful word in the series title is "Japanese"; although Boris has been known to get heavy in the past, these singles are mostly psychedelic rock, and they're definitely not "hits" in any sense I understand that word. They are sort of cool if you're looking for something a little (or very) different, though, and as always with Boris product, the artwork is superb.
live local music on
Enter your ZIP code to see concerts happening in your area.
Data provided by Zvents
follow msn music